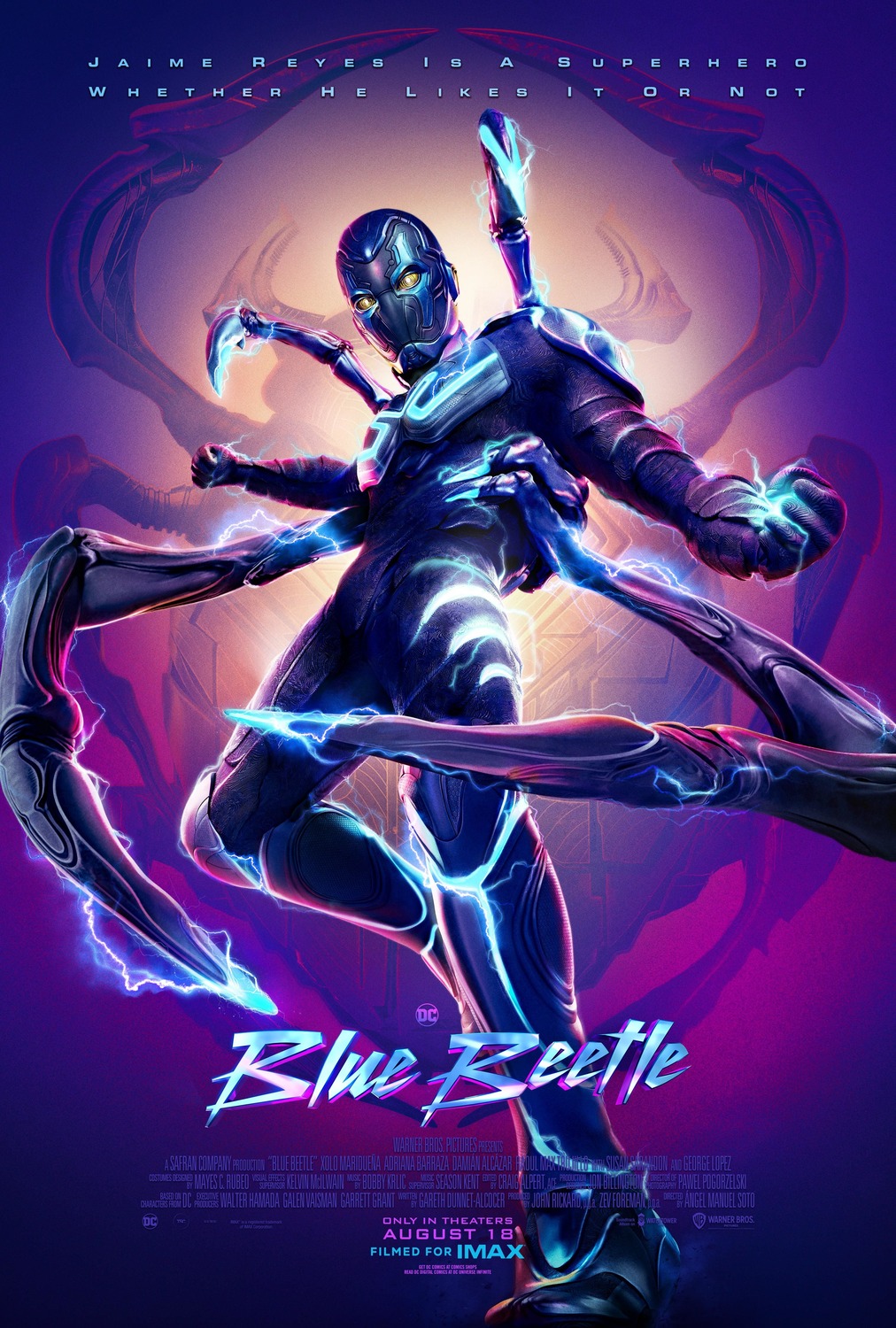 Director
Angel Manuel Soto
Starring
Xolo Maridueña
Bruna Marquezine
Susan Sarandon
Raoul Max Trujillo

Young graduate Jaime Reyes [Maridueña] comes home from university to learn his family are essentially broke and being pushed out of their home, thanks to the underhand efforts of the over-bearing and controlling militaristic corporation, Kord Industries; headed by CEO Victoria Kord [Sarandon]. However, after a chance encounter with Kord's niece, Jennifer [Marquezine], Jaime is charged with a secret artefact: a blue beetle. This device fuses with Jaime, forming a symbiotic bond that arms him with a super suit, but also makes him and his family a target for the vengeful and sadistic Victoria Kord.
In terms of that initial, moment-you-leave-the-cinema, vibe, Blue Beetle is a lot of fun. The action is clear and consistent, and the CGI feels premium enough to hold up when compared to other recent efforts. The editing and pacing all work reliably, rolling along successfully without dragging or outstaying its welcome. All-in-all, it's an entirely functional and serviceable release, but one that never really steps far beyond its central remit, offering a lot of well-trodden predicaments and developments, indicative of the entire superhero 'genre.'
The real heart and soul of the film, however, is Xolo Maridueña, who helms this film effortlessly and transitions from small-screen to the cinema with such ease; as if he was always destined for blockbusters. Paired with the members of his family, Xolo's take on Jaime is what makes Blue Beetle stand out from several other superhero releases of late. With the supporting elements not being fellow franchise heroes, or a litany of cameo appearances, but a core of earnestly written familial allies.
On the opposite end of the spectrum, we have adversarial forces in the form of Victoria Kord and her right-hand henchman Ignacio Carapax (played by Raoul Max Trujillo). Sarandon's appearance as Kord is admittedly quite two dimensionally evil. She is a classic 'bad guy' through-and-through. There's not a lot of layering and complexity outside of feeling entitled to something and becoming a bitter and unapologetically corrupt billionaire in the process. And, as I have said in other reviews, sometimes that's ok. Audiences love some nuance and depth to their villains, but more often than not, believing you are in the right and entitled to do as you please, is enough. And unchecked billionaires are absolutely an easy target for villainy; always have been.
Carapax, on the other hand, is a curious one. He is the toe-to-toe opponent and therefore could be whittled down to uninspired hired muscle. But at the very end of the film, his character pivots and we get a glimpse of a more multifaceted and rewarding individual. Regrettably, this doesn't fully manifest until the very latest stages of the narrative and I feel that could have been teased and breadcrumbed a little better. Granted, there were already some notable hints but, looking back, it feels like Carapax was shortchanged and the script should have gone further to explore his past, rather than hit us with a last-minute montage.
The question with all superheroes (especially these days) is what unique aspects can you bring to audiences. In the 1960s and 70s, that meant new powers and costumes. For contemporary audiences it's about speaking to broader demographics while still hitting the same beats. Familiar, yet different. Accessible for all but giving a platform to previously overlooked cultures, ethnicities and backgrounds, to create richer stories. In that way, Blue Beetle not only feels steeped in southeastern Latino life (in a legitimate way with its record-scratch switching between English and Spanish), it leans heavily into the daily fear and impact felt by many members of the community – boldly tapping into anxieties and images of an overbearing oppressive force breaking into homes and seizing people at gunpoint.
On top of that, from the very outset, the script tries to speak openly and honestly with its primary demographic (young people) and hits you with copious unyielding illustrations of the existential dread a Gen Z child of immigration regularly encounters. Most notably, continually doing what is expected of them, only to inherit debt, misery and disappointment as a reward. In a way, this is reflected in the movie's overall scope. The 'fate of the world' is sort of alluded to, but the majority of the conflict is significantly more grounded. And the true weight of the world carried on the shoulders of our eponymous hero, is doing right by his family and trying to live his life, in spite of the already insurmountable challenges life has thrown his way. And that's before any of the superhuman transformation takes place.
But despite best efforts, a lot of that familiarity the movie is trying to capture, holds the entire release back. Not to mention, there's also a few interesting inconsistencies that throw the audience about a bit. For example, Jaime has a strict no killing policy. Much like Spider-Man, Jaime wrestles with his new suit, constantly trying to preserve life while the suit (fully capable of world-ending destruction) is hungry for murder. But, in an attempt to breakaway from much of the dourness and brooding we often experience, the script pitches down to a significantly younger crowd. Meaning we end up with a scene wherein a giant bug-like tank farts out a sleeping gas, and skewers faceless armed goons before shaking them off, like an animal that's stepped in shit. It may not sound like much, but it draws a strangely distinct parallel between the noble, altruistic Jaime and his murder-happy relatives. That said, Nana (played by Adriana Barraza in one of those "I'm the same age as the people playing my kids but I'm in a lot of make-up" roles) going from quaint old doting abuela, to unleashing her revolutionary past self, should be trite and laughable but it's actually genuinely funny and enjoyable. And seeing an elderly woman mowing down scores of armed guards with a minigun while her grandson helplessly looks on is kinda funny.
Overall, Blue Beetle is an enjoyable outing that works best in the smaller, more intimate moments. But when it's forced to amp-up the energy and intensity, it slips into tired conventions, and loses some of its charm.

Release Date:
18 August 2023

The Scene To Look Out For:
As seen in many of the trailers, Jaime's first transformation scene is straight-up body horror. The ordeal should be horrific and traumatising but it's a perfect example of how a well-placed needle drop and a triumphant score can completely shift the tone. Instead of traumatising, the moment is played with an almost lightheartedness and amusement that takes the edge off of the reality of what is actually happening.

Notable Characters:
Jaime's sister is played by Belissa Escodebo and while I've only seen her in Hocus Pocus 2 to date, she already feels like she's carving out a strong sassy presence that so many writers would love to write for. Speaking of which, one aspect of Blue Beetle that doesn't feel overly forced, is the humour. I wouldn't say it's laugh out loud hilarious, or even hits every single time, but it feels consistent, authentic and committed throughout.

Highlighted Quote:
"You're really lucky. This house is full of stuff.. your house is full of love."

In A Few Words:
"Yet another superhero release that would have blown the roof off of any cinema ten years ago, but unfortunately never manages to escape the genre trappings enough to shine."

Total Score: 3/5