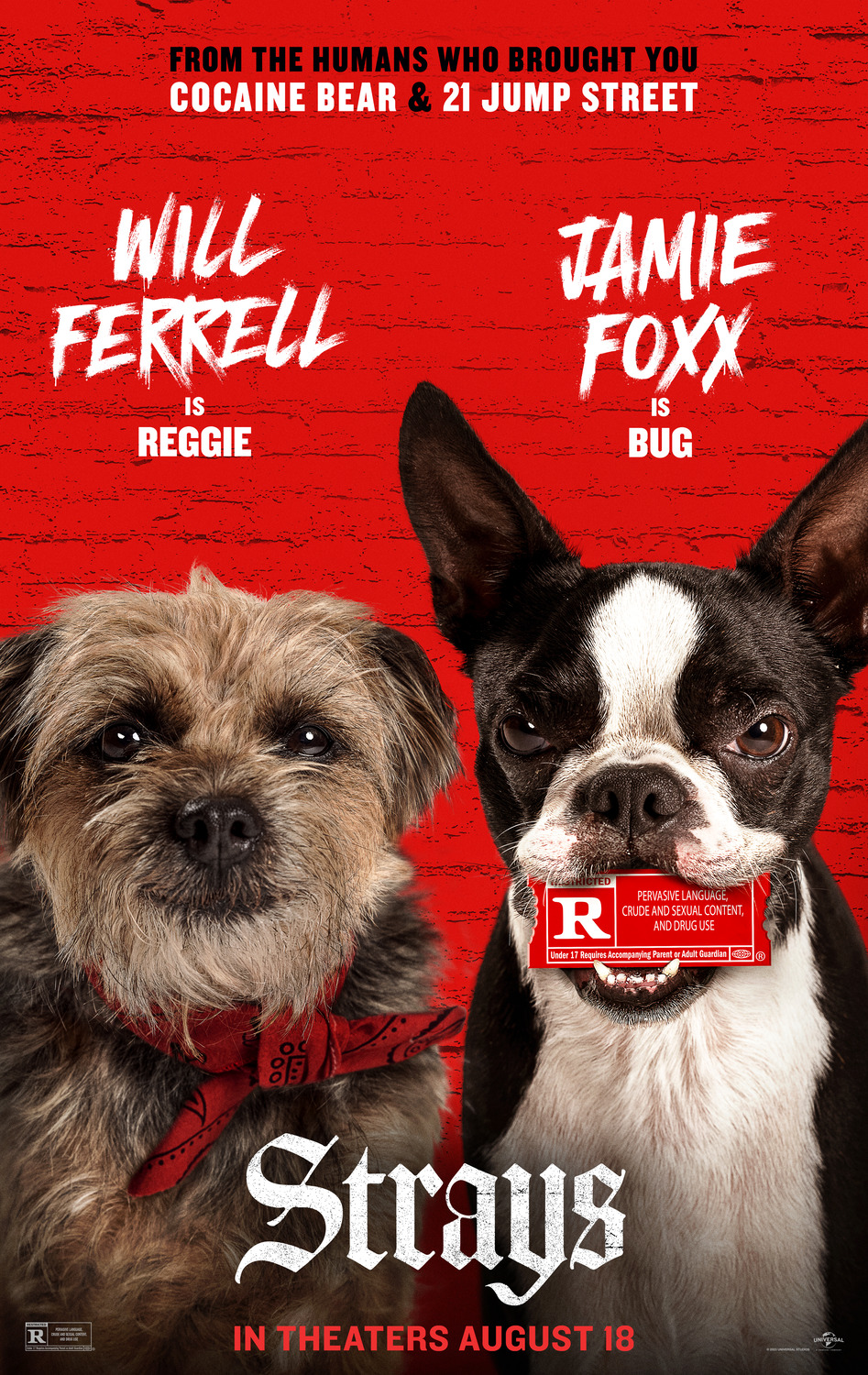 Director
Josh Greenbaum
Starring
Will Ferrell
Will Forte
Jamie Foxx
Isla Fisher
Randall Park

Strays is the story of innocent and naive border terrier Reggie [Ferrell] who is ignorant of the toxic and abusive life he suffers under the tyrannical, neglectful Doug [Forte]. A down-and-out, Doug despises Reggie but can't get rid of him, despite best efforts. One day, determined to see the last of the dog, Doug drives Reggie far from his small town, into the big city and leaves him in an alley. There, Reggie befriends a scrappy stray named Bug [Foxx] and is introduced to new friends Maggie [Fisher] and Hunter [Park]. Spending time with individuals that actually care for him, Reggie makes a resolution to return to Doug and bite his dick off. So the four dogs set out into the wild to exact revenge.
I won't be the first or last to point out that the elevator pitch for this movie was essentially "What if we remade Homeward Bound but with the energy of a mid-2000s sweary comedy?" And while there's nothing wrong with that sort of subversion, comedy features that aim to shock need a few strong supports to remain upright. Take Bad Grandpa for example. It's your usual Johnny Knoxville does outrageous stunts feature, but there's a narrative at its core that injects a surprising amount of heart and is compelling enough to follow. The problem with Strays, however, is that taking something intended for children and subverting it only succeeds for a good few minutes. But after that initial shock novelty wears off, you need a reason to keep watching. And no matter what the script tries, it always circles back to the same simplistic conclusion: dogs, am I right?
See, the performances feel replete with energy, the writing is just too bland. So no matter how much zeal or earnestness the cast bring to the voice acting, every circumstance and development offers little more than another twist on "dogs do the darnedest things." Did you know dogs like to eat vomit, bark at mailmen and piss on things? Yeah, that's crazy, right? What must be going through their head? It doesn't help that in order for the plot to progress and flow, the human element has to be cartoonishly stupid. Although, I will commend Forte for walking a very interesting line. Cinematic shorthand to establish a villain is to show them being cruel to an animal. And while Forte's character is despicable, his actions skew closer to Joe Pesci in Home Alone than Joe Pesci in Goodfellas.
In truth, several issues stem from the limitations inherent in this type of undertaking. Filming live-action animals means you can't rely on improv and spontaneity and the majority of the shot composition is remarkably flat and boring. Sure, there are a handful of scenes that mix it up a little (see my highlighted scene below) but for the most part it's a line of dogs looking at each other, while VFX artists animate tiny moving CGI mouths. On that note, I think it's easy to take for granted how many subtle effects shots are used throughout this film and how seamless animating a dog's jaw has become. Not only that, there are a handful of entirely CGI dog-substitute moments that are only really identifiable due to the action necessary for the character to perform. But they never truly standout, and in an age of glaringly ugly CGI, that's at least worth praising.
It may feel reductionist but Strays is plainly a very dumb film. Reliant upon tedious scatological jokes and threadbare observations, it has so little to say that is new, entertaining or even that outlandish. Meaning it fails to even succeed at being the most outrageous take on this narrative. It aims at an audience who will not only laugh at "haha the dog did a poo" but laugh with the same enthusiasm when that same joke is wheeled out for the fifth or sixth time.
Admittedly, there are a few laughs to be had here-and-there and the film isn't aggressively bad, it's just predictable, pedestrian and forgettable. Neither hot nor cold, it's the sort of lukewarm pap that you muscle through and instantly regret, while people around you are happily chowing down. And in that moment, if you think to yourself, "Am I just not getting it?" try to look past the decent cast and expansive marketing campaign and take comfort that the premise has gone through the hands of six producers and has likely been progressively bent and beaten out of shape, resulting in this unremarkable turgid affair.

Release Date:
18 August 2023

The Scene To Look Out For:
As stated earlier, there's very little going on outside of a line of dogs looking at things or shot-reverse-shot close-ups of dog's faces. That said, there is a scene wherein fireworks are set off at a local carnival. Filming a POV juxtaposition, illustrating how terrifying fireworks can be for dogs, was actually pretty decently shot, with sound design taking centre stage.

Notable Characters:
There are plenty of standout performances, in terms of consistency and levity, but I was just too distracted by a sum total of 40 seconds. Maybe even less. About midway through the film, we cutaway to a bird watcher and it just so happens to be Dennis Quaid. Not Quaid playing a role, he actively names himself. And this version of Quaid is so bizarre (with his birdwatcher guide that simply has the word 'bird' written over-and-over), monologuing to himself, that you have to wonder if the film is trying to do a Mel Brooks bit. But no, it's just a weird break for the sake of it.

Highlighted Quote:
"I didn't know I had a son. And he's a gnome of all things. Anyone want to hump my son? He's so handsomely dressed in his little tunic"

In A Few Words:
"Desperate to shock and startle but somewhere along the way, the filmmakers clearly lost sight of what they were trying to achieve and settled for mediocrity."

Total Score: 2/5