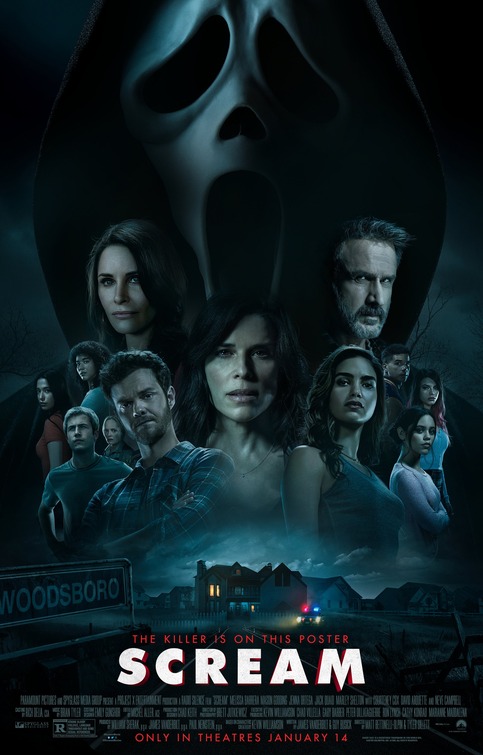 Directors
Matt Bettinelli-Olpin
Tyler Gillett
Starring
Melissa Barrera
Jack Quaid
Jenna Ortega
David Arquette
Neve Campbell
Courtney Cox

A decade after the last serial killings in Woodsboro (see Scream 4), high school student Tara Carpenter [Ortega] survives a brutal attack, mirroring Casey Becker's murder in Scream. Her semi-estranged sister Sam [Barrera] returns home with boyfriend Ritchie [Quaid] as the killings start up all over again. Sam's first port of call is to speak with former Sheriff, Dewey Riley [Arquette] and before long a tight-knit group of friends all look inward to figure out who the killer/s could be.
Unlike most horror sequels I find the Scream films generally tend to work. Naturally, none really come close to the original but the fact that they are, by their very nature, commentaries on the genre, affords them a bit of self-aware grace. I'm never actively campaigning for one but if a new Scream is announced, I'm always curious to see where they take the franchise; and as we're now at the precipice of the 30 year 90s nostalgia cycle, it feels somewhat fitting.
From the get-go, Scream 5 (going to have to call it that for ease), happily follows the pattern set out by its predecessors. Leaning heavily into nostalgia with its overall aesthetic, music choices and character naming. The host of new teens are just as cognisant of their predicament as their 90s counterparts and treat the entire ordeal with the same jaded irreverence. In terms of casting, everyone performs admirably but in truth, too many of the new faces aren't given enough to really do to stand out. The weight of the lifting is given to Barrera and she does a fantastic job. She's not positioned as "the next Sidney," managing to forge her own unique path, which more than justifies her presence and prominence in the story. The few remaining legacy characters return but are respectfully shown the backseat, to give enough room for the central cast to operate. That being said, it's hard not to find the established characters more engaging. Case in point, David Arquette still serves as the perfect direct connection to the previous films and has the most compelling, if a touch underdeveloped, story.
But this is Scream. And if there's one thing Scream does, it's lacerate the status of the modern horror genre; usually while perpetrating the same crimes but expecting forgiveness because it warned you what it was going to do. In the crosshairs this time is the evolution of elevated horror – and for anyone unaware, "elevated horror" is a pretentious term used to justify a horror film being "good." So, it's not that certain contemporary horror films are nuanced, emotionally complex and original, it's clearly that this is a separate sub-genre entirely, which operates at a higher level. Which is bullshit. The other target is the requel or belated sequel; one that takes the formula and title of the original and effectively reboots it for a modern audience, while still trying to appease fans. Subsequently, the killer/s and even the script itself feeling such veneration for the original, makes perfect sense when considering the current state of online fandom.
As the characters openly state, these events are and have always been, meta slasher whodunnits that keeps the audience guessing until the last minute. It's why the original was so strong and why some of the sequels succeed or fail. Scream 5 has an extremely strong setup and some truly brilliant ideas but ultimately deteriorates as the film goes on. What's truly frustrating is that the film does what it sets out, while openly telling you who is responsible. The problem is, when it comes to fruition, the result is disappointing because at this stage – some twenty five plus years after the first film – you're hoping for a touch more subversion.
Functionally the film is more than capable and, at times, works extremely well. For some, this will be a wonderful return to form, giving rise to a whole new series of conversations about the influence of movies on corrupt minds. But I believe for the majority, it will feel rather tired and needless. Sure, some standout moments scattered sporadically but devoid of truly memorable moments.

Release Date:
14 January 2022

The Scene To Look Out For:
While the opening and closing acts heavily pastiche the events of the original film, the middle has a decent amount of new content that kept me going. As the first film in the franchise without the Wes Craven, there was always the fear the playfulness would be lost in favour of horror and gore. And while there's plenty of blood, we're still treated to that almost unspoken dialogue between the filmmakers and the audience. At one point, the killer is stalking a potential victim through their house and everything about the framing, the music and the acting leads us to believe, when a door is closed, the killer will appear. But this trope is played up so magnificently that it stomps confidently into the realm of absurdity before pulling it back to something terrifying.

Notable Characters:
As stated before, Sam Carpenter is a strong new lead – primarily for her link to the original film. In all honesty, it's preposterous but in this particular setting it works and the execution of the twist (if that's the right word) is genuinely quite inspired. And while there's more the writers could have done with it, I feel there's just enough there to spark an interesting conversation; which is something all good Scream films should do.

Highlighted Quote:
"Are you telling me I'm caught in the middle of fan fucking fiction!?"

In A Few Words:
"A thoroughly enthusiastic and earnest effort but one that fundamentally struggles to cross the finish line"

Total Score: 2/5