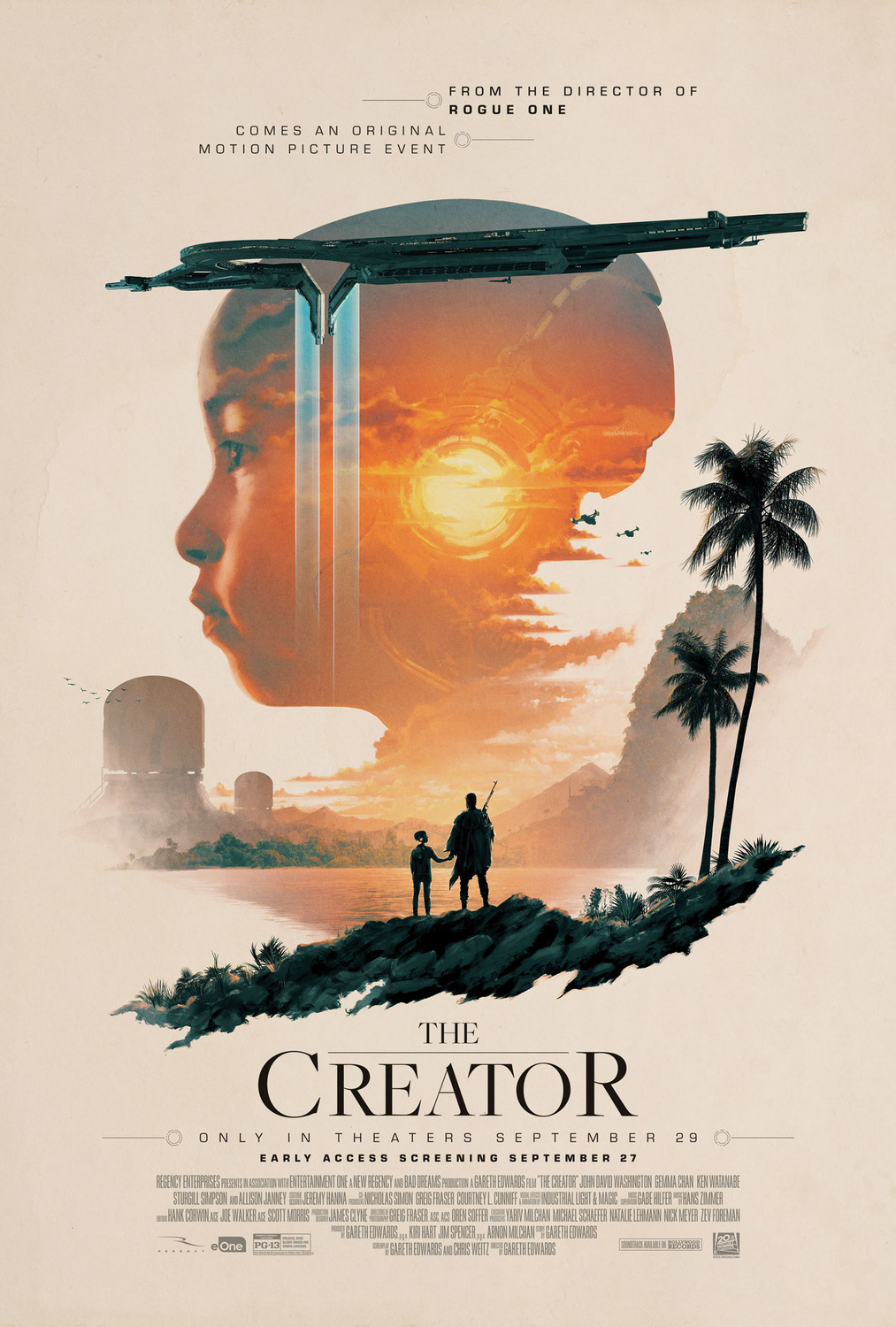 Director
Gareth Edwards
Starring
John David Washington
Madeleine Yuna Voyles
Gemma Chan
Allison Janney
Ken Watanabe

In an alternate past where mankind and AI coexist in harmony, that fragile peace is shattered when a nuclear bomb is dropped on Los Angeles. From then on a zero tolerance policy against AI is enacted in 'the West' while AI simulants and robots take refuge in 'New Asia'. Against this backdrop, we're introduced to Joshua Taylor [Washington], an undercover American operative who loses his wife and unborn child in the pursuit of the mysterious target: Nirmata, or the Creator. Years later, Joshua is re-enlisted to join a team of insurgents who believe the AI have created some sort of weapon. As it turns out, said weapon is a young robotic girl named Alphie [Voyles].
For a mid-tier budget film, The Creator achieves so much. It's distinct production design, rich cinematography, and A-list acting talent excel beyond the money afforded to it. What we have on our hands, is the sort of rare science fiction feature that demands your attention. But if you were to glance toward my final scoring, that number doesn't feel reflective of that praise. And that's because mediocre writing has diminished what should have been a triumph of modern science fiction.
From an acting standpoint, this film is headed up by the wonderful pairing of John David Washington – an individual I have lauded with praise many times in the past – and the magnificence of newcomer Madeleine Yuna Voyles. On top of that, we have appearances from Gemma Chan and Ken Watanabe that give the film an unspoken weight and gravitas. What's more, the hypothetical political landscape, offers these actors the opportunity to wade through some genuinely complicated grey areas. To explain, this movie is very analogous, and could easily be a reflection of the United States' involvement in campaigns around the world, in places like Vietnam, Somalia and Afghanistan. But where we would usually associate these forces as heroic (at least on an individual basis), they are solely given the treatment of foreign aggressors. They defy borders, kill effortlessly, and loom large over this continent, thanks to an orbital nuclear weapon delivery system called NOMAD. Which, let's face it, is a playground for any actor looking to get their teeth into something with depth. That said, for all the potential complexity, we are given some of the most reckless and inconsistent strategies and actions, alongside some of the laziest plot armour.
In truth, this is a very disjointed feature. Despite being just over two hours, it both rushes and drags in multiple places, seemingly lacking the confidence to allow the movie to sit and contemplate the questions its rapidly firing off. From the editing and the writing, it's clear that there was a much longer initial cut that deserved a second pass to jettison unnecessary baggage and focus on the film's core. It also should have told the story in a less fractured way, that wasn't hinged so heavily on the pursuit angle. Especially when you have incredibly rushed plot point revelations that are thrown out in montages, or crowbarred in with shocking dialogue. Case in point, while on the run, Joshua meets up with a former contact and learns that Alphie has the ability to grow and will eventually be able to control everything technological. That's not a problem, narratively speaking, it's just that said contact learns this from eye-balling the spinning cranium rings in Alphie's head. That's like showing someone from 2005 an iPhone and saying "My God, this tech is so advanced, it'll be able to conquer the world!" In a manner of speaking, that's not wrong but it's so hyperbolic as a standalone sentence that it sounds absurd and robs the message of its importance.
As stated, this movie is a technical wonder. But, regrettably, even that has its minor downsides. For example, I was enjoying the score, all the way up until I realised it was a Hans Zimmer arrangement – because, frankly, this feels a bit light for him. It largely has strong and emotive elements but it was the track "Standby" which really threw me off. Because the emotional crescendo feels like a carbon copy of John Paesano's impressive leitmotif from the Spider-Man PS4 game. And once I heard that, I couldn't unhear it.
From a visual standpoint, The Creator has a lot in common with that early Neill Blomkamp aesthetic. It feels lived in, grungy and not too far from our own reality. But more than that, The Creator also suffers from a lot of the same issues as something like Blomkamp's Elysium and Joseph Kosinski's Oblivion from the same year. They're both visually stunning but kinda hollow in their beauty. It doesn't take much before all the hard work and heavy lifting of the visual components have the legs cut out from under them by generic, predictable and frankly dumb scripts. I'd even go so far to say that The Creator has the same level of rudimentary storytelling that Avatar does. To the extent that if you told me this was an early, unproduced James Cameron script, I'd believe you.
Despite best efforts and desperately wanting to be, I never felt truly engaged. The film continually races ahead, meaning all the actions we experience feel disposable. Nothing is as important as the next beat and then finally you're sucker-punched with the end credits. But for being an original science fiction story, for creating a world that feels unique, for making a feature of this scale on a budget of this size, and for giving Voyles a platform to showcase her talents, The Creator is elevated beyond its faults. Nevertheless, no matter how high it climbs, it can never truly escape them.

Release Date:
29 September 2023

The Scene To Look Out For:
The military raid on the AI base in New Asia is one of the film's highlights. It showcases Edwards' strengths and allows you to set aside the logic of the moment to truly feel immersed in the spectacle of it all. Giant tanks, laser targeted missiles, robotic suicide bombers, and a kid bravely standing in the middle of it all. It's fantastic.

Notable Characters:
I mentioned this movie's navigation of the grey areas of war. And nowhere is that better represented than the steely determination of Allison Janney's character, Colonel Howell. More than a generic bad guy in pursuit of our protagonist, she is someone motivated by the loss of her own children, holding herself to blame and looking for some sort of redemption in ending this war by any means necessary. A fairly straightforward role, but one that is elevated superbly by Janney.

Highlighted Quote:
"Does she even know what she's been created for?"

In A Few Words:
"A powerful effort that falls short of its lofty ambitions."

Total Score: 3/5