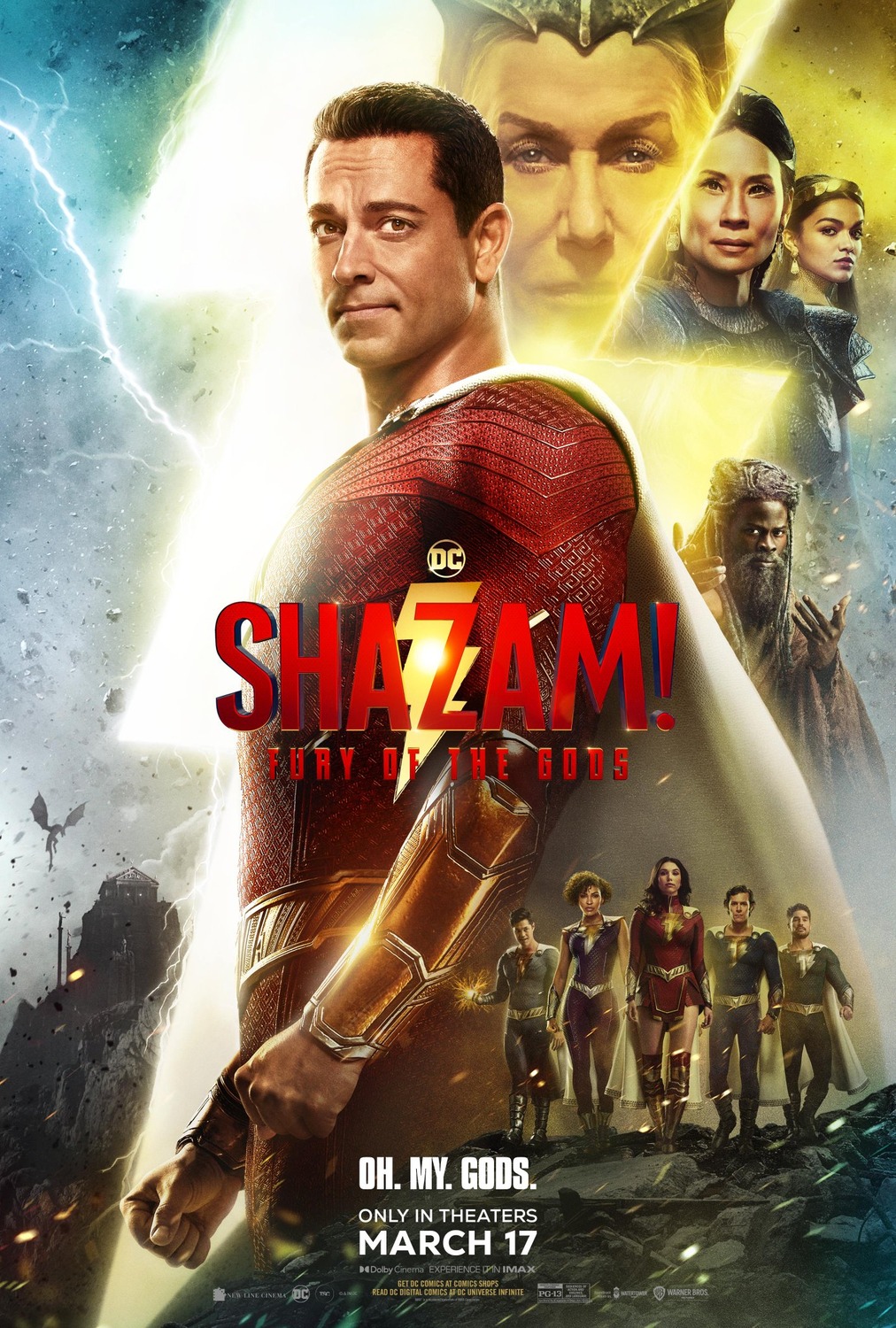 Director
David F. Sandberg
Starring
Zachary Levi
Asher Angel
Jack Dylan Grazer
Rachel Zegler
Helen Mirren
Lucy Liu

After sharing his powers with his family, Billy Batson/Shazam [Angel/Levi] broke the staff from which his powers derive, ensuring no one with nefarious intent could utilise it. Unbeknownst to him, however, it also broke a magical seal, that released bitter, vengeful gods: the daughters of Atlas (played by Lucy Liu and Helen Mirren respectively). But before Billy can tangle with these ancient forces, he must try and keep his super-powered family unit together.
Countless critics will be salivating at the prospect of using some really hammy puns, so let's get a few of them out of the way from the outset. Despite this sequel seeing the return of the same cast and crew, the magic of the first film has eluded them, and it's clear that 2019 outing was the very embodiment of lightning in a bottle. Because, regrettably, said lightning hasn't struck twice. What's more frustrating is that this film isn't simply a hollow, soulless follow-up; the qualities that made Shazam so good are trying to break out under the surface but the entire feature feels so monumentally weighed down. Ultimately crushed by a sprawling set of characters that it doesn't seem to have the time or wherewithal to handle evenly, laboured by a lot of lore that never really holds up, and utterly beaten to death by an unnecessary amount of muddy CGI. Although, it is worth noting, there are a handful of visual moments (such as Billy's final fight) that is pleasingly lit, utilising scale and shadow.
The story and themes are also incredibly cluttered, fighting for supremacy. The one that should have been the most prominent but feels like it slipped past the writer's eyes, is the juxtaposition between two different squabbling families – specifically the Shazam kids and the daughters of Atlas. But, while there are a handful of encounters that come close, this film never really gets to the crux of either. And on top of all that, despite the hefty 2 hour 10 minute runtime, it doesn't feel like a great deal actually happens – at least not in terms of actual development. The story is remarkably rote, the arcs are predictable, and the world-building feels not only clumsy but, given the transitional state of DC live-action cinema, kind of disposable.
However, this isn't to say the film is terrible. In fact, a great deal of it remains compelling, enjoyable and fun. There's also an increase in cohesion between both incarnations of Billy, which is welcome. And the heart of the film is, one again, Glazer as Freddy Freeman. The same manic energy returns, only this time with the added frustration of knowing he has the ability to be more but feeling 'broken' and trapped in his non-superhero form. Additionally, the choice to use Grace Caroline Currey as both versions of Mary was a sound choice, and serves to illustrate as a reminder that these super-powered forms are meant to be the pinnacle of their potential.
For me, one of the biggest bugbears is what this film could have been. Not for one second do I feel this story was some intended path, outlined from the start; instead it feels like a lot of revision and rushed conclusions. What we deserved was a film where the Shazam family had to unite against their antithesis: Black Adam. But, thanks to a not insignificant amount of pushing from Dwayne Johnson, that never came to pass. Although, it's worth highlighting that at least Shazam: Fury Of The Gods is a better, more rounded feature than last year's Black Adam.
In an age where superhero movies are closer to episodes in a wider narrative, than standalone instalments, it's easy to say "this one was a bit of a fumble but we'll get it right next time." But given how unstable and unpredictable the studio heads wrangling said wider narratives are, that attitude doesn't cut it. And regardless how many positives I list, it doesn't detract from the fact that Shazam was one of the best reviewed superhero films that felt like a true breath of fresh air, only for its return to get lost in a quagmire of forgettable tropes and entanglements.

Release Date:
17 March 2023

The Scene To Look Out For:
Billy, in his efforts to keep the team under his wing, holds regular meetings to assess their latest escapades. It's only really around this time that we get to see the family interaction that was promised at the end of the first film. Each member has their own quirks and interests: buried in the lair's library, exploring the multiple doors that act as portals to other worlds, and ..doing homework. Disappointingly, these setups are few and far between, with the film more focused on forcibly separating the group for contrived dramatic purposes.

Notable Characters:
**spoilers.. sort of**
This is probably going to sound flippant but it's worth bringing up. Diedrich Bader is randomly in this film. Not as a cameo, but clumsily marched in to portray a teacher sympathetic to Freddy getting bullied. Not to stop it or intervene, just.. to say "I get it, it sucks" before leaving the scene. Only to return a little while later to be killed to prove a point. For a surprisingly dark and cruel moment, it becomes a little laughable, if only for how dumb it is. And that is kind of indicative of the entire movie's problem: a half-baked concept that should hold significance but devolves into something stupid.

Highlighted Quote:
"Taste the rainbow motherfu–"

In A Few Words:
"A significant climb down from the heights of the first film but has enough charm to avoid being a complete write-off."

Total Score: 3/5