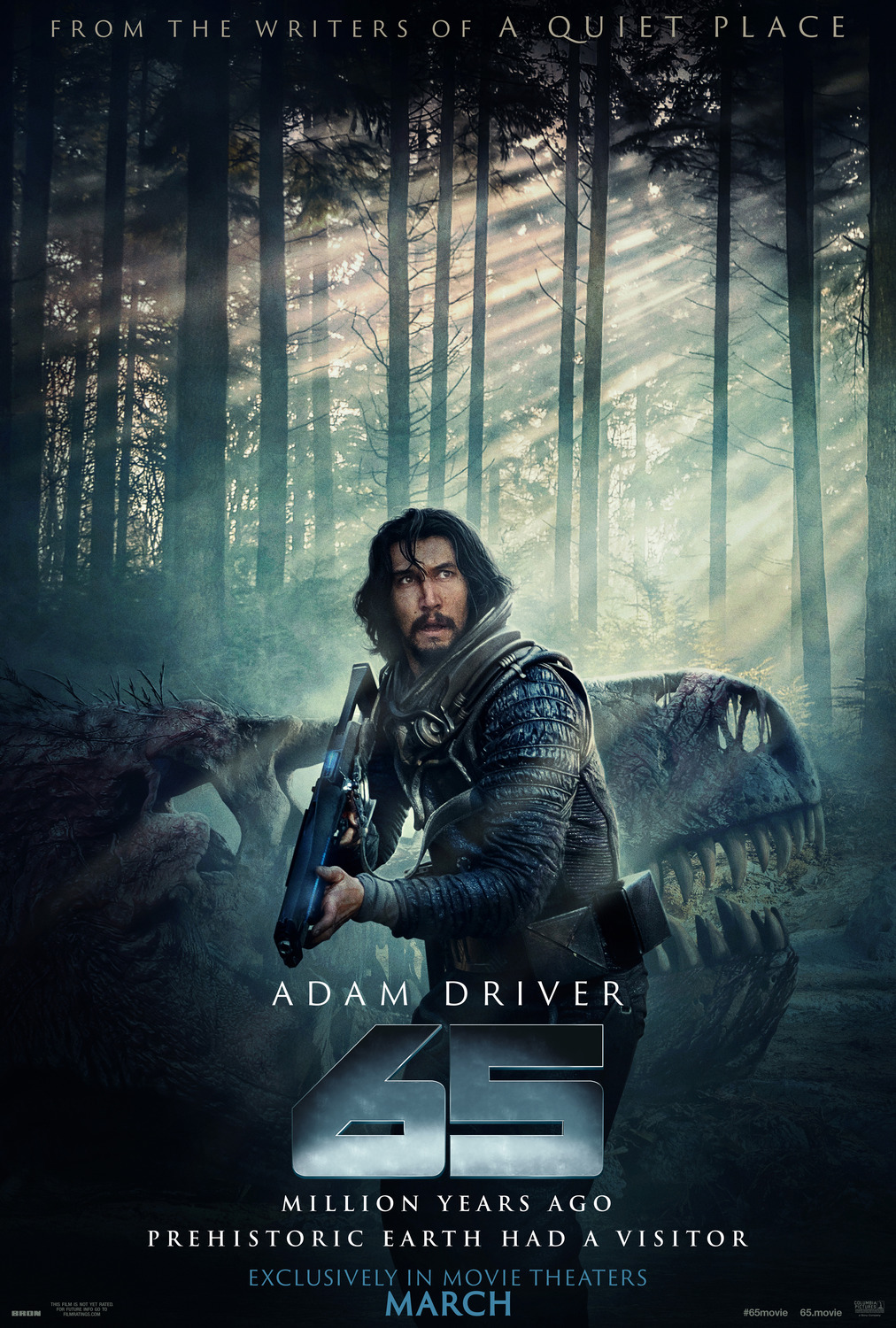 Directors
Scott Beck
Bryan Woods
Starring
Adam Driver
Ariana Greenblatt

Mills [Driver], a space pilot from the planet Somaris, takes on an extended exploratory mission in order to pay for the treatment to cure his daughter's disease. En route, however, his ship enters an unidentified asteroid field, is shredded in half, and crash lands on an uncharted primitive world. The only other survivor is a young passenger named Koa [Greenblatt], but without a working translator, neither individual can understand the other. The pair then quickly discover the planet is extremely hostile, populated by a host of different reptilian species – because the big reveal, is that the planet in question is Earth, 65 million years ago. Now, if you're upset that I've spoiled the movie's twist, that piece of information is offered up within the first ten minutes. But we'll get back to that.
I've always maintained that one of the best ways to do a space based science fiction film is to treat it like a 1600s naval exploration adventure. And to start with, 65 accomplishes this rather well, with its tones of fear, grief, guilt, despair bordering on suicide, and then action and survival. And all of this is carried thanks to Driver's commitment to the role and Greenblatt giving us a performance beyond her years. So, thanks to two compelling central performances, we're able to comfortably overlook a few lacking elements and frustrating interactions.
In that way, this feature is reminiscent of the sort of competent, stripped back schlock that you'd experience in 80s high concept sci fi adventures. A visceral production, steeped in dust, filth and slime, that uses its modest budget sparingly, focusing on an odd couple survival narrative, with a strong injection of "sad dad". Although, in 2023, to set a film during the late Cretaceous period and not feature any feathered dinosaurs feels like a complete (albeit minor) misstep.
The film's pacing is unrelenting, refusing to allow audiences time to recover before hitting our protagonists with the next micro or macro challenge. And yet, despite this, it's actually a fairly empty and forgettable release, which feels like it's building to a showdown or revelation that never really arrives. Sure, the premise and execution are both incredibly straightforward and there is an earned constant sense of peril, but you never fool yourself into thinking the conclusion will be anything other than positive or successful.
Interestingly, up until the opening titles – some 15 minutes in – you have a very tight, well-executed short film with a nice little twist. But the film rumbles on. And, based on the end credits, I think the location being prehistoric Earth was supposed to be a reveal, but was marketed and pushed as obvious signposting from the get-go. Because, as it stands, the story has its finale and then essentially stops.
What's ultimately missing from this release, isn't spectacle, heart or chemistry, it's the unabashed sense of rip-roaring fun. And I don't mean a script littered with poor jokes or a devil may care sense of indifference to the proceedings. I mean lifting this fairly dour, miserable experience out of the mire, and infusing a touch of awe, majesty and good ol' fashioned flamboyance. But I won't damn it entirely, because mid-tier budget films based on novel concepts, that strive for greatness and fall short, should still have a place in modern cinema. And I wouldn't be surprised if just enough of the intended audience have a good time with this release and feel critics have simply been too harsh.

Release Date:
10 March 2023

The Scene To Look Out For:
With Mills and Koa trekking to the aft of the wreckage, they come across a cute fledgling dinosaur, caught in a thick molassesy pool. Based on how this is presented, the audience likely made a few expectations – I know I did – only to see this doe-like creature pounced on and mauled by predators. But this wasn't played for laughs like a gag in Jumanji, it was an exercise in tonal subversion to illustrate that the leads cannot be distracted and must have their guard up all the time. Which, I have to commend.

Notable Characters:
You can count the entire cast on one hand but the truth is, without Adam Driver, this movie would be distinctly worse off. There's something to be said for an actor who respects the craft and is able to bring their a-game to seemingly every project – no matter how silly. And for that reason, Mills is surprisingly relatable, engaging, and human…. ironically.

Highlighted Quote:
"I'm not doing this because of you, I'm doing it for you."

In A Few Words:
"An altogether uncomplicated tale that runs from A to B without notable deviation."

Total Score: 2/5