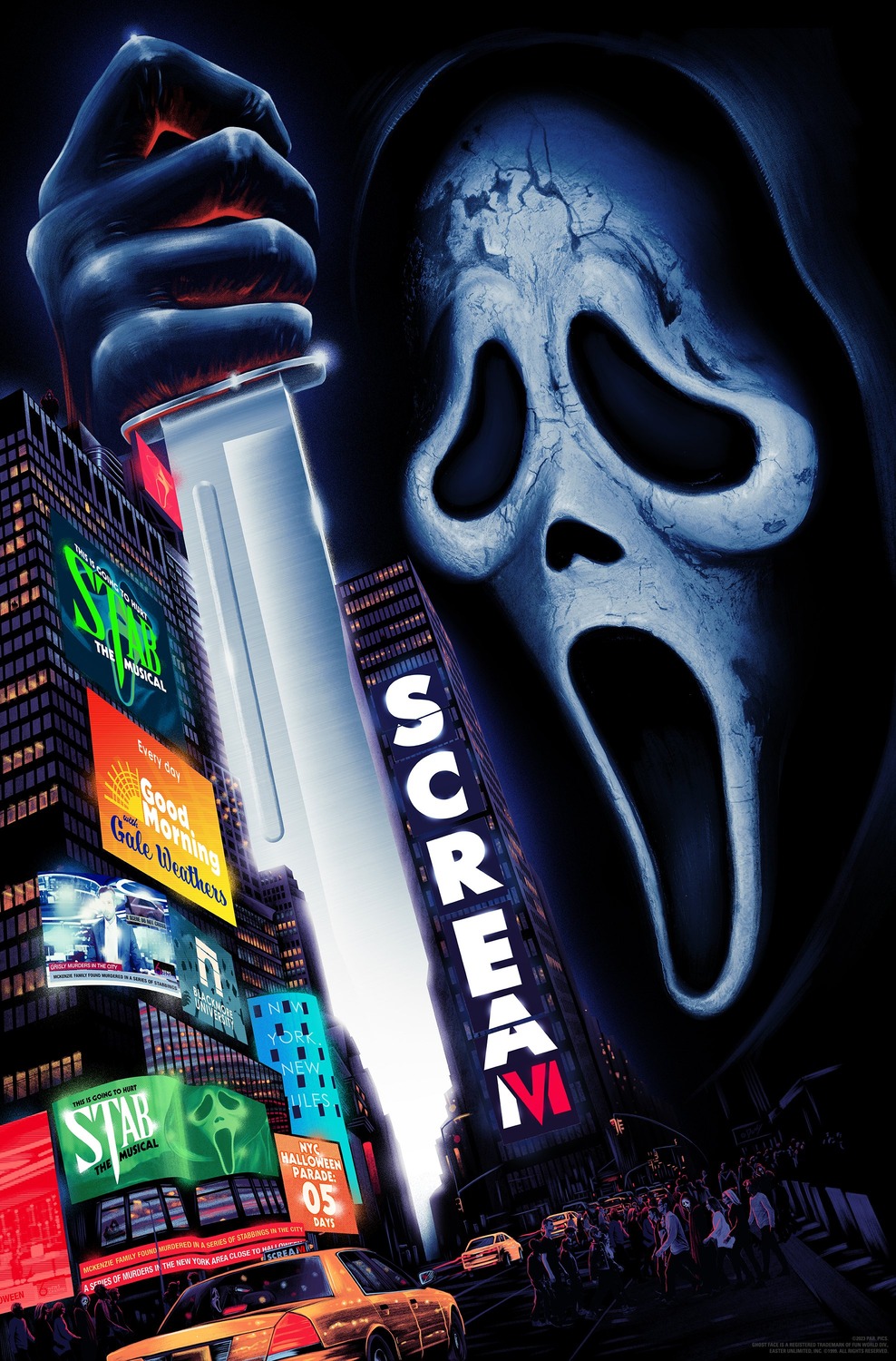 Directors
Matt Bettinelli-Olpin
Tyler Gillett
Starring
Melissa Barrera
Jenna Ortega
Hayden Panettiere
Courtney Cox

A year after the events of Scream, Woodsboro survivors Sam [Barrera] and Tara [Ortega] have moved to New York, along with fellow near victims, siblings Chad and Mindy Meeks-Martin (Mason Gooding and Jasmin Savoy Brown respectively). They have tried to etch out a new life, attending college like regular kids, but unfortunately they are seemingly incapable of escaping their past. And despite multiple precautions, the ghostface killings have started up again; this time with a sense of legacy and vengeance.
Scream (5) and now Scream VI, feel a little like the recent Halloween sequel trilogy: there's plenty of fresh ideas injected into the mix, with a healthy understanding and reverence for the foundation that came before. But, much like that other iconic slasher franchise, these instalments never truly make enough of their own mark; heavily reliant on nostalgia and franchise homage. That said, this sixth outing continues to subvert expectations. I think it's entirely fair to say that nobody will see the big killer reveal coming – but then, admittedly, no one saw it coming in any of the other films because the identity always belongs to characters we've never met or formed a connection with before.
It's worth noting that Scream VI, much like its immediate predecessor, carves out its own identity in terms of visual presentation. Unlike Friday the 13th Part VIII: Jason Takes Manhattan, the setting here feels more than lip service, and makes the anonymity one feels in a bustling metropolis pretty terrifying. From the narrow alleys and crowded subways, to the condemned buildings and maze-like apartments, the location itself helps the entire feature feel unique. On top of that, we are also treated to some of the most graphic and borderline egregious kills in the franchise. But, as the film actively and openly acknowledges, this is what is expected of a narrative that goes beyond sequels and requels and cements itself as an everlasting franchise.
The returning "core four" and their handful of new additions are pleasing to watch. The chemistry remains in tact and in between the vicious attacks, there's room for genuine dramatic interplay. Most notably, both Barrera and Ortega continue to carry this iteration of the franchise. Their dynamic as half-sisters is strong and compelling, while Barrera's struggles with her darker side (owing to the identity of her father) is probably the franchise's most interesting element. The additional return of Kirby Reed [Panettiere] from Scream 4 adds an extra level of mystery, potential misdirection, and world-building that is a welcome treat.
Ultimately, every Scream film since the first sequel has had difficulty forging a strong identity. By which I mean, the reliance on meta commentary to save it, has itself become very cliche, as well as robbing the movie of a lot of lasting sincerity. Case in point, calling out the tropes while still committing dumb stuff like getting separated and thinking little of it, performing the same actions that got others killed, and the killer's blade being unable to penetrate plot armour, is infuriating at this stage. Part of the reason the original Scream was able to go over 'the rules' of horror, was because the mainstream genre output was stale and predictable. But Scream isn't the back-talking witty up-and-comer anymore; it's aged out of that bracket to become the elder posing as the new kid on the block. Meaning, whatever is offered to the audience, continues to feel like a retread of familiar ground. Which is the very thing Scream was aggressively trying to stamp out. Or, at the very least, shine an exposing light on.
Without going into full descriptive analysis and spoilers, the film's final chapter rings a little hollow. Whomever the ghostface killer/s turned out to be, it would have to not only tie comfortably into the established legacy, it would need to mirror the merciless pursuit and vigour shown by the murderous figure. And by the time we get to the exposition dump, I just didn't buy it. Sure, it was unpredictable and made enough logical sense to hold up but it didn't feel satisfactory enough to truly stand out. That said, I will hold my hands up and admit that this film decently held my attention and for the two hour runtime, I never felt any sense of fatigue or boredom. It simply never got up to full speed in a way that had me on the edge of my seat. And as someone who is notorious for jumping at the mildest scare, a surprisingly tame release is not what I expected.
Entirely competent in its execution but fails to give the impression there's much story left to tell, bar the low-hanging fruit (i.e. that Sam ultimately becomes her father) that would feel like a betrayal of all that has been established.

Release Date:
10 March 2023

The Scene To Look Out For:
As is often the case with these movies, the cold open is a great talking point, essentially boiling down an entire alternate version of this movie into one self-aware section. As a microcosm exploration it's genuinely fascinating and admirably handled and, if I'm honest, I'm grateful that this particular avenue isn't the core one the film chose to go down, or the whole film would have felt more tired and repetitive than it already does.

Notable Characters:
There was a curious redundancy to Gale Weathers [Cox] – living in her New York apartment, still capitalising off of the deaths of others; having learned seemingly nothing. So when she suffers yet another attack (the sixth in 30 years), you sort of wonder what the point of bringing her back is. And, given the contract dispute that saw Neve Campbell absent from the franchise for the first time, maybe ditching the legacy catalogue is a wise idea.

Highlighted Quote:
"I'm not going to let what happened to us for three days define the rest of my life."

In A Few Words:
"Yet another bold attempt to stay both relevant and engaging but frankly ends up feeling just as generic, regardless of how proficiently it's shot."

Total Score: 2/5