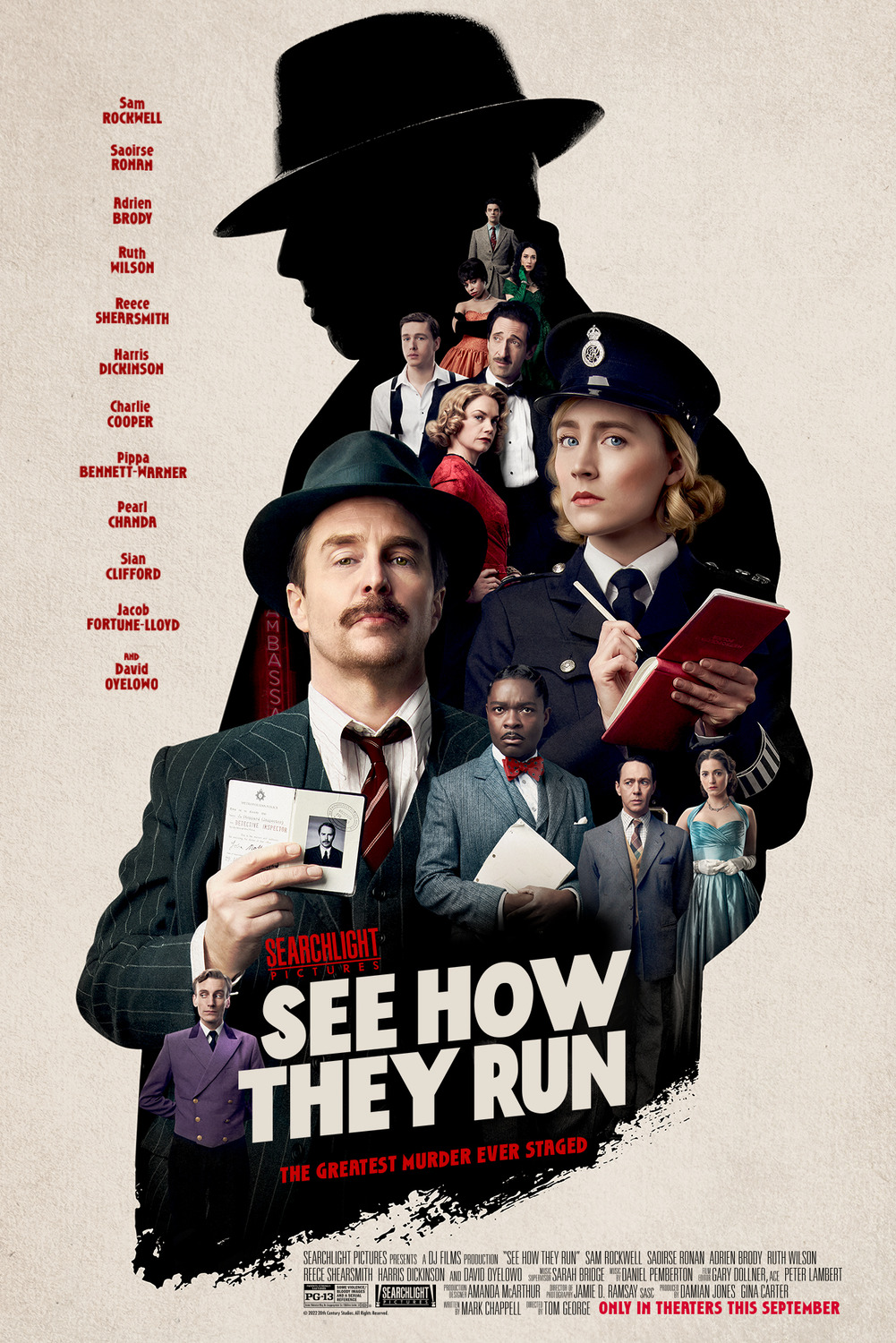 Director
Tom George
Starring
Sam Rockwell
Saoirse Ronan
Adrien Brody

Set in London's West End theatreland in the 1950s, a Hollywood director, Leo Köpernick [Brody], is murdered backstage at a popular Agatha Christie theatrical adaptation. World-weary detective, Inspector Stoppard [Rockwell] is brought in to deduce the case, and is paired with keen female Constable, Stalker [Ronan]. As the lacklustre Stoppard questions witnesses and comes closer to ascertaining who the killer is, his relationship with his eager-to-please partner strengthens. And if that sounds like a fairly dull, straightforward synopsis, there's a clear reason why – one that you don't need a detective to sleuth out.
For all intents and purposes, See How They Run is very pleasing to look at. The fine period costuming, opulent production design and fantastic locations all hum with life and energy. And when married with confident staging, direction and lighting, a sort of semi-fantastical Anderson-lite vibe runs throughout. Admittedly, sometimes this goes too far, with possibly too much fourth-wall breaking and an excess of split-screen presented scenes. But at least there is a consistency from start to finish, so if you're on board with the chosen style, you'll enjoy the experience overall.
This film boasts an incredibly impressive cast of award winners and there's clearly no glaring component dragging their heels. That being said, while the performances are undeniably charming – with Ronan, in particular, carrying a lot of the innocent comedy beats – none of it really comes together. See, despite trying to solve a murder, there's a distinct lack of urgency. Which, when you consider the irreverent tone, means the audience doesn't care. Granted, there's a sense of intrigue and mystery, meaning we want to uncover the identity of the killer.. but there's little fear of a follow-up or repercussion. So the whole film feels routine. Now, that could be down to the script itself, the tonality of the piece, or the almost whimsical care-free setting but regardless, it doesn't have the snap needed, and moves along at a glacial pace.
To a degree, I understand the choice to go down a meta, self aware writing style. The opening narration from Brody laying out the tried and tested structure of a classic 'whodunnit.' And there's a smattering of witty dialogue and clever developments. As such, it's evident a lot of love has gone into the script and there's a distinct affection for this particular style of story. But, in truth, this instructs the audience (those paying attention) to look for clues in the irreverence more so than the plot itself. In other words, the meta commentary is where you are able to ascertain what's happened and what will follow. Literally through the opening narration and a flashback scene, wherein Brody's character is trying to sex-up the film adaptation of the play, we are given loaves of information rather than breadcrumbs. Meaning what should be a witty reveal by the close, turns out to be a rather contrived, "Yes, we know. You told us."
Ultimately, See How They Run fails to justify its lavish visuals and impressive cast, and will regrettably be a bit of a career footnote when people talk about the influence of the success of Knives Out. But it's not a complete write-off. There's a solid amount of charm, it just lacks conviction – though not for want of trying.

Release Date:
09 September 2022

The Scene To Look Out For:
In an attempt to keep this review spoiler free, I won't divulge the full nature of the killer or their motives. That being said, once we get to the storyboarded pre-determined finale, the revelations presented are coated in a sort of classist cynicism. By which I mean, it's all a joke to the established well-offs, at the expense of serfs and those who have suffered real injustices.

Notable Characters:
As stated before, both Ronan and Rockwell bring a lot of heart to this feature. The characterisation they are portraying feels suitably layered and complex but the jokes themselves are pretty rote and repetitive. And while the embodiment of these characters is decent, the individuals themselves offer nothing notably new or compelling. They are almost entirely who they present themselves as, with little deviation, complexity or evolution.

Highlighted Quote:
"No flashbacks! They are crass, lazy and interrupt the story."

In A Few Words:
"A very by-the-numbers tale that neither offends nor delights."

Total Score: 2/5