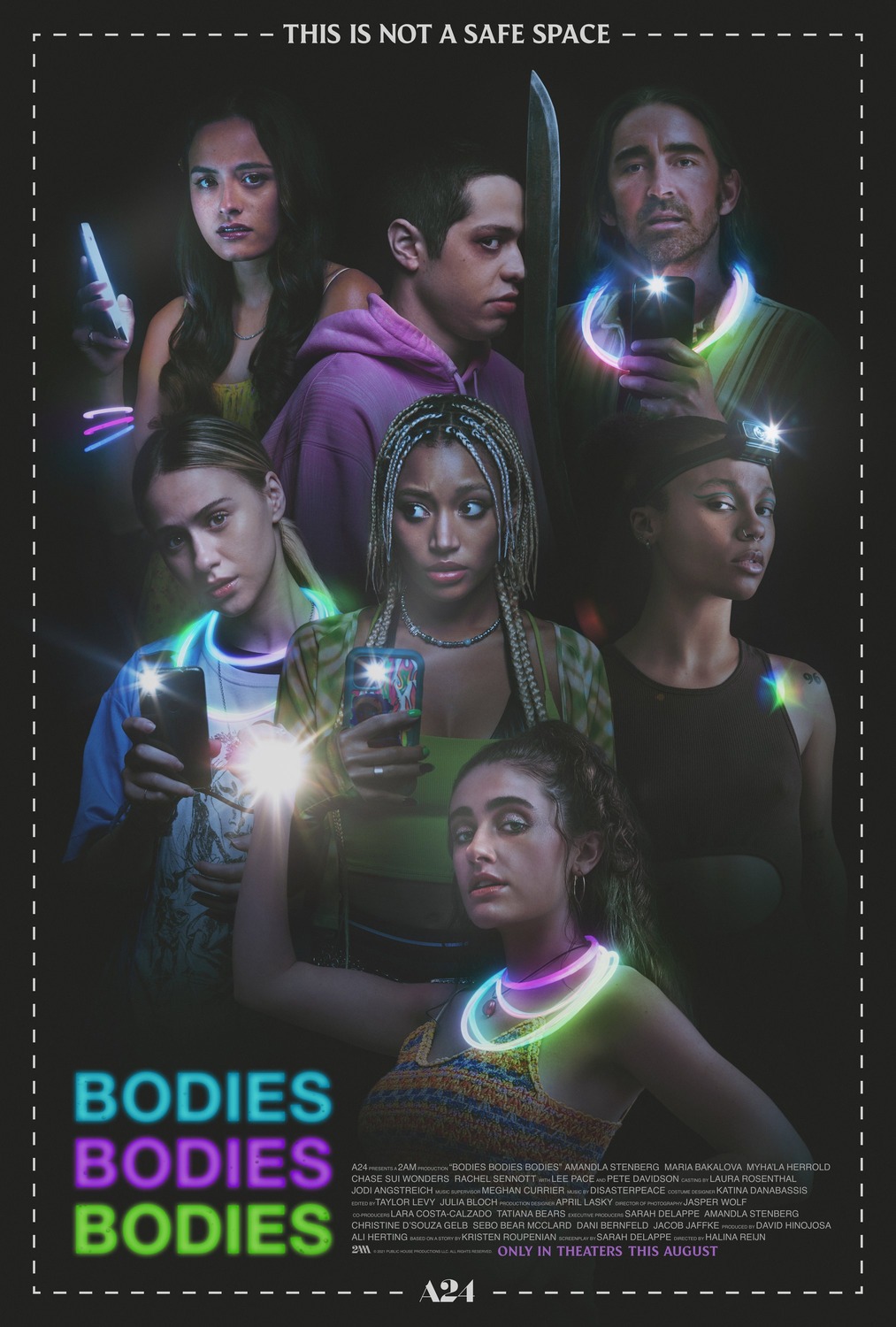 Director
Halina Reijn
Starring
Maria Bakalova
Amanda Stenberg
Rachel Sennott
Chase Sui Wonders
Myha'la Herrold
Pete Davidson
Lee Pace

The plot of Bodies Bodies Bodies is remarkably straightforward. Sophie [Stenberg] invites her new girlfriend, Bee [Bakalova], to a hurricane party at a childhood friend's house. The fairly reclusive Bee does her best to mingle with Sophie's friends but immediately picks up on the undercurrent of animosity and baggage that comes with all tight-knit friendship groups. To ease (or possibly escalate) the tension, Sophie suggests a social deduction game: the eponymous Bodies Bodies Bodies. The rules are simple, one person is the murderer and when the lights go out, they have to "kill" someone. When that player is discovered, "Bodies Bodies Bodies" is shouted and the group ascertain who the killer is. Only problem is, someone actually ends up dying and the game becomes far too real.
Throughout this entire feature, there is a beautiful chaotic energy. In fact, from the outset, there's a clearly established unease – which we interpret as social awkwardness when meeting a partner's friends. But it rolls on and gathers momentum to create a very different flavour of horror. And anyone who's played one of these games – where the objective is to weed out imposters – knows how toxic and brutal they can be, and how they often end up as mean spirited, cruel meta gaming. Essentially using the game as an excuse to air your frustrations and deep-seated thoughts about your supposed friends. So taking that narrative and moulding it to a screenplay, is frankly brilliant. Like crossing Mean Girls with The Thing.
Bodies Bodies Bodies also serves as a zeitgeist experience. A state of affair that utterly skewers an entire generation (and class) in the same that way Scream lovingly did, twenty six years ago. And there have already been a handful of attempts to represent Gen Z – usually through a millennial lens – but this one feels quietly legit. The dialogue is astonishingly well written and delivered with flawless ease; giving rise to brutal melodrama, which is all horrifically open and raw.
Which is only really possible thanks to a powerfully impressive set of performances. The constant sniping, back chatting and death stares are simultaneously hypnotic and cringingly familiar. And as the paranoia, insecurities and drug-fuelled toxicity take hold, these established archetypes really come into their own. Not a single actor feels like they're being carried by the others, everyone has their legitimate place and their presence is felt. Or not, when they're absent. Case in point, the continuing developments are punctuated by "where the fuck is [insert character name here]?" It should feel cheap and poorly written but it underpins the chaotic nature of these individuals not being able to govern themselves or keep track of others thanks to self-preoccupation.
From a directorial perspective, Reijn has pulled off something incredibly impressive. As an actor herself, she has created an environment for these performers to bring something very real to life. But that can be a nightmare for a crew because how can you follow that level of predetermined anarchy? It's like being a documentary crew. But in spite of this, the close-proximity direction is intense, the weather ravaging the location makes everything feel claustrophobic, and the tremendous natural cinematography (with the predominant use of mobile phone lights and screens) grounds the farcical events. All of which is topped by loud, oppressive music, songs and sound design, all deliberately putting the audience on edge.
If I had to prescribe a negative, it would be that, for all the fun the film is having, it can be a little too discordant. Specifically, with the group its trying to satirise. The jabs are aimed clearly at wealthy spoilt kids, literally glued to their phones. But it never decides if these are bad people to be punished. Nor does it take a stand on what the overall message is. We flash back and forth between tones of sympathy for the world these kids have inherited (the hurricane itself feeling like a representation of the world around us falling apart), to jovial mockery of how young people talk and where they place their priorities.
As a standalone chamber piece, Bodies Bodies Bodies is an entertaining and well-constructed break from the norm. But as a lasting satirical look at the state of wealth, excess, manipulative openness, and generational social fears, it only just nudges the door open. That said, at least it's trying something different and creating a time capsule piece in the process.

Release Date:
02 September 2022

The Scene To Look Out For:
As the film progresses and the group turn on one another, we are treated to so many fantastic interactions and exchanges. One that stood out for me was the confrontation between Sophie, Jordan [Herrold] and Alice [Sennott]. The cold switching loyalties, the awkwardness stemming from Bee as an observer, and the absolutely cutting remarks being thrown around, make it a joy to watch.

Notable Characters:
Seeing Bakalova transition from her incredibly impressive role in Borat Subsequent Moviefilm to this dramatic, retreated persona, is wonderful. Every member of the cast brings so much energy and life to what they're doing, I can only imagine how draining the experience of shooting must have been. But as Bee, Bakalova, adds striking humanity and empathy to their shared plight.

Highlighted Quote:
"Fuck this game!"

In A Few Words:
"A melting pot of venom, vapidity and violence."

Total Score: 4/5