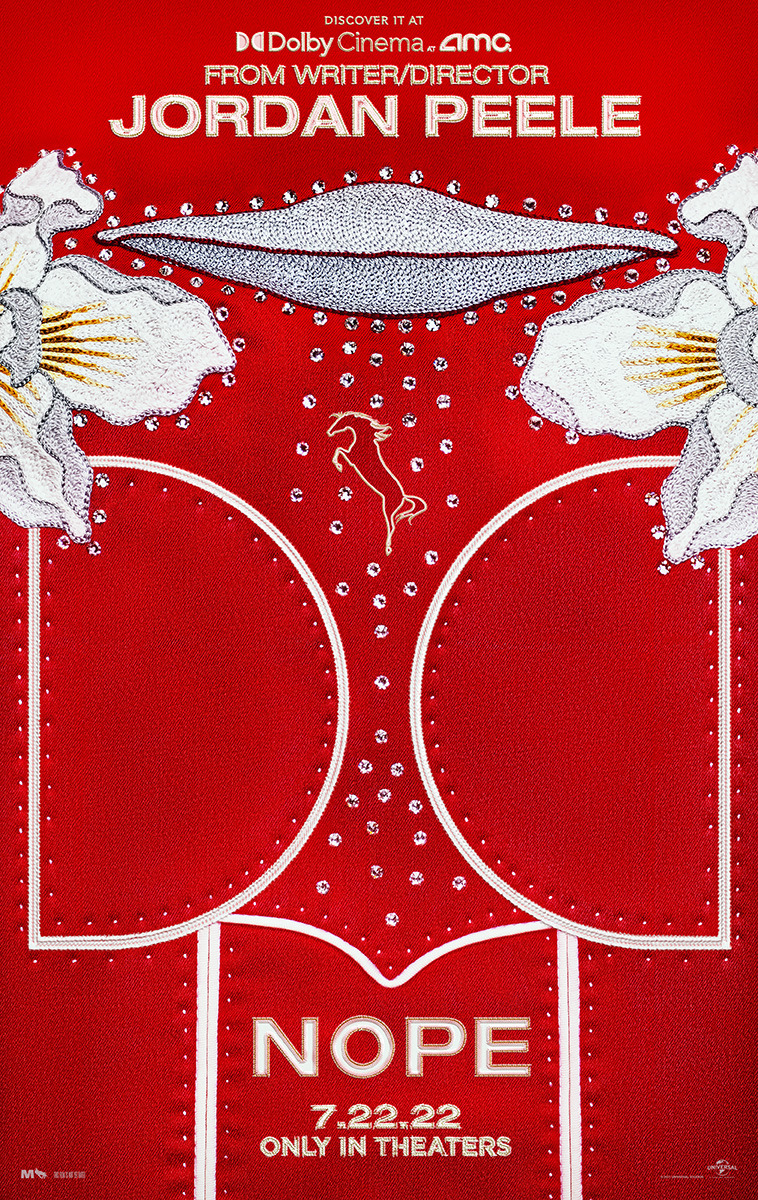 Director
Jordan Peele
Starring
Daniel Kaluuya
Keke Palmer
Brandon Perea
Steven Yeun
Michael Wincott

Following the death of his father, Otis Jr 'OJ' Haywood [Kaluuya] finds himself in charge of the family's failing ranch. For generations, the Haywoods have provided trained horses for various movie productions. But due to the risk and expense, OJ is struggling and has to sell many of the horses to a small local Western theme park: Jupiter's Claim. Meanwhile, OJ's sister, Emerald 'Em' [Palmer] is hungry for fame and fortune and sees the potential closure of the business as a springboard to something bigger and better. One night, a horse named Ghost gets out of its pen and is sucked up into the night sky. OJ and Em then set out to expose what may or may not be literally hiding in the clouds over their ranch.
Given the subject matter and the strong family dynamic, there's such a noticeable early Spielberg vibe. As such, we get solid initial tension, a powerful albeit less front-of-stage score from Michael Abels and rich simple cinematography that brilliantly deals with both harsh daylight and night shots; not to mention haunting imagery in the fog, dust and clouds. What's more, the actors and the script bring natural characterisations, conversations and chemistry throughout, that serves to ground the entire piece.
That being said, it's impossible not to acknowledge how much of this film feels a little first draft. While they are both compelling, I can see the evidence of OJ and Em's personalities in effect but we don't explore how they got there. Sure, OJ was lumbered with the family business and the long shadow of his father, while Em is a little scatterbrained and has difficulty settling into one lane – but it's all pretty surface level and just a touch two dimensional. We also get a frustrating amount of comedy beats that don't always land and a run of mediocre fake-out jump scares – and given Jordan Peele's demonstrable deftness with both comedy and horror, even the slightest misstep is frankly shocking.
I'm also hideously torn with the characterisation of both the theme park owning Ricky 'Jupe' Park, played by Steven Yeun, and Michael Wincott's jaded cinematographer, Antlers Holst. As with the leads, we have a handful of clues but the focus sometimes feels in the wrong place. Let's take Jupe specifically. As a child, he worked on a sitcom called Gordy's Home, which featured live chimpanzees. Seemingly out of the blue, one day the chimpanzee actor playing Gordy became startled and attacked several cast and crew members. So much time is given to this incident and it offers a glimpse into how Jupe took the wrong lesson from that experience – believing he had some sort of special connection with the animal, which is why he wasn't initially attacked. But we don't spend enough time with Jupe in the present, so when the plot shifts around the halfway point, it feels like it comes a little out of nowhere, for the sake of a twist.
Similarly, Holst is briefly introduced as a tired artist, working jobs that are beneath his craft. We witness him editing some documentary reels but that's it. This could have been enhanced with a handful of revisions. Say he'd walked off his latest shoot and announces he's retiring because he feels there's nothing unique left to film. But then, free from the studio system and busy schedules, he is fully enticed by what the Haywoods are trying to capture a glimpse of on their farm. Now, you may say "but they do that in the film" and it's true, these elements are all nodded to… but in the most minimal way. And somehow, in a two hour ten minute film, too many elements aren't given the space and time to breathe.
**Spoilers throughout the next two paragraphs**
As much as I can loosely allude to what this film is about, we need to talk about the elephant in the room, to really get to the heart of where this film does and doesn't work. As the story unfolds, it becomes clear this is an extraterrestrial/UFO tale. But, surprisingly early on, there's a dynamic shift.. which doesn't have the intended impact. See, rather than being a conquering force or a terrifying delivery device for some unknown race, the object isn't a vessel, it's a creature. This premise is undeniably interesting and should somehow be doubly alarming but, instead, a lot of the tension, suspense and intrigue start to ebb away. It's absolutely clever but strangely unrewarding.
And yet I would have been so thoroughly disappointed with whatever spindly giant-eyed aliens the film could have cooked up. The way the creature (dubbed Jean Jacket) is designed and moves is magnificent. Initially taking the familiar form of a 50s b-movie UFO, silently gliding through the clouds and over the mountain tops, before it takes on its true, and most captivating, form. A sort of fabric space jellyfish merged with biblical depictions of angels – complete with people ascending to heaven, only to be devoured. Its behaviour is animalistic, territorial and instinctive. It's so obvious that at every stage of this film's execution, this being's design and construction has had clear consideration. But the plot itself, and the various strands that justify how the myriad characters deal with this arrival, don't appear to have had the same deliberation.
But despite this, I genuinely think Nope is still leagues better than a lot of generic fare that gets pumped out. Sure, its reach often exceeds its grasp, but the ambition is on point and it's nothing if not compelling; an extraordinarily interesting study and concept but regrettably one that feels a little undercooked. In a way, Nope reminded me of 2002's Signs. Overall I enjoyed the experience, I thought the performances were great and the threat was interesting. The problem is it never fully gets its claws in and as the film carries it on, it becomes more and more apparent that it never will. That being said, it's an insidious one and despite never truly soaring, I get the impression a lot of this movie will stay with me for some time.

Release Date:
12 August 2022

The Scene To Look Out For:
As much as I have lambasted them, the Gordy flashbacks are very well done. The eked out tidbits of the incident produces a great deal of morbid fascination and apprehension. But, if I'm being honest, Peele did this to significantly greater effect in Us.

Notable Characters:
I didn't say too much about Kaluuya and Palmer but they genuinely carry this entire film. Given fairly straightforward characters, they inject so much weight. Whether that's OJ's stoicism or Em's restlessness. They feed off one another and create a great symbiotic performance. It would simply be nicer if there was more for them to really run with.

Highlighted Quote:
"He's big, he's mad, he's got spirit. But anything with spirit can get broke."

In A Few Words:
"An undeniably flawed release but the ambition alone goes a long way to make up for this."

Total Score: 3/5