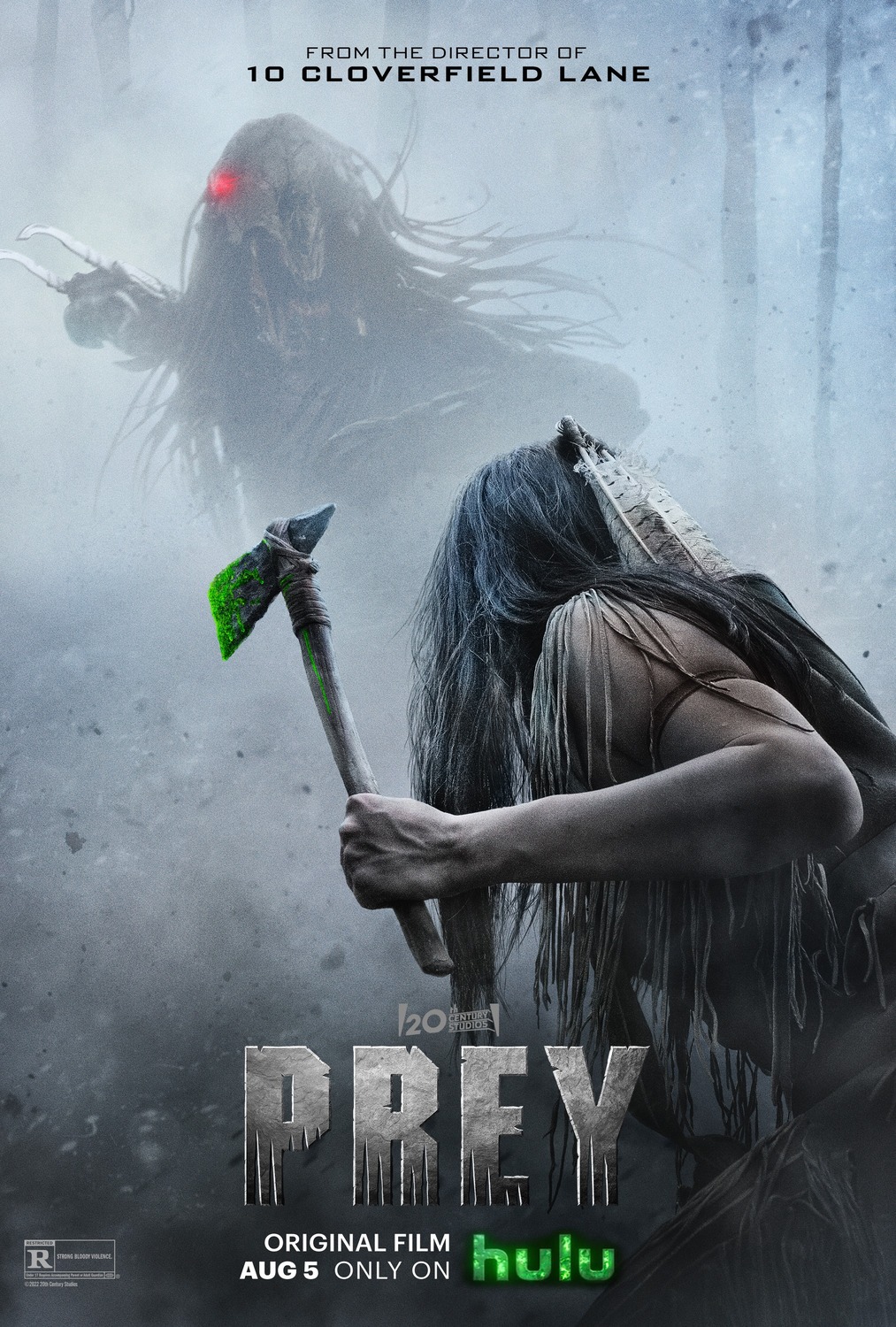 Director
Dan Trachtenberg
Starring
Amber Midthunder
Dakota Beavers
Dane DiLiegro

Set in the early 1700s, we follow Naru [Midthunder], a Comanche warrior whose village is set upon by an unseen force hunting her tribe. At first, it's identified as a mountain lion. But soon Naru realises that the lion was merely driven out by something else. Something not of this world. Determined to tackle this threat directly, Naru ventures off into the wilderness, coming under attack from wildlife, trappers and the alien creature stalking the plains.
Everything about this release feels like the logical place to take the Predator franchise. Rather than aggressive, schlocky nonsense dripping with misplaced comedy, we are offered rich, beautifully shot sincerity. And it's marvellous.
One of the things that made the first Predator movie so good is how it takes you by surprise. The fact that for the first half of the movie, it's a war flick, following a specialist unit on a botched black ops job. It's only after we're introduced to these soldiers, see them bonding and understand their limits, that the extra terrestrial element is introduced. And it takes the audience by surprise as much as the warriors we've been shown are more than capable to handle all manner of incursion.
And that's where Prey gets it right. Taking the time to learn all about the Comanche people, their culture and their relationships. And most notably Naru and how her peers don't see her as worthy to join the hunt. In truth, you can also feel a lot of this confidently paced storytelling in Trachtenberg's first film, 10 Cloverfield Lane.
I'll never get over that I didn't get to experience this movie in the full glory and scope of a big-screen cinematic release. From the detailed production design to the soaring technical aspects, this film is teeming with life. The wonderful sound design that means every axe thrown sounds like gunfire and every creak in the forest feels like a potential otherworldly threat. Similarly, the visuals are gorgeous; employing dynamic direction and sublime cinematography. And that's before we get to Sarah Schachner's haunting score, filled with pulsating rhythmic beats, shimmering strings and howling vocals.
Throughout the film, there's such a strong connection to the natural world and constant sense of parallels: tracking, bait, traps, etc. As such, we're treated to various sequences of wild predators hunting prey and simple game changers, like the wind changing and a bear picking up Naru's scent – all presented clearly and without dialogue, confident that the audience will follow and comprehend. Then transitioning to the subtlety of showing a herd of buffalo wiped out by what we assume is the Predator but when we see a cigar, it becomes apparent this was French-American trappers.
At the centre of all this is Midthunder's wholly captivating performance; carrying the weight of a franchise and beloved intellectual property that has floundered and limped on since the 80s. Naru is smart, resourceful and criminally underestimated by everyone she encounters. Yet inevitably proves herself to be the most skilled, patient and capable hunter. And every time she enters a battle, the action we're shown is so brilliantly clear, visceral and tight in its framing – giving a kinetic sense of urgency and danger.
But let's talk about the Predator itself – portrayed by Dane DiLiegro. This film is set nearly three hundred years before we're introduced to the creature we know and love. Subsequently, there's a bit of a redesign. And one which feels simultaneously familiar and excitingly new. From the use of tactile blades, bolts and shields to a bone-based thermal vision helmet, everything feels refreshing and unique to this film. But, either way, the hulking alien creature still looms large and feels every bit an unstoppable adversary.
The only arguable downside is that I've seen Predator and this essentially does a lot of the same things. It is, at once, part prequel, part remake. Isolated and contained but still going through the motions of what came before. But in truth, this is one of those releases that is somehow elevated from its origins. Without badmouthing the original or the genre as a whole, Prey feels more than just a Predator movie; it's a genuinely masterful, engaging film that happens to have a Predator in it. And I would absolutely love to see a sequel.

Release Date:
05 August 2022

The Scene To Look Out For:
As stated before, there are several instances of watching the food chain in action. From the bottom-up, creatures are stalked and killed by larger, more ferocious animals. It could be considered a little on the nose, and frankly, it probably is. But that doesn't mean it's not also an incredibly efficient juxtaposition between the seemingly natural order of things being disrupted with the arrival of a new, technologically superior predator.

Notable Characters:
This movie is entirely populated by largely unknown actors and yet all of them performed spectacularly. As I said, Midthunder one hundred percent carries this movie but there are a lot of extremely powerful supports. A prime example of this, is Naru's brother, Taabe, played by Dakota Beavers. I honestly hope many standout members of the cast find their way into other prominent releases going forward because I would love to see the range of what they're capable of.

Highlighted Quote:
"You tell that thing, this is as far as you go. No more. This is it."

In A Few Words:
"A stripped-down intimate hunt and easily a high point for the franchise."

Total Score: 5/5