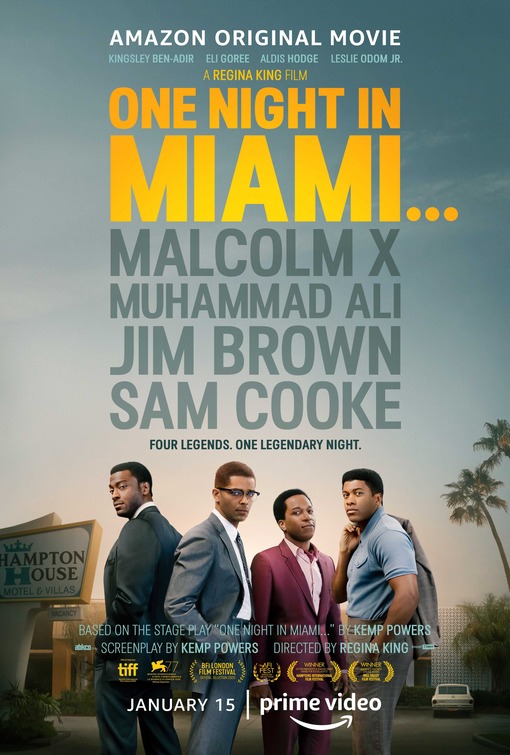 One Night. Four Icons.
Director
Regina King
Starring
Eli Goree
Kingsley Ben-Adir
Aldis Hodge
Leslie Odom Jr
Based on the critically acclaimed play of the same name, One Night In Miami tells the story of four friends celebrating the success of one of their group and the frustration of just staying in the hotel room rather than hitting up the bars and clubs. It just so happens the friend in question is Cassius Clay [Goree] and his success was beating Sonny Liston to become the heavyweight champion. On top of that his friends are influential soul singer Sam Cooke [Odom Jr], Cleveland fullback Jim Brown [Hodge] and Nation of Islam leader, Malcolm X [Ben-Adir] who reminds the group that even on a night of uproarious celebration, with the respect of millions across the nation, they are still considered second-class citizens and must make strong public statements to be truly recognised.
Taking on the challenge of portraying any one of these four legends would be daunting in its own right but together, each man is represented spectacularly. Being young, driven and talented in so many fields, it was of the utmost importance that the casting drew from the top shelf and King has assembled some genuinely fantastic actors who display the most magnificent chemistry. The relay race of discussions about a black man's place in American society and the responsibility of those with a spotlight and a platform is fiery and kinetic, with each pillar representing various outlooks.
Bringing these individuals together comes down to an adept and discerning leader at the helm and for a directorial debut, King has performed astonishingly. Not only for the functional accomplishment of making an engaging story building on an already successful play but juggling a multifaceted release: part sports drama, political biopic, tale of friendship, musical evaluation, family discussion, race-relations explorative piece and religious study. On top of the 90 minute play we are given an additional half an hour of of character and world building at the start that adds so much. While the transition from regular feature to chamber piece should be stifling, slamming the breaks on the story, the character study ramps up everything that came before it and with the period appropriate score mirroring the energies of the leads, upbeat and full of energy but soulful and weary from the onslaught of daily strife, the entire feature flows seamlessly.
As well as being a tale of four friends celebrating, it's also a clearly galvanising piece. The poignancy and relevance of this story and the exchanges had within could not be more pertinent. Discussing the pros and cons of actions like black artists earning solid royalty money from allowing a white band like The Rolling Stones to cover a song, against someone like Bob Dylan saying something more aggressively powerful than a seemingly trite song about being in love. Topped by Malcolm X shouting furiously, "Our people are literally dying in the streets every day. Black people are dying! Every day!" What should be a look back on a time of change, allowing us to appreciate how far we have come (and that's not to say there hasn't been progress) is more a stark reminder that the same battles are still being fought. Not to mention the fact that a year after the events of this film, half of the group were killed.
It's hard to draw any form of negative against this release. Grandly acted, superbly crafted and taking a spectacularly written play, transposed to a spectacularly written script, littered with charmed and nuanced oration, is just wondrous.

Release Date:
15 January 2021

The Scene To Look Out For:
Early in the film, Brown has an exchange with family friend Mr Carlton (played by Beau Bridges) wherein he is extolled for his performance in the NFL with Carlton going so far as to say he has never been more proud to be a resident of that area than when Brown achieved what he had. This warm welcome is monumentally soured when Brown offers to help move a bureau, only for Carlton to matter-of-factly retort that he knows they don't allow African Americans in the house, with the same cordial upbeat tone. Suffice it to say, he didn't say "African American." It's such a rug-pull that will be all too familiar to many people but the repugnant lack of self-awareness still completely sucker punches you. Which is both heightened and mirrored later when Jim Brown says to Malcolm X, "some white folks can't wait to pat themselves on the back for not being cruel to us."

Notable Characters:
Not one of these actors stands above any of the others, each is an integral part to the story and the varied views and attitudes of a community – as any group of friends are. That ensemble is vital to this film's power and success. There's a sort of unspoken rule of quality with ensemble TV that states for characters to be rich and well-drawn, you have to be able to separate two of them off to one side holding a conversation and ensure it's just as engaging as any other combination. And this film's ability to do that is one of its greatest achievements. The diverse bonds that make the friendship feel real.

Highlighted Quote:
"We're all just gladiators, Cass, with our rulers sitting up there in his box giving us the thumbs up or the thumbs down. Well I don't want no damn ruler"

In A Few Words:
"A sharp, touching and auspicious release and a vitally important reminder for our times"

Total Score: 5/5