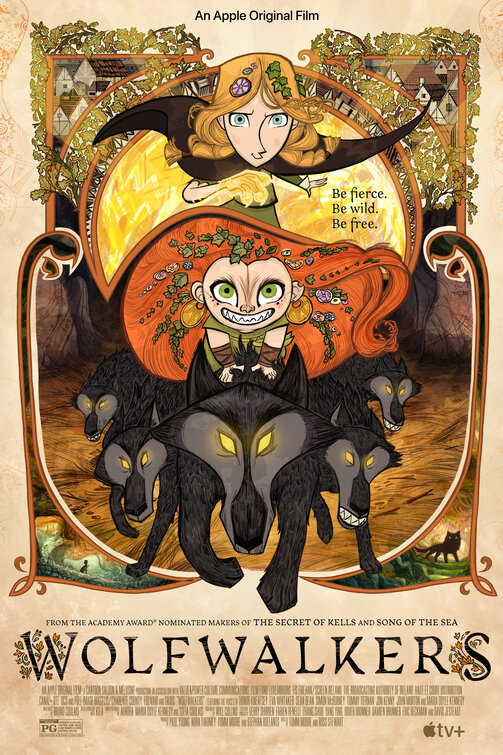 Be Fierce. Be Wild. Be Free.
Director
Tom Moore
Starring
Honor Kneafsey
Eva Whittaker
Sean Bean
Simon McBurney
Maria Doyle Kennedy
Set in 1650s Kilkenny, we are introduced to Robyn Goodfellowe [Kneafsey] and her father Bill [Bean], a hunter conscripted by the Lord Protector, Oliver Cromwell [McBurney], to rid the neighbouring countryside of wolves. The precocious Robyn wishes to follow in her father's footsteps and, with her falcon Merlin, enters the woods to hunt wolves. After an altercation, Robyn meets a woodland girl of similar age, Mebh [Whittaker] and the two begin a friendship despite their conflict of interests.
For those unfamiliar with the history, Oliver Cromwell was a member of parliament who led the English civil war against the crown. With Charles I executed, he began various conquests with his New Model Army, one of which was the Irish Campaign. This invasion was driven by religious zealotry and a disdain for the Irish population; subsequently he is a very contentious historical figure and one of disdain for the Irish. This whole film is a running commentary on the effect of the English invasions of Ireland with Cromwell trying to tame the wilds as a direct parallel for trying to subdue Ireland. But in spite of this it's important to point out that the presentation is allegorical and more about culture clash than animosity.
The first and most important thing about this feature (and all of Moore's films) is the singular signature art style that makes it so appealing and engrossing. Critics have rightly adorned Spider-Man: Into The Spider-Verse with significant praise for its use of varying styles and the work done by Cartoon Saloon is no different. There's such a beautiful simplicity to the juxtaposition between the wild Irish setting – with its rough outlined line work, free-flowing pencils and almost sketch quality visuals, that show the unrefined shape guides and contouring – and the English occupation of Kilkenny – which takes on the darkly-printed and angular nature of seventeenth century woodcuts. There is a somewhat false adage that one should be able to pause a movie and marvel at that single cell, in essence that every frame is a painting. Regrettably this doesn't necessarily apply to most films but in truth, it does with many artistic works and this is no exception. Literally every single shot is radiant and layered with exquisite detail and soul. Put simply, Japan has Miyazaki, Ireland has Moore.
Atmosphere is very much at the heart of this film with the stunning visuals accompanied by the mystical, drifting score from regular collaborator Bruno Coulais. It seems only fitting that this film is a joint work from Irish, French, Luxembourgian talent, a cultural meeting and exchange creating something perfectly autumnal. Politics and history to one side, the story has a more relatable and oft-running theme through Moore's other films of city vs countryside, nature vs civilisation and immediately made me think of tales like The Fox And The Hound.
In my initial synopsis, I didn't mention the heavy supernatural aspects to this movie. Mebh isn't just some feral girl, she is a wolfwalker: girl by day, wolf by night and runs with the pack of wolves that are seemingly terrorising the local farmers. It turns out that when Mebh and her mother Moll [Doyle Kennedy] take on wolf form, they perform a sort of astral projection or transference of power that causes them to leave their bodies. Turns out, Moll has been missing for some time, looking for a new safe haven for the pack to run free. While roaming the woods, Robyn is caught in a snare and in freeing her, Mebh accidentally bites her, meaning that Robyn is now also a wolfwalker. In this way, it's the story of two rambunctious, rebellious girls with a mutual bold playfulness, both in need of a friend. A key illustration of this is Robyn abandoning her crossbow to follow Mebh into the woods; the literal setting aside of the tools of war to forge friendship.
Both Whittaker and Kneafsey are fantastically cast. I believe this is effectively Whittaker's debut and the only thing I've seen Kneafsey in is A Christmas Prince, where she was utterly wasted. The casting of Sean Bean as Robyn's father is also magnificent. It would have been all too easy to project this as an English vs Irish story, but it's more a question of acceptance of a mindset and sensibility than nationality. And Bean embodying the hardworking Englishman who is merely trying to do the best for his family, terrified of what will become of his daughter should she not follow the rules, is understandably relatable.
**spoiler within**
Like all fairytales, Wolfwalkers follows a very set-out path and structure making it, arguably, quite a predictable affair. Casting this as a negative, however, would be a mistake. If anything it offers a mythical sense of familiarity. Additionally, one could argue there's a historical inaccuracy to the death of Cromwell but that's inconsequential pedantry and works for the narrative; more than that, for a moralistic fable, it's vital.
As with everything put out by Cartoon Saloon, this film is an absolute flawless joy and marvel that rightfully deserves its place among lofty greats such as Studio Ghibli and Disney.

Release Date:
11 December 2020

The Scene To Look Out For:
I mentioned earlier on about the unique and engaging art styles at play. One that really captivated me was the wolf POV which illustrates how the wolves see the world, as a mix of shapes, sounds and smells. As a Daredevil fan this was remarkably pleasing.

Notable Characters:
Aside from the main characters, all of which are terrifically portrayed, I really enjoyed Tommy Tiernan as Sean the woodcutter.. or shepherd. Either way, I'm a sucker because I love Tiernan, I find him hilarious and his upbeat jovial manner mixed with his superstitious pessimism make him a very fun addition. A prime example would be when Mebh takes Merlin away, Sean tells Robyn that "She may heal him.. or eat him" with the exact same pragmatic tone, regardless of the girl's feelings – for a lack of a better descriptor, it's wonderfully Irish.

Highlighted Quote:
"What cannot be tamed must be destroyed"

In A Few Words:
"A sensory delight"

Total Score: 5/5