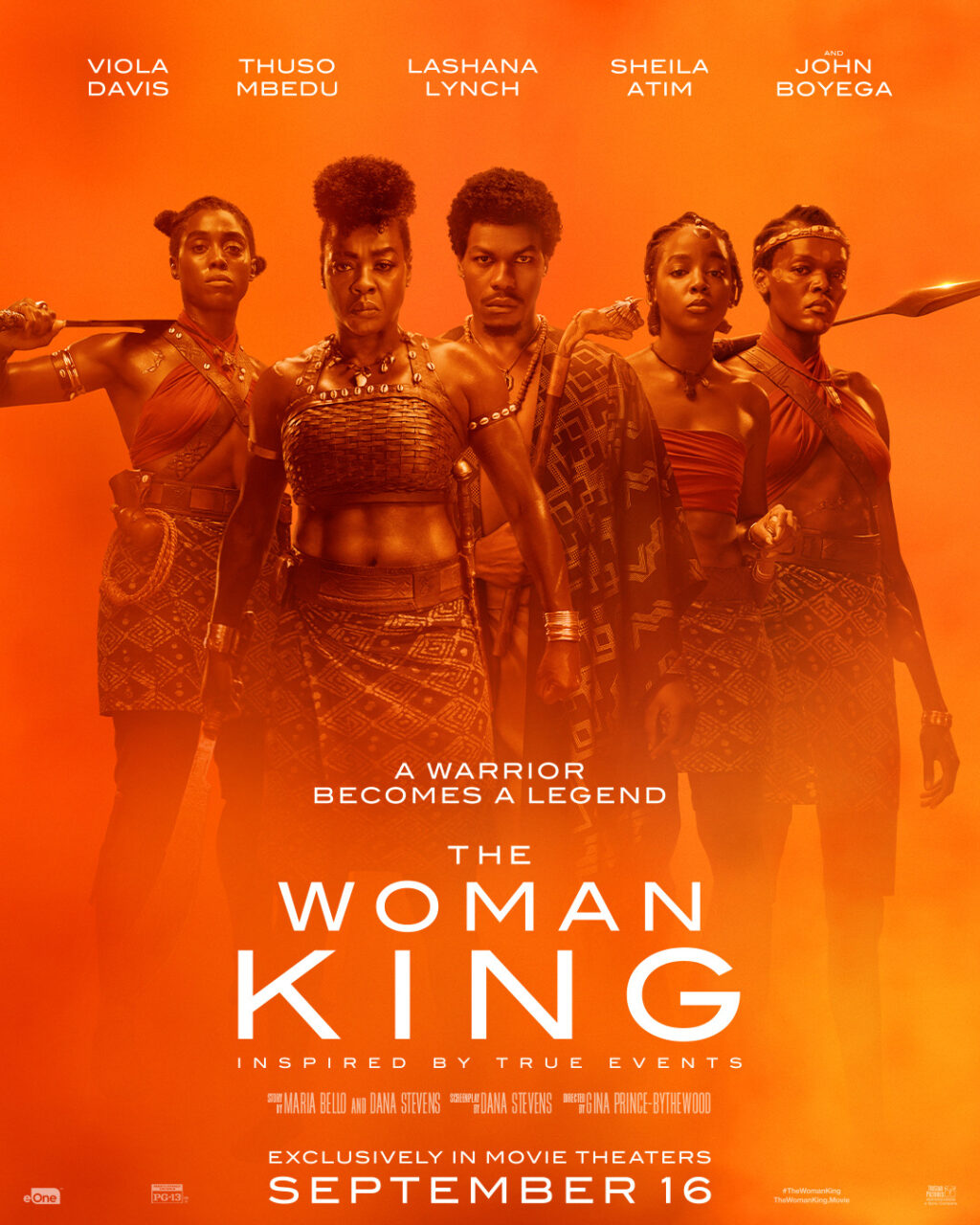 Director
Gina Prince-Bythewood
Starring
Viola Davis
Thuso Mbedu
Lashana Lynch
Sheila Atim
John Boyega

Set during the 1820s in the West African nation of Dahomey, we are introduced to the all-female warriors, the Agojie, and their enigmatic general, Nanisca [Davis]. The story then continues with a breakdown of the Agojie's responsibilities, training and their fealty to King Ghezo [Boyega]. We also follow 19 year old Nawi [Mbedu], who has been given over to be trained in the army due to her obstinance, refusing to marry unfit suitors. Nawi is headstrong but keen to rise through the ranks and prove herself. All the while, the prospect of war is brewing with the neighbouring Oyo Empire, who have been raiding sites and selling villagers to Europeans for slavery.
At its narrative core, there is something incredibly familiar to this entire endeavour, with a story we've seen many times over the decades. The rebellious rambunctious spirit of youth, inspired by an affable brave warrior and keen to earn the favour of the stoic general. From that description alone you could conjure hundreds of titles that fit the bill. That being said, the rarity is telling said narrative from this unique perspective and setting. And not only that, but adding the undercurrent of a mixed race Brazilian arriving in West Africa, conflicted by his upbringing and his roots, injects another significantly distinct take.
One thing that stands front and centre is the performances throughout this movie. As a female-led cast of characters in a period setting where women around the world didn't have many freedoms, there is a strength and resilience through shared tragedy and rejection of their assigned place in society. It unifies and unites these women and feeds their power as much as their physical training. Additionally, with these levels of endured hardship, there is also veins of levity; giving the whole film a compelling, engaging, bright and charming air. What's possibly most interesting, however, is that there are so many strong performances that feel like a relay race. There isn't really a vying for attention, with each portrayal supporting the whole. That being said, the titular character has a presence and aura that sets her apart from everyone else. Not only in the deference and respect she is paid by the other characters but clearly emanating from the cast in the presence of, frankly, one of the best living actors. Davis is a commanding triumph and yet the grounding complexity of her character makes her so very human and fascinating.
I often mention how few mid-tier budget blockbusters are being released of late. A side effect of the rise of streaming, the cinema system and how we consume media in general. But The Woman King is a prime example of what can be achieved when an independent film is given proper investment but not to the extent that it ends up pumping in unnecessary shots and scenes to justify its budget. All of this means that the pacing affords us time to get to know the people and the culture of the Dahomey, as well as sitting with the emotional trials that our heroines experience. It also means the production design and camera/lighting work have the room to breathe – offering us a rich and expansive world with intricate costumes, dynamic locations and plenty of striking cinematography. And then there's the powerful score work from Terence Blanchard, with its strong percussion and choral chants; which resonates most notably in tracks like "Tribute To The King" and "The Oyo Arrive".
So is The Woman King a perfect film? Frustratingly, no. There are a handful of minor points that mark it down ever so slightly. For all the extensive world-building, I left the cinema feeling like I could have used more. There's also the role of Malik, the descendant of the Dahomey with the white father, played by Jordan Bolger. He has a dual role of love interest and bridge to different continents but I felt his perspective, while a welcome addition, was a little under utilised. There's also minor historical inaccuracies that run through every single period piece, but these are often par for the course and thankfully don't impede the importance and development of the story enough for me to focus on. But the biggest frustration for me was a twist that rears its head around three quarters of the way through. Without going into detail, Nawi's lineage felt a little too convenient and reduced the scope of possibility, leaving this sprawling world feeling a little too tightly knit and limited.
Overall, running the gamut of emotions through action and drama, The Woman King is a fantastic release and an easy one to recommend for audiences wanting spectacle, heart and a drop of the familiar.

Release Date:
04 October 2022

The Scene To Look Out For:
There is a host of gorgeously designed scenes to pore over but many of the standout moments sit within the quiet pauses between the peaks. Case in point, Nawi's many heart-to-heart conversations with Izogie [Lynch] nicely underpin the political machinations, gruelling training and dramatic developments.

Notable Characters:
The Woman King is Thuso Mbedu's theatrical debut and I think it's fair to say we can expect great things from her. She has both a power and presence that stands out alongside towering talent, both from a dramatic standpoint, as well as her physical capability during the various training and combat scenes. A true joy to watch.

Highlighted Quote:
"It is a dark circle with no end. This is not the way."

In A Few Words:
"A thoroughly rousing and captivating release, bolstered by outstanding acting."

Total Score: 5/5