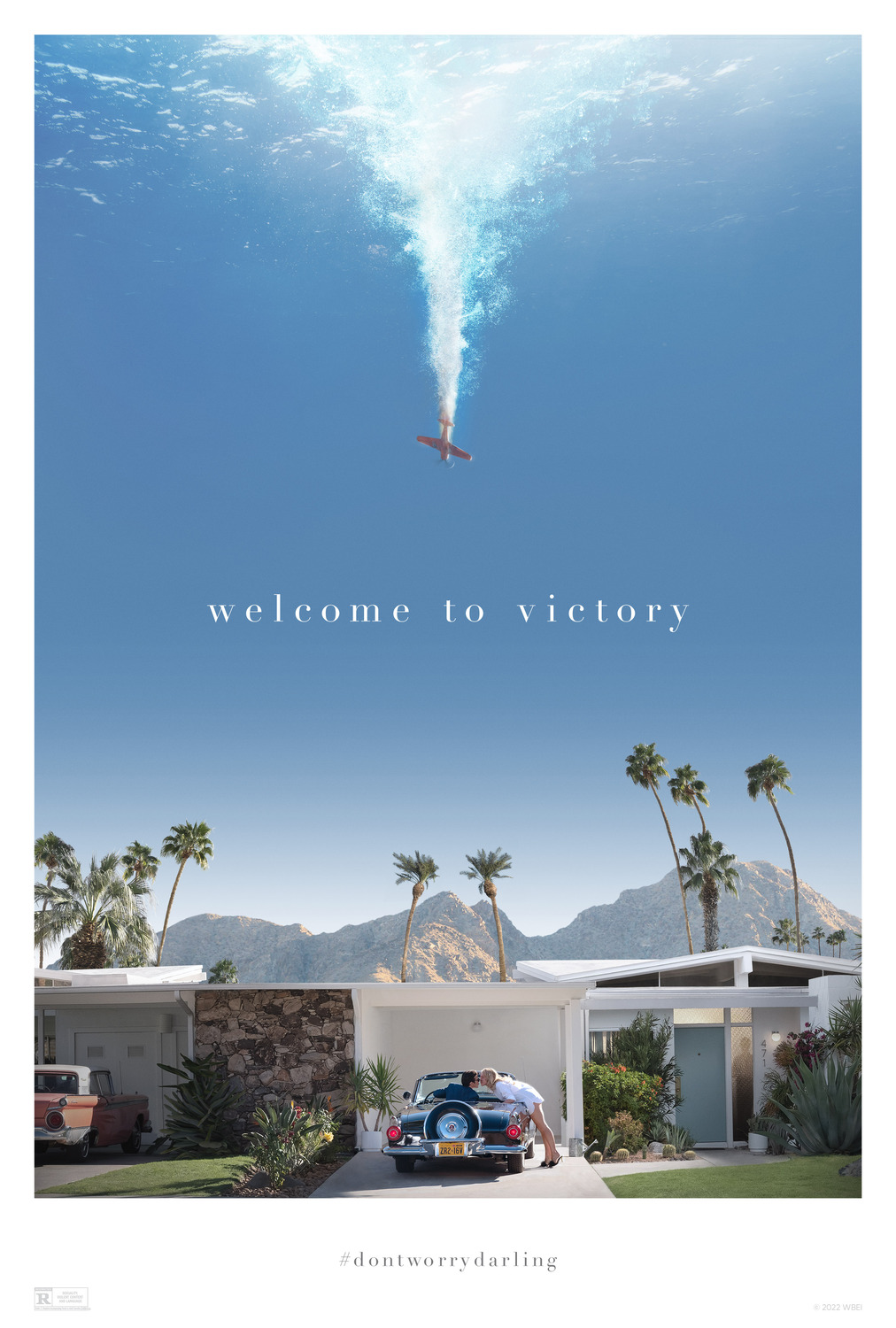 Director
Olivia Wilde
Starring
Florence Pugh
Harry Styles
Chris Pine
Olivia Wilde

In the 1950s, deep in the desert, there is a company town named Victory. Every morning the husbands leave for their secretive work, while their wives dutifully tend to the house, before spending the rest of their time shopping and gossiping. The story itself, however, follows thoroughly enamoured couple, Alice [Pugh] and Jack [Styles], as Alice starts to notice unusual oddities. All of which make her question the nature of what the men are working on under the thumb of enigmatic leader Frank [Pine], as well as reality itself.
All the off-screen drama notwithstanding, Don't Worry Darling was very well marketed. Presenting itself as an intriguing, beautifully shot, psychological thriller. And for the most part, it is. Visually, it's exceptionally constructed and brilliantly directed by Wilde. Peaking with a significant amount of dynamic shots and various visual highlights in the form of eerie vignettes. And all of these creative, uneasy sights are capped with an invasive (in a good way) powerful score from John Powell.
The acting is also distinctly impressive – so much as to be the most noteworthy element of the entire feature. The best example, leagues above the others, is this film's star: Florence Pugh. Her portrayal of a descent into madness is captivating and complex from start to finish. Pine is also deliciously creepy, as is his wife Shelley, played by Gemma Chan. Then there's Olivia Wilde, who serves as Alice's closest friend and confident, Bunny. Wilde emanates the strong supportive older sister vibe but has a subtlety to her that whispers of unrest; it's a wonderful performance.
The script and story is where things start to wobble, leading to an inevitable tumble. At its core, Don't Worry Darling plays with incredibly strong themes and messaging about women being controlled, subjugated and trapped. And yet, while it hints at a very interesting conversation, it opts for ambiguity and misdirection. And being primarily concerned with disorientating the viewer, it almost avoids the true potential for a deeply uncomfortable and cutting conversation. There's natural chemistry, interesting visuals and dynamic sound design ..but for the first quarter of a two hour film, it doesn't gel. Meaning we end up with a movie that feels padded and bloated. As if the big twist reveal should have come sooner and there's some missing act.
**spoilers throughout this next paragraph**
So let's discuss this plot twist, the mystery of what's going on underneath the surface for the citizens of Victory. I mentioned previously the themes of women feeling trapped and controlled. As the film draws to a close, this is revealed to be more direct than initially thought. Leaping from the 1950s, we learn that a group of radicalised "nice guys" have essentially subscribed to an elaborate digital kidnapping service – a sort of incel version of the Matrix. And this discovery undeniably elevates the proceedings. Rather than some surreal cosmic horror or post war experimentation, it's contemporary abuse. But to expand on what I was alluding to earlier, this feature never really sinks its teeth deep enough into that concept. Frank trying to seemingly sabotage his own creation, Shelley's agenda, Bunny complicity, the real world implications – they're all pushed to the edge to keep the enigma alive. And while the technology and threat are updated for a contemporary audience, the overall Suspiria, Stepford Wives touch has been done before and as decent and unsettling as Don't Worry Darling can be, it doesn't do enough new or different.
Entire components of this film are profoundly impressive. Which makes it all the more discouraging when an equal number of key elements are lacking. Is this film what I had hoped for? No. Is it an utter disaster? Honestly, it's not. In truth, Don't Worry Darling feels like a misstep that will absolutely find its audience and garner a bit of a cult following; possibly to experience its redemption further down the line.

Release Date:
23 September 2022

The Scene To Look Out For:
For those who skipped over the spoiler paragraph, I'll keep this as ambiguous as possible. As the film draws to a close, with the truth finally revealed and spreading like a wildfire, suddenly a light is shone on the casting. The reason I've pulled this out as a notable scene rather than characters is because it's an integral story development which makes you reassess who was cast and why. Which pleased me.

Notable Characters:
Harry Styles. People always get sensitive when an individual with a single talent transitions into another field. And musicians acting is one that has been intertwined with cinema in the most bizarre way – considering the history of the entire medium! But Mr. Styles is fine. His performance is literally acceptable and doesn't, to my mind, necessarily stick out like a sore thumb and to say so feels like a simple and reductive observation. There could have easily been a stronger performer in this role but I don't think it would have helped with the myriad substantial issues noted above.

Highlighted Quote:
"They're lying about everything."

In A Few Words:
"A film entirely out of balance – one leg striding confidently ahead while the other drags behind. Essentially going nowhere."

Total Score: 3/5