SHIN KAMEN RIDER [シン・仮面ライダー]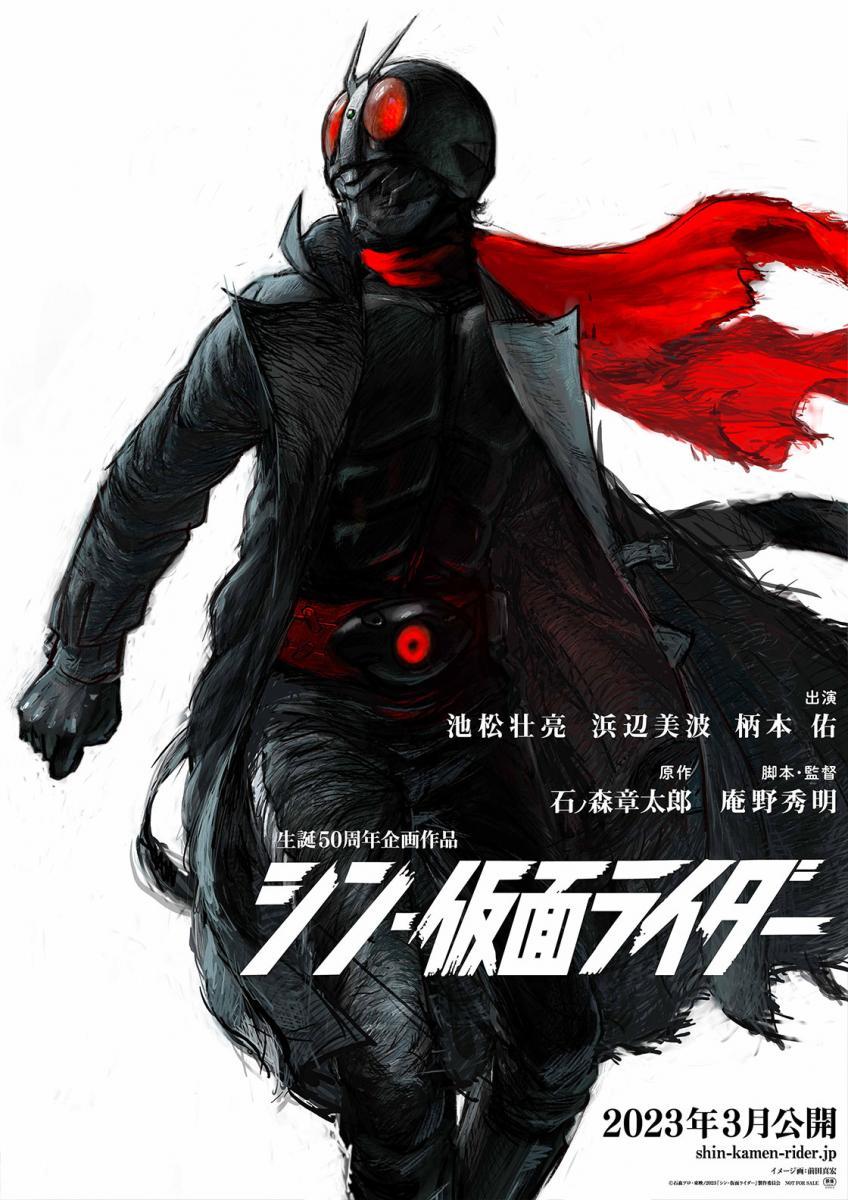 Director
Hideaki Anno
Starring
Sôsuke Ikematsu
Minami Hamabe
Mirai Moriyama
Tasuku Emoto

Loner biker Takeshi Hongo [Ikematsu] is kidnapped and experimented on by the terrorist organisation SHOCKER. However, he manages to break out with the help of Ruriko Midorikawa [Hamabe], daughter of Shocker's head scientist, before he is completely brainwashed and becomes an agent for evil. The pair work together, battling through Shocker's animal-augmented lieutenants, before facing the operation's most powerful member Butterfly-Aug [Moriyama], Ruriko's brother.
If that synopsis felt a little rushed, it's an accurate reflection of the film as a whole. As with Shin Ultraman, audiences are immediately thrown in the deep end. Naturally the filmmakers know their audience and the majority of those watching this release are fully aware of a lot of the tropes, world-building and nomenclature, but as a reboot/remake more could have been done to give a little more context early on. Also, like Shin Ultraman, the whole plot of the original Kamen Rider show is amalgamated and condensed down into one 2 hour film, meaning the pacing is breakneck and operates without patience or mercy.
Interestingly, setting itself apart from the bulk of the 50+ year history of the franchise (which is predominantly a children's show), Shin Kamen Rider wastes no time setting itself apart with excessive explosions of blood and brutal bone-breaking violence. That said, it might as well be goo because the head-bursting finisher moves are laughably cartoony. It also earns its higher age certification by leaning more into the body horror angle, similar to the recent Kamen Rider Black Sun.
Setting itself apart from the myriad television series, the production feels more luxurious and indulgent. It retains the idiosyncratic "Shin" directorial style that Anno brought to Shin Godzilla, littered with extreme close ups, shaky POVs, warped lenses and ambitious CGI sequences. On top of that, the design of the various Shocker locations are vast, sleek and dark. Wasp-Aug's hive, for example, is pretty beautifully constructed. And the score work by Taku Iwasaki is wonderful, mixing vibrant bombastic pieces, with 70s reverential throwbacks. The track "Bajra" being particularly noteworthy. But in spite of this, it's worth noting that at some stage a baffling decision was made. Namely, having the majority of the mask work being recorded on set rather than ADR, leaving much of the dialogue muffled. Authentic but an odd choice.
Speaking of Anno and the other Shin properties, the presence of both Takumi Saitô and Yutaka Takanouchi serves as unofficial connective tissue to the wider hinted-at Shin Japan Heroes Universe. But, in truth, this film doesn't possess the vast scope of something like Shin Godzilla or Shin Ultraman, and subsequently, ends up feeling like the smallest, most intimate of the three. In fact, all things considered, the stakes are quite subdued and the encounters are kept away from the public, with personal danger being the key jeopardy.
Despite having decades of material to draw from, Shin Kamen Rider is far from perfect. Case in point, Takeshi's origin is a little underdeveloped, leaving the film feeling like a sequel to an unseen pilot. Don't get me wrong, we see plenty of his motivation stemming from the death of Takeshi's father, as well as the conflict he feels being a malformed killer. But starting the movie with an escape while never really seeing either the operation itself or the life he must turn his back on, feels like Takeshi's internal struggle is a pretty pre-determined one. Which is a shame because there's a healthy dose of the duality of keeping your sanity intact while utilising powers that can help stop an evil empire. That and the classic Anno themes of loneliness, belonging, depression and duty are all present and fighting for dominance. Meaning we get Takeshi saying both "But sensei, I punched people to death. This power is monstrous" as well as "Only the strong can protect their loved ones. If [my father had] used the power he was given and fired his weapon, he would never have been killed."
Admittedly, this isn't the first reboot in the franchise (and it certainly won't be the last). Back in 2005 Kamen Rider: The First took a decent stab, but the consideration and care paid here makes Shin Kamen Rider stand out as something a little different with a lot to love for long-time fans. For wider audiences, it's never really dark or menacing enough to be considered a serious piece, but it's also much more hard hitting than it's current TV counterpart and could be a great jump-on point for those new to the world of henshin heroes.

Release Date:
21 July 2023

The Scene To Look Out For:
The fight between Wasp-Aug and Kamen Rider builds to a point which hits closer to an animated sequence, rather than straight photo-realistic CGI. It's not entirely clear if this was an intentional move or simply a budgetary limitation but with a seemingly different frame rate and rapid movements to outline the speed, it's certainly one of the more unique cinematic fights of recent years.

Notable Characters:
As mentioned earlier, cramming so much into one release means a lot of what is earned over time, is served up with haste. Hayato Ichimonji [Emoto] is a journalist who was also kidnapped and augmented into a duplicate replacement for Kamen Rider. This second rider however, has his entire introduction, conflict and redemption arc covered in a breezy 15 minutes. It still works but is clearly rushed to make room for everything this movie ambitiously wants to cover.

Highlighted Quote:
"Human beings are the only creatures that can solve problems without violence."

In A Few Words:
"Not the entry level outing the uninitiated may want, but a fairly decent, gritty starting point nonetheless."

Total Score: 3/5