SHIN ULTRAMAN [シン・ウルトラマン]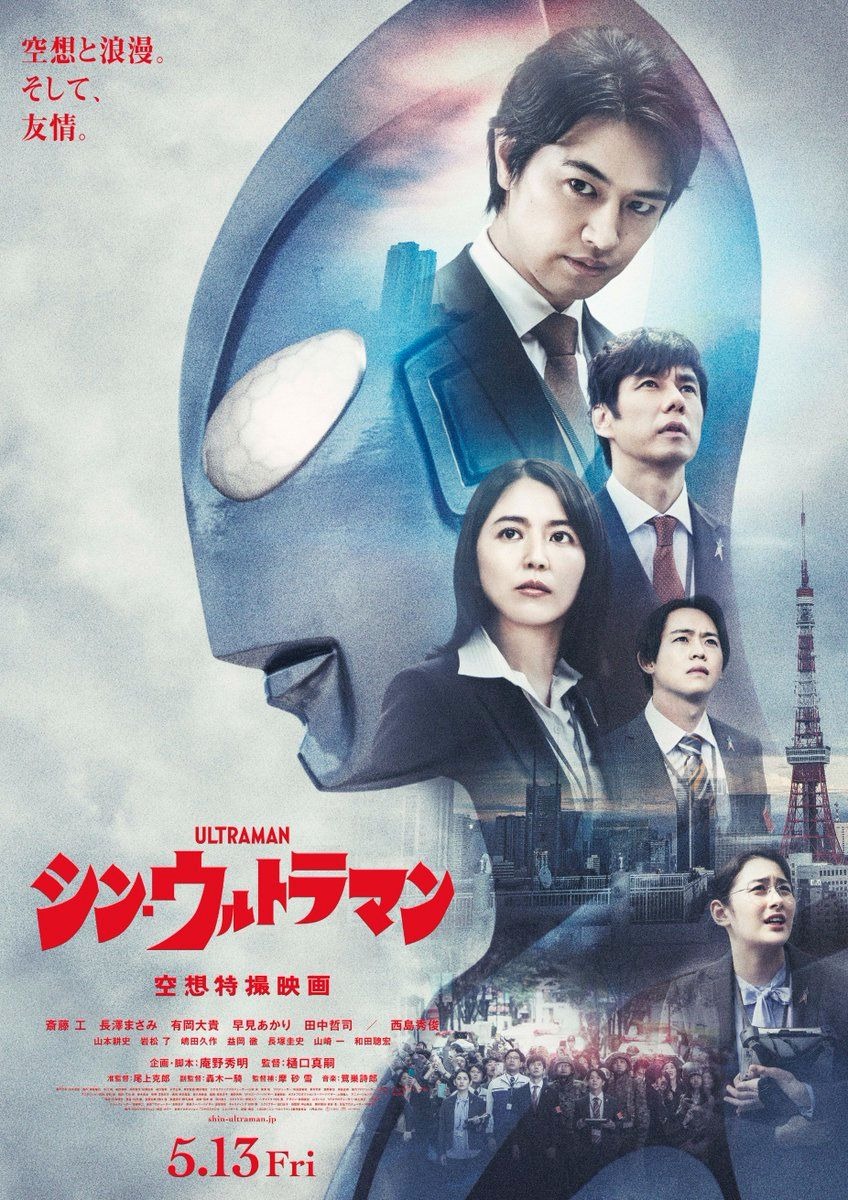 Director
Shinji Higuchi
Starring
Takumi Saitoh
Masami Nagasawa
Hidetoshi Nishijima
Daiki Arioka
Akari Hayami

With giant lifeforms, known as kaiju, suddenly appearing and attacking, the Japanese government sets up the S-Class Species Suppression Protocol unit to handle such incursions. We follow new recruit Hiroko Asami [Nagasawa] as she transfers to the team from the national intelligence agency. However, during the most recent attack, a new figure arrives, a humanoid alien dubbed Ultraman. His allegiance appears to be with that of humanity but another alien named Zarab reveals itself and states that Ultraman may not be the ally humanity hopes for.
Shin Ultraman is a pretty faithful reboot of the events from the original 1966 series, elevated with contemporary sensibilities and flare. More than that, it's a completely besotted emulation and recreation, and as such retains its Saturday morning serial feeling. All of which is reinforced by Shirō Sagisu's musical score, which feels plucked out of the 70s – before transitioning to grand operatic themes, similar to those produced for Shin Godzilla. With this in mind, it would be very easy for an out-of-place element or two to send the entire effort off course; the odd wry smile to the camera or sardonic eye-roll. But that's not present at all. In fact, everyone involved understands the assignment and commits wholly to the atmosphere and tone.
As with Shin Godzilla, Higuchi employs plenty of really dynamic camera angles and framing. To the degree that it feels like he's declared war on generic vanilla shot-reverse-shot framing. For the uninitiated, this could come across as a little disorientating, but once you get used to the camera's POV finding its way into a ceiling tile or under a desk, you quickly appreciate the signature approach. Sticking so closely to the source material, we have some amazing creature redesigns – the drill-like Gabora in particular – but, make no mistake, this is an entire season of television crammed into a movie. Subsequently, the pacing feels like multiple episodes vignetted into an anthology of attacks and foes. Meaning we get a handful of villains that arrive and simply leave, as well as character developments and absences that feel like they should have been given more room to breathe. Despite this, the quick cuts and fast paced editing mean the film sails along nicely and it doesn't impede the enjoyment much.
It's also nice to see that this feature hasn't been dumbed down, doing the high concept 60s television trope of injecting healthy doses of action, comedy and political commentary into what is, ostensibly, children's media – as was done frequently in Star Trek and Thunderbirds (both of which are actively referenced in the film). Case in point, the film centres on a complicated three way conflict between kaiju, humans and aliens, with Ultraman in the middle trying to keep the peace, but whose presence adds further problems. This serves to acting as a juxtapositional analysis of Japan's relationship with the US. Specifically, when the kaiju first appear, the Americans saw it as an opportunity to sell the Japanese government weapons. But when extraterrestrials are thrown into the mix, they take a more active interest. Very much using Japan as a testing ground, seeing it as a region they can play with as they see fit. And in the middle of it all is the SSSP.
Serving as a big screen remake/reboot, Shin Ultraman is a good entry point to the franchise, but it's also an incredibly unapologetic effort. It has no intention on slowing down, making concessions or changing itself to fit an ill-fitting mould. And, remarkably, this earnestness works to its advantage. It's sincere, unabashed and proud. So, by the time the story unveils a giant mind-controlled Asami stomping through the city, you're either 100% in or 100% out.
One aspect that did feel a little flat for me, was the vast chasm kept between the audience and the inner workings of both Ultraman and his human counterpart. It would be easy to assume that Ultraman is the lead but the audience surrogate is Asami and the rest of the SSSP. It's only in the last few minutes we get more insight into the motivation and intention of Ultraman. I appreciate why this was done but, when paired with the breakneck narrative structure, it can feel like you're witnessing more than you're actually feeling.
To my mind, Higuchi and Hideaki Anno set out with a very specific goal in mind, and through painstaking insistence, achieved it. Will it sell countless new fans on Ultraman? Perhaps. Will it delight kaiju fans around the world? Undoubtedly.

Release Date:
13 January 2023

The Scene To Look Out For:
Zarab's first arrival, in a coat and fedora is frankly hilarious. Big dinosaur like monsters and a man in a skin tight metallic suit? Sure. This thing? This is the point of no return for some viewers. But if you look beneath the frankly very campy surface, the actual discussion about Ultraman's merging with humans marking out Earth and humans as a potential resource for bioweapons in an intergalactic war, is fascinating. It's always a pleasant rarity to explore a story wherein humans are merely pawns, rather than instigators, villains or heroes.

Notable Characters:
With such a sprawling cast of heroes and adversaries, there are, at times, too many threats that crop up and then fall away. That said, each one is unique and memorable in its own way: Zarab is scheming, Mefilas is deceptively charming and Zōffy is cold and pragmatic. With each performance bringing its own gravitas and eccentricities.

Highlighted Quote:
"Homo Sapiens have destroyed species that they have considered harmful. From my perspective, this is no different. And while humans possess sophisticated intellect and technology they are a dangerous and unorganised species that breeds unnecessarily. They are worth wiping out."

In A Few Words:
"A nuanced, meticulous replication masquerading as wide-eyed fun."

Total Score: 3/5