EVANGELION: 3.0+1.0 THRICE UPON A TIME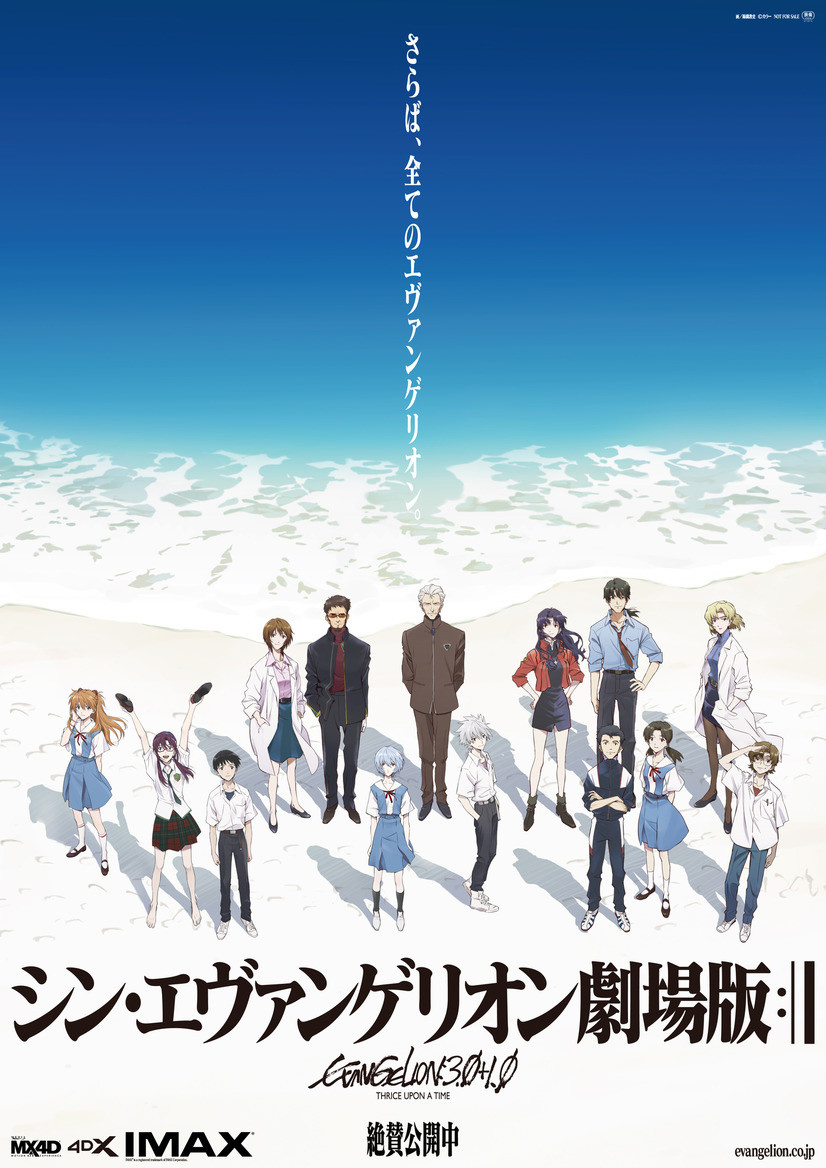 Director
Hideaki Anno
Starring
Megumi Ogata
Megumi Hayashibara
Yûko Miyamura
Fumihiko Tachiki
Spike Spencer
Amanda Winn Lee
Tiffany Grant
John Swasey

Following the events of Evangelion: 3.0 You Can (Not) Redo, Wille and NERV are battling at cross purposes with the latter trying to actively bring about the end of the world through a final impact. This cataclysmic event is kept at bay with a combination of Eva Unit 8 and the flagship Wunder. Meanwhile, Asuka [Miyamura/Grant], Rei [Hayashibara/Winn Lee] and Shinji [Ogata/Spencer] traipse from the battle site at Tokyo-3 to a secluded settlement where they are reunited with former school mates who are now adults. Shinji effectively shuts down after the death of Kaworu while Asuka vents and Rei makes sense of the world around her.
Evangelion never fails to be the most interesting, chaotically beautiful, thought provoking material out there. It was one of the first and most formative anime I watched as a teenager and continues to be my favourite to this day. The series ended on a bit of a flat note and so Anno told the ending again in film form, which served to only fan the flames of confusion – delighting some while disgusting others. Almost as soon as that film was done, Anno set to work on a remake project that would take nearly fifteen years to complete.. but we're finally here. And I've got to say, it was worth the wait.
Anno is nothing if not a perfectionist and nowhere is that clearer than the art and production design, which are as wondrously detailed and as insane as ever. Offering us unhurried rural life as a practically comatose boy walks around unreachable and oblivious to the world – the very embodiment of what it feels like to be depressed. Then escalating to a reality bending kaleidoscope of colour and fury, assaulting the audience. Yet both beg the audience to watch again, to go back for the infinite detail in a single frame.
The Rebuild series of Evangelion has been a fairly controversial one. On the surface, it could be argued that the first two movies were remasters of the same story but there were telling subtleties hinting that this wasn't the same. The EVA are no longer sluggish behemoths tethered to cables, often powering down in the middle of a fight, similarly the leads known for their stoicism or rambunctiousness have their edges plained down to something more palatable. This shifts even more overtly with the third film upsetting the expectations and deviating from the known events to date. As such, opening this movie with a sustained patchwork of peaceful life in the village feels like an interlude we're not used to – especially in these films. For some this will be infuriating but it offers some of the most important character development that pays off skilfully by the denouement.
For both the Japanese and American voice cast (as well as a lot of the creatives behind the scenes) this is a final, definitive and challenging close to a twenty five year project. At two and a half hours, this movie is longer than anything that has come before but presents the perfect amount of time to circle off the development that's been building this whole time – and let's face it, it wouldn't be Evangelion without a solid 40 mins of Shinji moping.
Speaking of returning components, Shirō Sagisu's score feels like a culmination of everything that has come before, like listening to every track at once in a maddening cacophony of sound. Bombastic orchestral themes, latin passion, sombre stillness, solo piano work, a Beatles-esque track, soulful ballads, it has seemingly everything. At one point, the Wunder is diving through the L shield and we're given a funky jazz score kinda robs the scene of urgency and risk; it's just too jaunty. But before you have a chance to really process how surreal that is, the ship breaks through and we change up to a deep operatic hammering. There's tonal whiplash and there's whatever the hell Sagisu is doing. But it's undeniably good. None of the work is poor, it's just disorientating and grating – which was likely the intention.
This review, much like this film, is not for casual cinema goers. It's the fourth instalment in an incredibly twisted and convoluted canon narrative, that even the most hardcore fans struggle with. That being said I can always defend it for its ambition and the sheer fact that there is nothing out there like Neon Genesis Evangelion. That being said, it's incredibly difficult to recommend Evangelion as high art with the amount of fan service on display. For every existential examination, we get a meaty close-up of a crotch. One could argue it's an occupational hazard of the anime industry but every time that's brought up, I only need to hold up the work of Satoshi Kon to challenge that. And in truth, for me, it's the only sour element to this film.
I don't use the words masterpiece or genius lightly. But for the depths of emotional and psychological commitment Anno and his team have sunk into this project, those words feel wholly deserved. As a conclusion I found it satisfying, as an action film it was thrilling, as a drama it's challenging and as an analysis of the psyche how could I not be moved? Thrice Upon A Time gave me everything I wanted and more and will stay with me for the rest of my life. So all that remains to say is good night, good morning, thank you, goodbye.

Release Date:
13 August 2021

The Scene To Look Out For:
One of the most captivating segments of the film is the mo-cap CGI unit 01 and 13 fight. Encapsulating all the highs and lows of the series, it has some of the most beautiful and some of the most jarring artwork that will divide people. And all the while this is happening as the two combatants clash through memories and locations like they're film sets only to settle to the calmest, simple resolve. It's glorious.

Notable Characters:
Everyone has their moment to shine, as stated earlier, this is a chance to close off any open loops or loose threads one last time. I will say, however, that I found Gendo [Tachiki/Swasey] as compelling as ever, giving us a very wonderful look at such a deeply dysfunctional individual.

Highlighted Quote:
"Violence and fear are not the criteria on which our conflict can be resolved"

In A Few Words:
"Filled with pathos and hope, this is finale is truly exceptional"

Total Score: 5/5