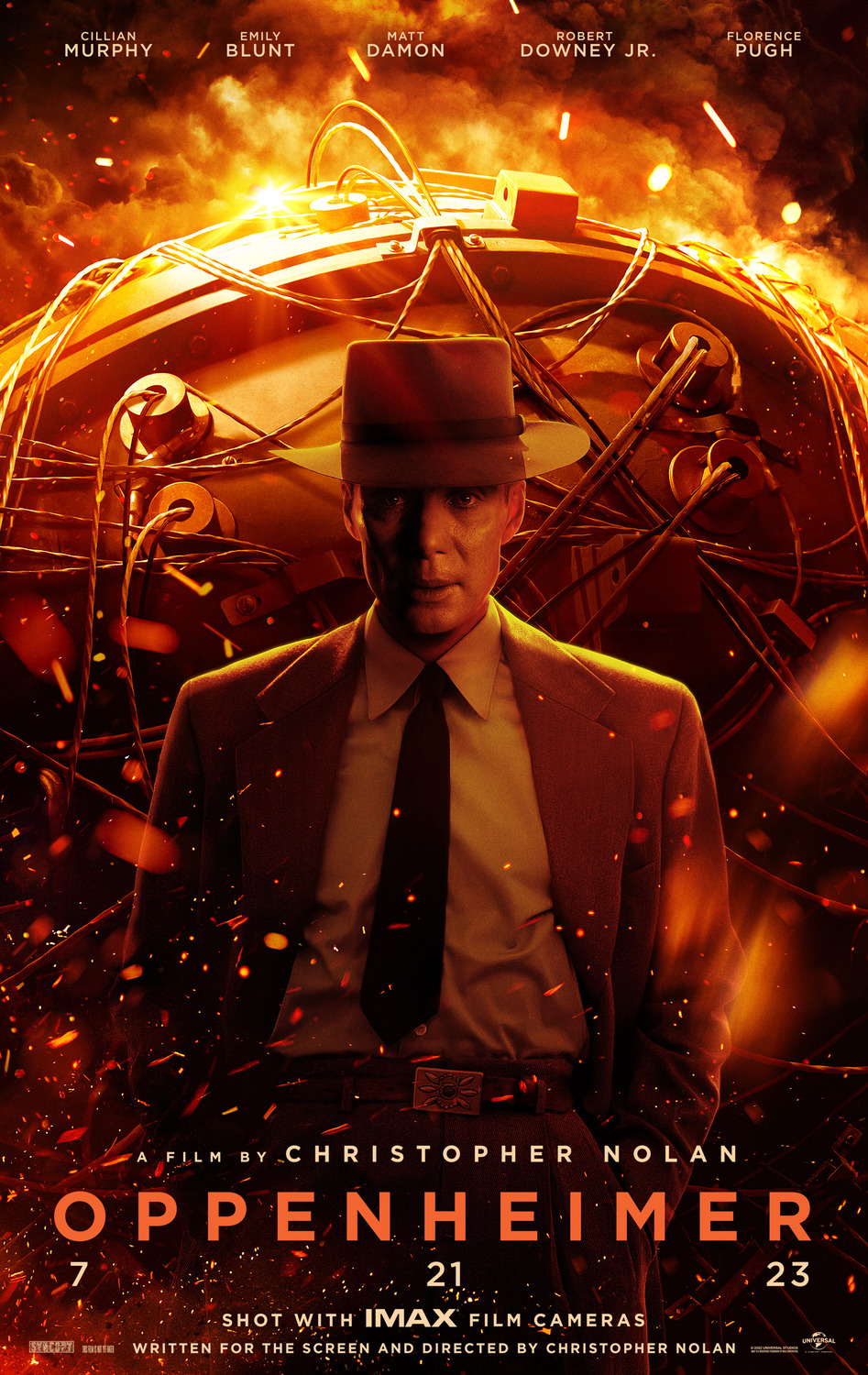 Director
Christopher Nolan
Starring
Cillian Murphy
Robert Downey Jr
Emily Blunt
Matt Damon

This biopic is framed with two separate trials running side by side. Both accounting the events of J Robert Oppenheimer's [Murphy] entire adult life, but most importantly his work on the Manhattan Project, which gave the United States the atomic bomb that brought world war two to a close. The first is a 1954 security hearing to determine whether Oppenheimer is worthy of holding clearance that affords him immense political power. The other is a 1958 procedural cabinet hearing, to ascertain whether Lewis Strauss [Downey Jr] should be appointed to sit in the US senate, given his work as chairman for the Atomic Energy Commission and his association with Oppenheimer.
In a fashion Nolan himself would be happy with, I'm breaking the traditional format of my reviews to discuss the most pressing negative first. Why? Because this is what many people are going to say as they leave the cinema and I want to get it out there before I explore the film in more depth. Oppenheimer is dry. More than that, it can be downright dull and could have done more with its cast and lavish three hour runtime. I attended an opening night IMAX screening and watched as a wave of realisation washed over audience members who associate Nolan with Batman and Cillian Murphy with Peaky Blinders. They were here for an explosive action war drama along the lines of Dunkirk about the development of the atomic bomb that ended the war. What they got was a series of complicated trials and an abundance of characters in rooms, talking about physics. But surely that's audience expectation and marketing, and neither should factor into the quality of the film? To a degree, yes, but the point stands. Even for the most ardent Nolan fan, this film is a contemplative marathon that feels almost designed to drain and exhaust you; as it did its eponymous figure.
Regardless of how thrilling it may or may not have been, Oppenheimer is an undeniably thoughtful exploration of the psyche of a man who helped usher in an age of terror and horror, in an attempt to obtain a lasting peace. It's filled with complicated individuals performing complicated work, and any one feature would have struggled to keep the core of obsession and arrogance that comes with brilliance burning in a way that would feel approachable. In an odd way, there's a direct parallel between this feature and David Fincher's ambitious black and white 2020 biopic Mank; which tries to analyse the controversial people who created not only one of the greatest movies of all time, but changed cinema forever.
Speaking of old Hollywood, the cast is delightfully indulgent. A real callback to the power of old studio films of the 1950s that featured every established name under the sun. That said, this story really boils down to an unspoken feud between two men. And it's these two performances which stand head and shoulders above everything else. Firstly, this is a seminal performance from Murphy. The complexity and worlds of torment unfolding behind his eyes and eerie silent gaze is haunting and captivating. He is at once ethereal and unknowable, as he is human and riddled with doubt. The juxtaposition to this is Robert Downey Jr's performance as Strauss. Played straightly as an admiral and man of the people who has the ability to read scientists and the ego that goes with them – but under the surface is a much more subtle and insidious politically driven agenda, which makes him delightful to watch. Both Murphy and Downey Jr have done outstanding work over the years but, frankly, this is both of them at their absolute best.
So that's it, Oppenheimer is a masterpiece of practical filmmaking, with its phenomenal production design, stunning IMAX cinematography, career best performances and aggressively powerful score from Ludwig Göransson. Film of the year. Right? In truth, it is a 5/5, with every flaw paling when compared to the collected body of work. But that high rating comes with a caveat. A story about Oppenheimer and the development of the nuclear bomb was always going to be a politically charged and loaded subject. And my initial fear was that it would try to be objective but fail in its attempt to speak openly and honestly about what was achieved. Having seen this movie, I have to ask, was a duty of care observed? In Nolan's passion and drive to explore this historical force, is the writing strong enough to convey anything more than a pissing contest between political and scientific personalities? In my highlighted scene below (easily one of the film's best and a truly haunting moment) I discuss the film's attempt to address the very real impact of the bomb. Not the concept, nor the fear, or the legacy. The impact of its detonation. Twice. And where the film ultimately fails to connect, is by drilling so deeply into Oppenheimer and the Manhattan Project, that it loses sight of what it did. Granted, the references are strong but, given the outcome, audiences deserved more dismay, more consequence and more honesty.
However, by definition Oppenheimer is a biopic. A true character study. Not the bomb, not the effect of the war but the man himself. His qualms, quandaries and eventual blacklisting by his country. As such, the conclusion of the man is not set, it's up for the audience to decide. Was this a Jewish scientist trying to beat the Nazis in a race to build the worst bomb imaginable? An arrogant physicist who believed his own legend and felt a sense of entitlement to dominate the project and its future use? Or a guilt-ridden individual who was happy to have his flaws laid bare in an attempt to atone for his part in unleashing the most devastating power on earth? Admittedly it's all three, and for a single feature film trying to cover the spectrum of arrogance and naivety rooted in the assumption that a bomb would ensure a lasting global peace, rather than immediately igniting a global arms race, it accomplishes this feat impressively. What's more, for its ambition and scale, this feels like Christopher Nolan at his most restrained. The failings and shortcomings that I (and many others) have highlighted since 2010's Inception have been essentially addressed in this movie, and what has been offered up is nothing less than a reflective masterwork. Albeit one which you have to commit to avoid being caught in the shockwave of its arrival.

Release Date:
21 July 2023

The Scene To Look Out For:
The sound design during Oppenheimer's speech, following the deployment of both atomic bombs, is unquestionably striking. A maelstrom of cheers and screams coalescing to form a maddening cacophony of dread. Yes, the shaking camera, the blooms of light and the subtle skin-peeling on the faces of those present all serve a point. But the sound is what cuts through you. And considering so many of Nolan's films have fallen apart thanks to poorly constructed or lacklustre sound design, it's astonishing to be caught off guard and taken aback by an effort as truly glorious and magnificent as what is presented in this single scene.

Notable Characters:
Kitty Oppenheimer, played by Emily Blunt, is frustratingly underdeveloped. Across the three hours she shifts rapidly and wildly, as if reemerging as a new character in every scene. This is, regrettably, a byproduct of a complicated individual given little exploration time but she finally blossoms into an utterly captivating scene stealer by the film's close. All of which is testament to Blunt who, regardless of the assignment, has proven she is more than capable of elevating even the most underserving role.

Highlighted Quote:
"With sheet music, they say it's not can you read it, it's can you hear it. Can you hear the music Robert?"

In A Few Words:
"Not without its blemishes and foibles, but an irrefutable monument of modern filmmaking."

Total Score: 5/5