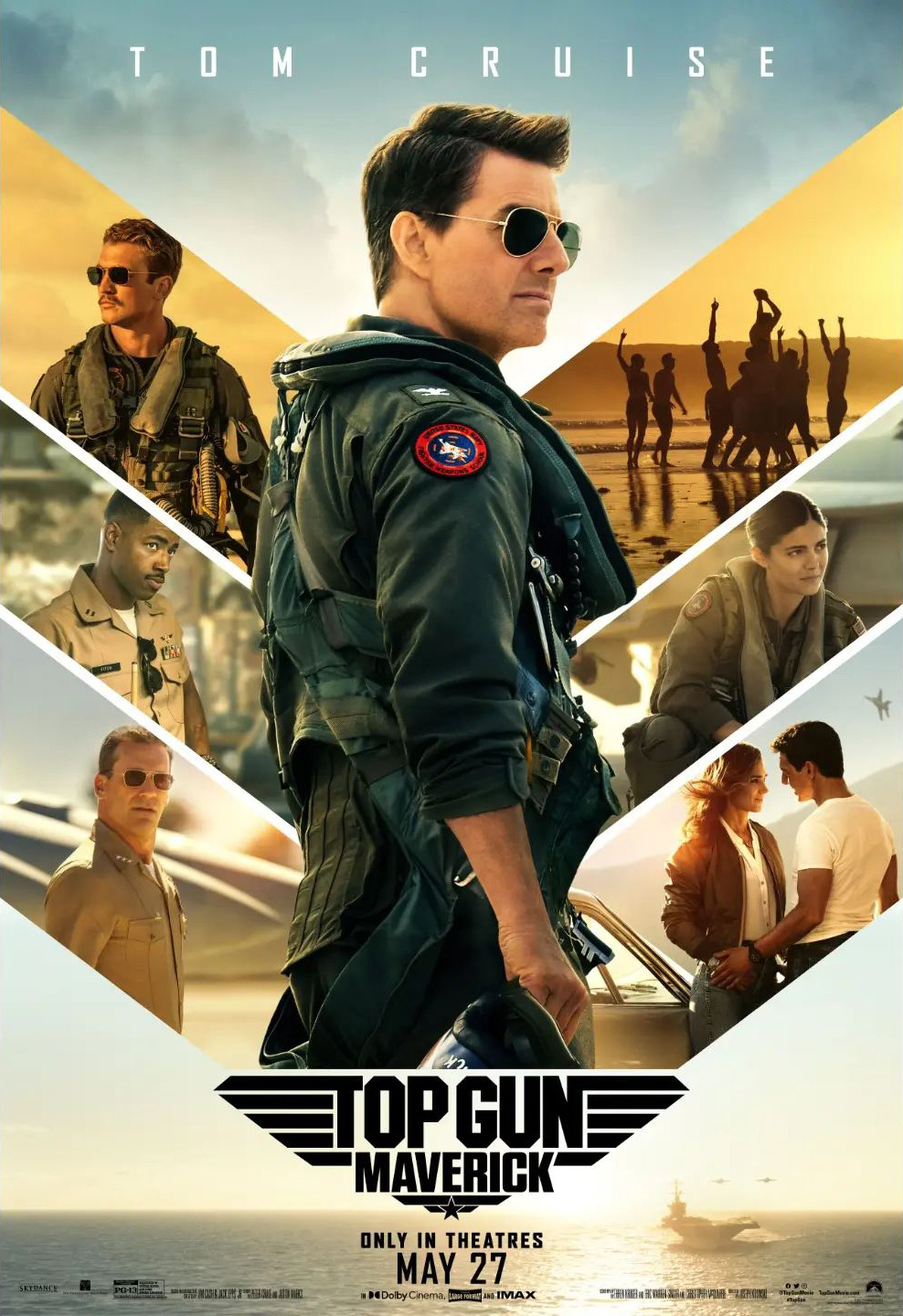 Director
Joseph Kosinski
Starring
Tom Cruise
Miles Teller
Glen Powell
Monica Barbaro
Jon Hamm
Jennifer Connelly

36 years after the events of Top Gun, Captain Pete 'Maverick' Mitchell [Cruise] is charged by the US Navy's Fighter Tactics School (affectionately known as Top Gun) to train some of the greatest active pilots, for an almost impossible mission. Despite the years, Maverick hasn't changed and outperforms his students at every turn, while simultaneously riling his superior officers. And if the high-risk mission itself wasn't tense enough, it's further complicated with of the eligible officers being Bradley 'Rooster' Bradshaw [Teller] – the son of Maverick's deceased wingman, Goose.
Right out of the gate, it's worth noting that the plot is incredibly straightforward to follow – which is by no means a complaint. In fact, in a world of convoluted action features, there's a charm to its simplicity. And by extension, performs the same trick as Star Wars: Episode VII – The Force Awakens, in that it reminds you why audiences loved its predecessor and largely follows the same structure and flow. But due to technological evolution, it also manages to elevate what was achieved before, because the aviation sequences are honestly so thrilling. There's simply no substitution for the in-camera experience and intensity of reality.
But make no mistake, for all the progression in how it's shot, this film leaves and breathes Top Gun. From the opening montage, it's evident how much care and attention has been put into the visuals to nail the sun-kissed aesthetic and tone of the original. Which is also reflected in the score, overseen by Lorne Balfe, lovingly celebrating the familiar orchestral leitmotifs and the 80s soundtrack, but still finds space to be its own thing. These three core components – the visuals, the musical accompaniment and the uncomplicated narrative – create a carefree optimism and enthusiasm. So much so that the entire feature seems to exist outside of all contemporary military/political spectrums and operates solely in its own timeless fantasy world.
Another factor feeding this sense of tale-out-of-time is the antagonist. And no, I don't mean the cocky pilot played by Glen Powell. I mean the opposition. The baddies. In the 80s, the bad guys were red star emblazoned jets (meaning it could be any number of communist adversary) but in the 2020s, the studio system doesn't want to alienate any particular market, so we end up with a completely faceless opposition, from a nondescript country, dressed in all-black uniforms, emitting zero dialogue. All we know is that they are working on nuclear weaponry and possess "fifth generation" fighters (whatever that means), resulting in the US no longer having the technological advantage. We don't need to know who they are, they're just a threat. For some, this will feel underdeveloped, for others, it will feel like a nostalgic throwback to a simpler time. Your mileage may vary.
At nearly sixty years old, Tom Cruise isn't your typical action hero. His insistence on performing his own stunts and pushing himself beyond the requirements of an actor of his stature, are absolutely absurd but you have to admire the craft. As such, Maverick isn't your average pilot. In the decades since Top Gun, he appears to have just carried on without deviation. The film goes out of its way to actively state, "You should be a 2 star admiral or a senator, yet here you are.. a captain." Which is an absolutely valid point, yet is never addressed enough. Leaving several aspects of this feature feeling like midlife crisis the movie. The man doesn't appear to have grown or changed whatsoever and continues to live life like an indestructible twenty year old. Even when he's called in to teach new pilots, he immediately assumes he's been recruited to fly this impossible mission. To put that in context, Cruise is a good five years older than Tom Skerritt was when he played Maverick's commanding officer in the first film.
But telling this story from Maverick's perspective is the film's greatest drawback. The relationship between Maverick and his best friend's son, Rooster, is fraught. The young lieutenant blames the older ace for the death of his father and we later learn that Maverick even stepped in to hold Rooster's career back – albeit for fear of losing him too. And while it's extremely well told and engaging, it's not nearly as compelling as telling the same story from Rooster's perspective. Essentially robbing the audience of a meaningful narrative that follows a young pilot out to prove something, chasing his dead father, in lieu of focussing on an ageing hothead pilot given another shot at glory. So when Rooster eventually overcomes his inhibitions and inner demons, it doesn't land with the full might that it should. All of which compounds because this heavy focus on Maverick also means there isn't a great deal of room to develop the supporting cast and the remainder of the recruits become largely irrelevant.
That being said, it's not nearly enough to sink this incredibly fun and exhilarating endeavour, which could very easily become the surprise feel-good hit of the summer. And who the hell would have actively predicted that?

Release Date:
27 May 2022

The Scene To Look Out For:
**spoilers within**
Following the adrenaline-fuelled central mission, we are treated to one last turbo boosted action set piece. And it's frankly wonderful. It starts off with a genuinely endearing moment of levity between Maverick and Rooster – who get shot down for one another – getting into a fight saying, "What the hell were you thinking!?" and "You told me not to think!" Which shifts the tone for the final dog fight, neatly away from peril and into energetic buddy action comedy territory.

Notable Characters:
Frustratingly, because all eyes are on Maverick, the movie insists on giving him a love interest. Is it Kelly McGillis reprising her role of Charlie from the first film? Nope, it's Jennifer Connelly playing Penny. Who's Penny? I mean, she's basically a Charlie substitute – a former flame.. although considering the age gap, I feel like a late twenties Maverick hooked up with someone far too young for him. But I digress. I'll admit, the idea that Maverick had another girlfriend over the decades is a given.. but the entire Penny presence feels hideously tacked on and half-baked. But to be fair to Connelly, she absolutely throws herself into it and sells it well.

Highlighted Quote:
"It's not the plane sir, it's the pilot."

In A Few Words:
"A shockingly fun and entertaining feel-good ride from start to finish."

Total Score: 4/5