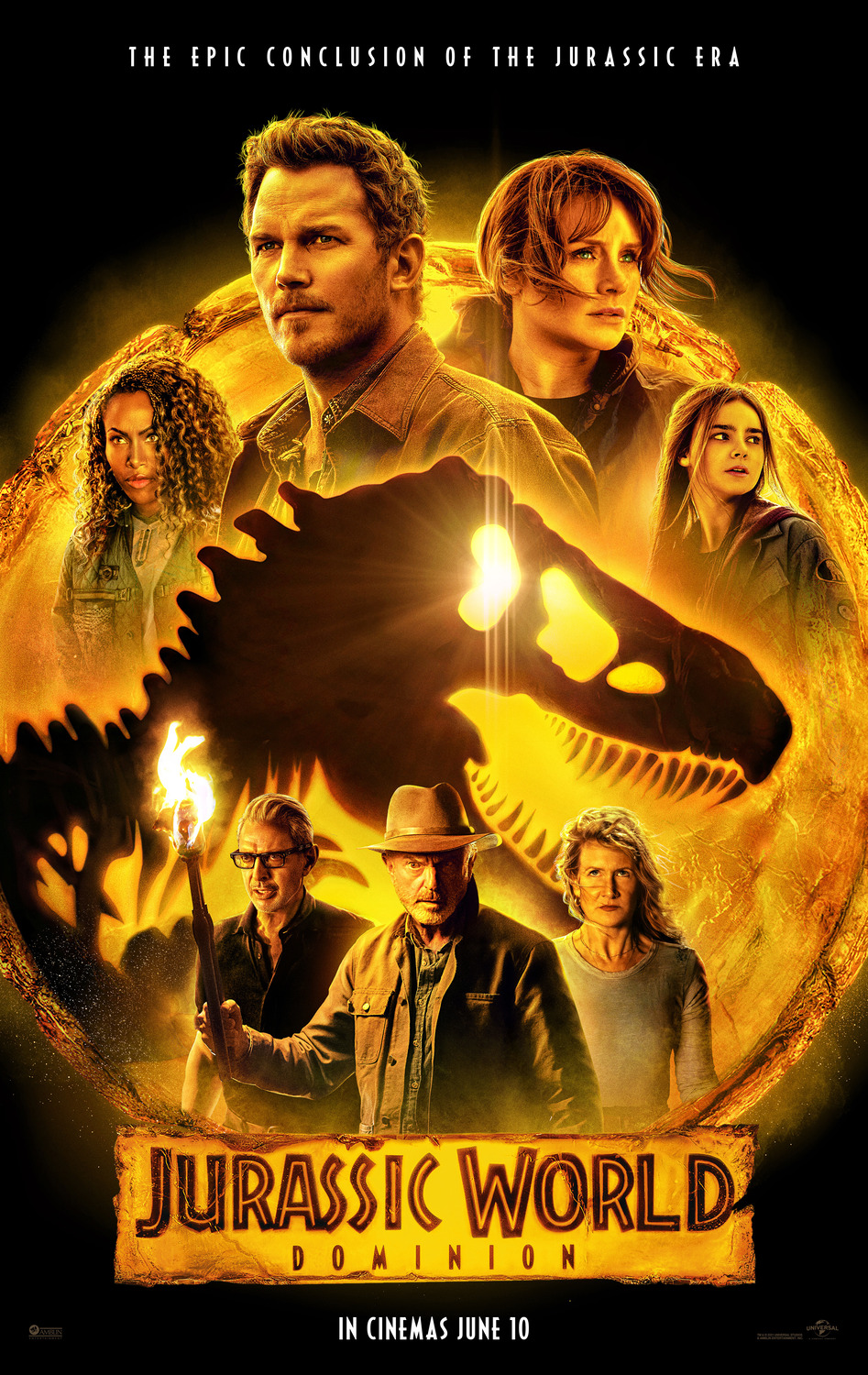 Director
Colin Trevorrow
Starring
Chris Pratt
Bryce Dallas Howard
Isabella Sermon
Laura Dern
Sam Neill
Jeff Goldblum

Four years after the events in Jurassic World: Fallen Kingdom, dinosaurs have become a very real and overwhelming part of our ecosystem and Owen [Pratt] and Claire [Howard] continue to do their best to stop poachers and traffickers from exploiting them; all while sheltering human clone, Maisie Lockwood [Sermon]. Meanwhile, Drs Ellie Sattler [Dern] and Alan Grant [Neill] are invited by Dr Ian Malcolm [Goldblum] to the Biosyn facility in Italy to uncover the mysterious rise of long extinct locust, which are ravaging farmlands across the globe.
Jurassic Park Dominion is a genuine aural treat. The sound design is truly amazing, offering an immersive and atmospheric experience that pushes to the foreground then nestles beneath Michael Giacchino's score – which strikes both a 50s b-movies vibe and a jet-setting adventure romp, all carefully spliced with a strong John Williams leitmotif love letter. Alright, with that out of the way, let's get onto the negatives.. which is frankly everything else.
The biggest crime any Jurassic Park sequel can commit is to squander the potential given to it. To be handed a world of mystery and possibility only to produce something bland, forgettable or dull. Sure, Dominion has a handful of solid concepts – the underground Maltese black market, engineered pests to control global crops, a self impregnating dinosaur – but none of it really means anything. And despite plenty of setup juggling, the opening half an hour is fairly mundane, feeling surprisingly sluggish and lacklustre. Granted, as a faceless big budget hollow dinosaur movie, one could argue it's not awful. You could even say it has some engaging sequences. But it's still sub par. And as a Jurassic Park film, it's unforgivably stale.
The true novelty of this movie is the return of Neill, Dern and Goldblum and there are clearly times when this works to the film's advantage. Though it does create a bisection, with the original cast bringing a modicum of charm and authority, while the new cast are marred by the weird continuity these sequels have produced. But, if I'm being honest, the inclusion of these familiar faces is mostly nostalgia bait. They're essentially meat puppets of the characters you remember. Boiled down and distilled to tropes and quirks. The epic team-up we have been told will take the series out on a high, ends up feeling like a collection of mismatched toys bashed together.
And then there's the villain. Jurassic Park films have always had an interesting framing in that the primary focus of the villainous roles isn't necessarily cackling bad guys or gurning henchmen (although there are a fair few of those), it's hubris and mendacious, avaricious corporate stooges. Dodgson, however, is a pretty mediocre addition to this roster. He's meant to be a returning character from the first film (albeit played by a different actor), modelled closely on the oddball eccentricities of contemporary billionaire CEOs. But there's no menace to him, he's just laughably inept. All of which stems from the tactic Trevorrow employed during Jurassic World: namely "seeing the world through the eyes of a child." From pushing a random dinosaur into the scene for no reason, to creating dialogue that is how kids assume adults speak to one another, so much originates from this ill-conceived idea of what a child might enjoy.. but ultimately talks down to them.
Another byproduct of this "give the kids what they want" logic, is a deep-seated fear of creating any real sense of danger or tension, and most specifically, consequence. To the extent that at no point was I worried about the wellbeing of any of the characters, thanks to the thick coating of plot armour. No matter what came around the corner, no matter how big the threat, it was combatted so easily. Often with the Jurassic World patented raising of the outstretched hand. I swear to God, we saw so many hands held out that I was worried this was going to become a Star Wars crossover.
See, each instalment in this franchise, no matter how much you may like or dislike the film as a whole, has an outstanding moment of tension and suspense. The better the film, the more it has. Jurassic Park is wall-to-wall jam packed, The Lost World has a solid opening, later topped with the trailer over the cliff scene, Jurassic Park III gave us the spinosaurus and aviary sequences, Jurassic World's gyrosphere attack was gripping and Fallen Kingdom stepped into horror territory with its gothic mansion. These are all memorable standout moments. Dominion doesn't have any of these. What it has, is the dilophosaurus encounter. And for me, the dilophosaurus scene is the epitome of everything wrong with Jurassic World Dominion.
Racing to safety, Claire makes her way to an outpost structure but before she can get to the ladder, she hears a whistle in the darkness. Soon it becomes clear she has been surrounded by a pack of dilophosaurus. For those that don't remember, this is the fairly small carnivorous dinosaur that spits a paralysing venom and has the colourful neck frill. The tension and suspense build. It's clear she won't be able to get to the ladder in time. There are too many and they're seemingly waiting for her to put a foot wrong. But she also can't stay where she is. Slowly advancing toward the ladder, Claire suddenly stops and lowers herself back onto the floor as one of the dinosaurs leans in close, hisses, and bears its rattling neck frills. Claire screams. There's no escape from this, she's unarmed and this wild collection of teeth and venom is poised to attack. And in that moment, Owen appears out of nowhere, grabs the dinosaur by its neck, tases him and sends him on his way. A cheap, painless resolve to an inescapable situation that ultimately amounted to absolutely nothing. And this type of ineffectual sort of confrontation happens over and over ad nauseam.
To tie up this review, I'd like to just circle back to one of my opening statements: the waste of potential. For years, Jurassic Park films have been desperate to get to a point where dinosaurs are in the wild, coexisting with man, running amok. The Lost World rushed it, making the San Diego scene feel tacked on but the promise at the end of Fallen Kingdom was that the world would be changed. Furthermore, all the marketing for Dominion implied that with dinosaurs spreading around the world, our entire ecosystem would be so upended that the reality these characters now inhabit would be unrecognisable to our own. Instead, after a few minor sequences in the first half, the writers quickly ran aground. Turns out a giant sandbox the size of planet Earth is too vast and if dinosaurs are everywhere, it sort of robs the urgency behind them. After all, we have natural predators like lions, tigers and bears, etc. What's a few raptors in the mix? And in this moment of panic, they reverted to the only thing that's ever seemed to work for Jurassic Park stories: bringing it back to an isolated, contained arena full of dinosaurs. That's it. Another box with questionable power systems, run by a greedy dickhead.
This release is one that severely disappointed me. Adventure, suspense, excitement, intrigue – all feel absent from this film. Making this, easily, the worst Jurassic Park film to date. An entirely fruitless affair that fails to spark wonder, joy, terror or enchantment – all the things that made the 1993 original so magical and special.

Release Date:
10 June 2022

The Scene To Look Out For:
Less a specific scene and more a running trend: the string of coincidences are mesmerisingly bad. Everyone spills into one another to the degree that it becomes an unspoken law. Is the character lost or unsure of what to do next? Don't worry, the very answer or a deus ex machina will present itself in the nick of time. Without fail. Which is just remarkably bad writing.

Notable Characters:
At the very start of this film, we get a brief glimpse of Daniella Pineda, making a return from Fallen Kingdom. I genuinely enjoyed her character last time around and feel Pineda is a thoroughly underrated talent. Regrettably the film had literally nothing for her to do and aside from one brief sequence, sidelined her immediately. Same for the fleeting return of Omar Sy. Oh and Dichen Lachman! What was the point of her character? Such a waste of exceptional acting capability.

Highlighted Quote:
"Prometheus got gored and so will you, you rapacious rat bastard."

In A Few Words:
"Bloated, boneheaded and boring, truly the lowest point in the franchise."

Total Score: 1/5