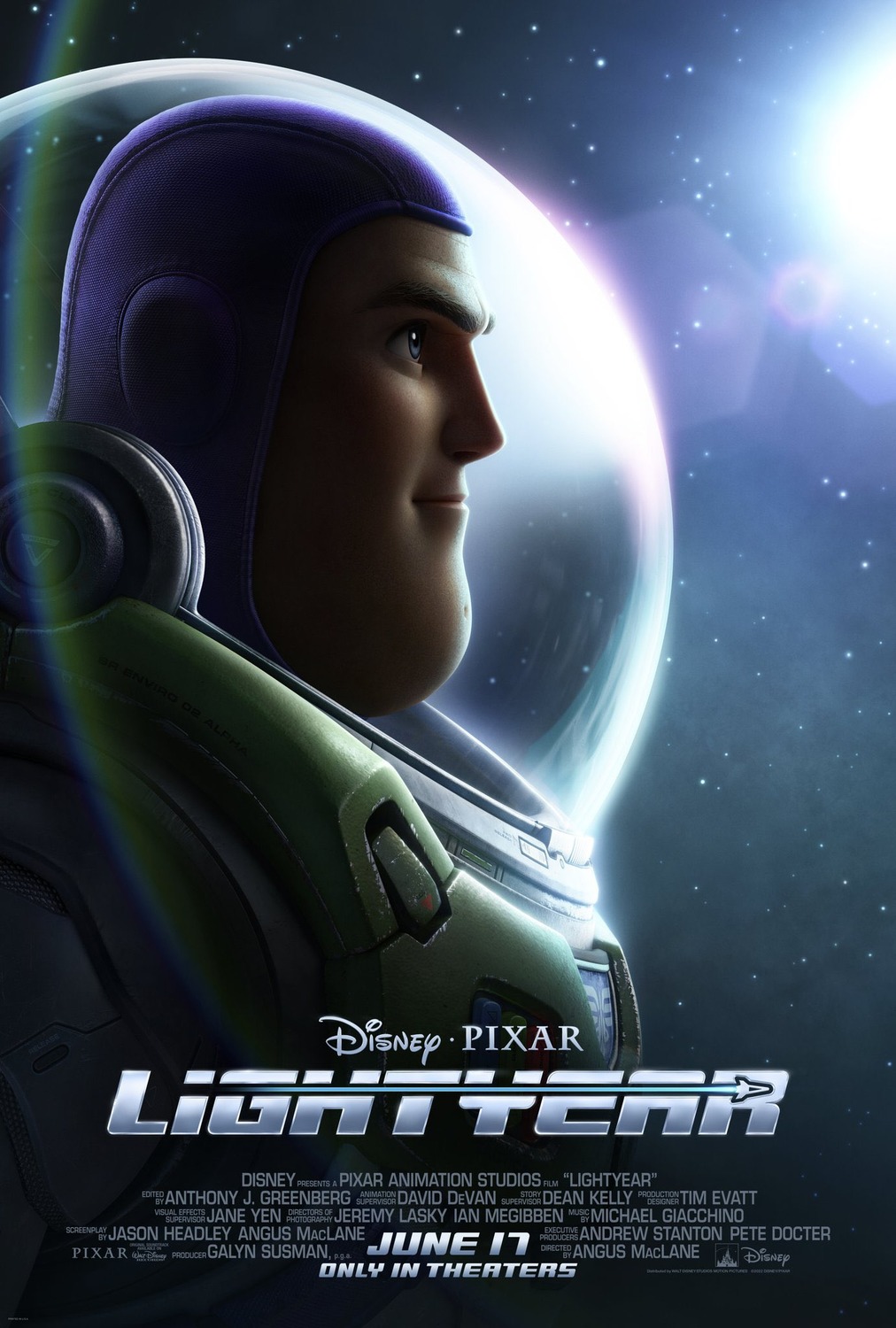 Director
Angus MacLane
Starring
Chris Evans
Keke Palmer
Peter Sohn
Dale Soules
Taika Waititi
Uzo Aduba

While on a deep space voyage, Ranger Buzz Lightyear [Evans] is woken from hyper-sleep to respond to an alert from his ship's navigation computer. Setting down on a potentially habitable planet, he and Ranger Alisha Hawthorne [Aduba] investigate the area, only to find it hostile. During their escape, thanks in part to Buzz refusing to accept help from others, the ship and its sizeable crew are marooned. Over the course of a year, enough resources are gathered for a hyperdrive test flight. The mission is a failure and upon Buzz's return, four years have passed, due to time dilation. However, determined to save everyone, Buzz continues the test flights, spending 60 plus years trying to perfect the formula. On his final return journey, he discovers the planet and the community that has grown there over the decades, have been set upon by a race of robots, led by their commander: Zurg.
Let's get something out of the way, before we go any further. A lot of people are going to be disappointed by this film. Because they are expecting Toy Story. Personally, I think this is a magnificent concept for a Toy Story spin off – openly acknowledging this was Andy's favourite film, the one that inspired him to get the Buzz Lightyear figure – and distances itself from the idea of toys that come to life enough to be its own adventure. In essence, an homage and replication of the original character in a way that doesn't feel recycled or lazy; emitting simple magnitude and gravitas. As such, it's not just an IP cash grab but a solid science fiction film in its own right. But.. again.. some people won't see that, they will want this to hit with the emotional force and importance of a mainline Toy Story release, which it fundamentally is not designed to do.
In terms of production, Lightyear is fantastic. There's real b-movie vibes throughout – in the best way – with Giacchino's thundering, brassy score, some truly beautiful lighting and a wonderful tactile functionality to the technology and world building. Everything looks, feels and sounds chunky and real, bucking the trend of streamline sleek and holograms on glass surfaces. Basically, it picks a lane and sticks to it.
Seeing Buzz Lightyear without Woody to ground him may feel jarring for some viewers, but Evans gives Buzz an affable charm, despite his outright pomposity and stubbornness. And in truth, with his entire arc centred on grappling with humility and asking for help, Lightyear has some remarkably uncomplicated messaging: don't try and do everything yourself, know you can rely on others. So, in a strange (possibly intentional) way, it would seem the best device Pixar found to tell a solid Buzz Lightyear story, was to give it a Captain America man-out-of-time setting.
As for the supporting roles, they are hard to analyse without delving into spoilers, suffice it to say, Buzz is forced to work with a rag-tag group of well meaning misfits. All of whom not only prove themselves useful but also illustrate to Buzz how important it is to be in the moment, learn from your mistakes and focus on what truly matters. Admittedly, the characters and performances are quite archetypal but ultimately this helps when pitching the value of belonging and the power of teamwork.
**heavy plot spoilers in this paragraph**
And although I'm loathe to spoil certain developments and revelations, we need to talk about one glaring sticking point in the writing. Namely I'm referring to Zurg's time travelling. Considering the familial disclosure in Toy Story 2 (that Zurg is Buzz's dad), I should have been surprised by Zurg's true identity. Except I wasn't because I'm a 38 year old man, who can follow narrative breadcrumbs and I've seen many, many, many films. But that's not a slight on the film because the target demographic likely wouldn't have seen it coming and will enjoy it. No, what irks me is that this film introduces ropey time travel. More than ropey, it's a little plot-breaky. Which is incredibly unfortunate. I'm sure there's an arbitrary handwaving of how and why it actually works without issue but it's never given the time on-screen and feels undercooked. Which is a damned shame.
To conclude, I'm always banging on about how space exploration stories need to take notes from old naval voyages – in the sense of setting out toward the horizon and making a new home in the unknown – and through competent, heartfelt storytelling, Lightyear manages to craft this pleasingly well. In a way, much like Top Gun: Maverick, it does something straightforward and uncluttered. And when you're 8 years old and hungry for adventure beyond the stars, sometimes that's all you need.

Release Date:
17 June 2022

The Scene To Look Out For:
There's a sort of unspoken rule about time skips: don't do too many. Narratively, they are disruptive and slam the brakes on any momentum and urgency that you're trying to build. You could argue this film goes too far with them, leading to many detractors proposing that the story proper doesn't start until halfway through. But, with the fact that the titular character navigates through these time skips, we feel that disconnect in an impactful and meaningful way.

Notable Characters:
Sox is marvellous. He's a therapy robot in a cat's body. His presence injects levity and warmth into an already fun and warm experience. And Peter Sohn's performance belongs up there with the scene stealing of Scott Adsit as Baymax (admittedly, without the emotional haymakers which that character packs). But I will always make time for a cat who, when asked to make a calculation, responds, "One moment please. Beep boop beep boop beep boop."

Highlighted Quote:
"You don't need to save us, you need to join us."

In A Few Words:
"An exceptional amount of honest, unambiguous fun – providing you don't delve too deep under the surface."

Total Score: 4/5