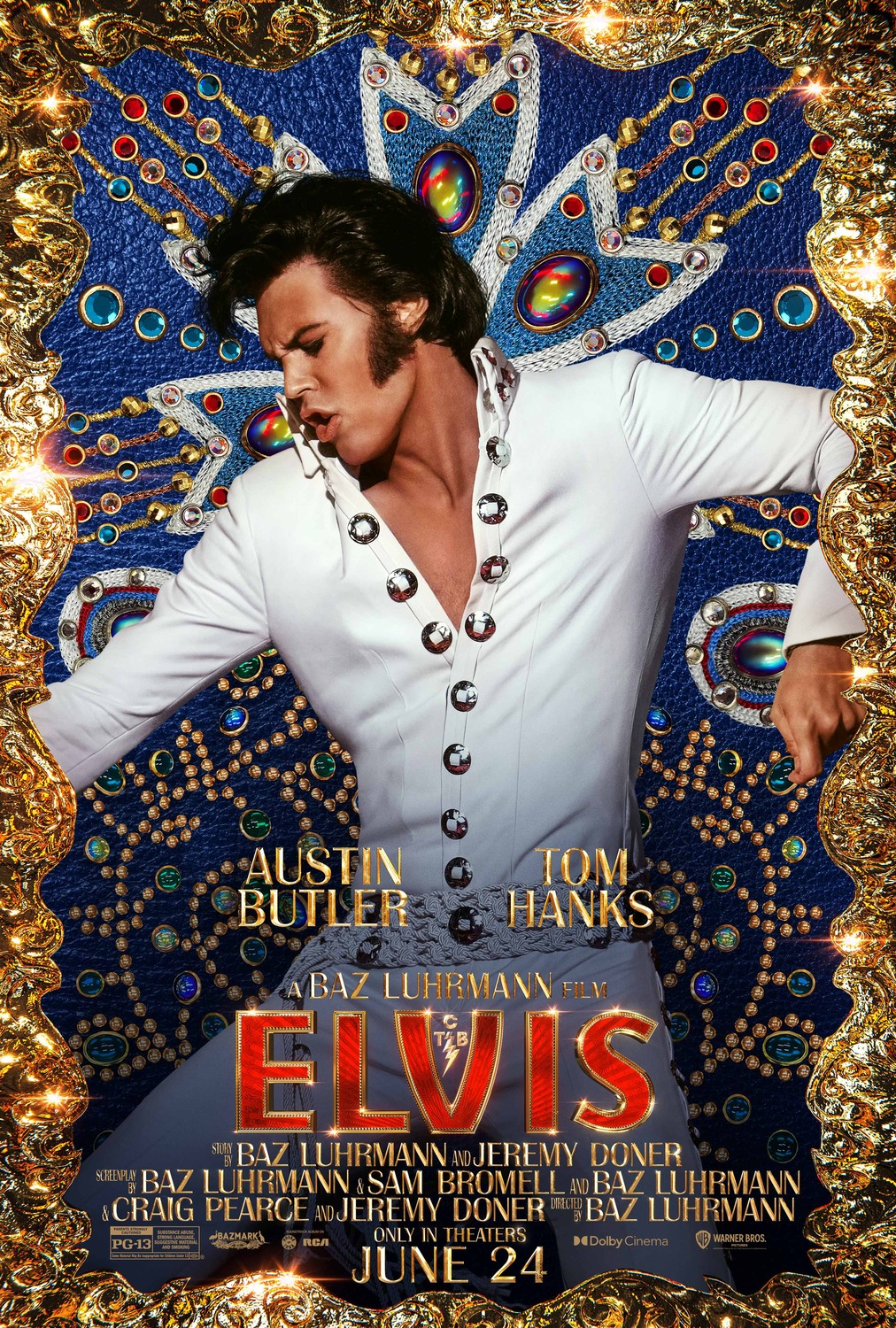 Director
Baz Luhrmann
Starring
Austin Butler
Tom Hanks

Bookended in 1997 with the death of Colonel Tom Parker [Hanks], the entrepreneur and manager recounts how he met Elvis Presley [Butler] and rocketed him to stardom. In the process, we see the rise of Elvis' music, his rebellious nature and the effect he had on his fans. As his career grows, we see the relationship between these two men bob and weave between close allies and friends to aggressors at one another's throats over money and contract disputes.
When it comes to biopics, it's so hard to encapsulate a life. As such, a script will figure out its framing device, pick a lane and run with it. And a lot of that will come down to who's holding the pen and the director in charge. In this case, the identity of both those individuals is Baz Luhrmann. So for anyone going into this feature, it's important to understand that this is a quintessentially Luhrmann experience – meaning it will delight some and alienate others within the first few minutes.
Unlike other biopics and Elvis-centric media, the relationship between Elvis and his manager is paramount but there is also a strong cycling of several significant themes. We open with an introduction to a religious family band, coerced and taken advantage of by an unscrupulous manager; and the emotional wedge that presence drives between them. The film also often addresses Elvis' gospel and African American influences, actively acknowledging that he wasn't doing anything new, he was just celebrating what he loved and, at the same time, was able to sell it to the masses. There are allusions to the fact the sexual enticement he exuded wasn't solely limited to the female members of the audience. And as the film winds to a close, we get a look into the paranoia, infidelity and downward spiral from a drug induced malaise.
In truth, it's a lot to take in and, in fairly classic Luhrmann style, everything gets at least a look-in, resulting in an absolutely breakneck pace. Which I'm extremely conflicted about. On the one hand, it mars the experience and never truly allows the audience to sit in the moment. That being said, it also nails the feeling of how quickly Elvis rose to uncontrollable stardom. Similarly, we never get a full sense of the scope of how big Elvis was because we are confined to Elvis' own trapped, lonesome existence. Sure there are headlines and screaming fans aplenty but with events rushing by, it's never entirely clear how Elvis' name and brand was absolutely everywhere and how ultimately detrimental this oversaturation was. In other words, it's written with the shorthand that the majority of the audience will already be well aware of who the king of rock and roll was – and this may be true.
From a technical standpoint, the production design, the costumes and the set work is understandably glorious. Sashaying through three decades from the dusty open roads of middle America, to the glitz and glamour of Las Vegas opulence. But, let's be honest, for a film of this nature, how it sounds is just as, if not more, important as how it looks. And thankfully, the music and sound mixing are magnificent – with individual songs and triumphant moments all underscored with a bed of ominous foreboding; essentially, scored like a superhero film. But all too often, the dialogue felt ADR-heavy and, at times, created a touch of distance.
But, in a weird way, none of that matters. And for a lot of people, everything I've mentioned thus far will be irrelevant, for one sole reason: Butler is amazing. And not just because he's a talented actor (and he very much is) but because he is giving us one of those once in a generation performances, that ascends impersonation and achieves embodiment; joining the ranks of people like Kurt Russell, who were apparently born to play this role. The singing voice used is Butler's own throughout the singer's younger years, then switching to archive recordings for the older Elvis performances. And it works wonderfully, with Butler feeling relatable and identifiable, before elevating to the mythic icon that Elvis eventually became.
The other crucial performance comes from Tom Hanks. As the Colonel, Hanks lurks and creeps in the background; entirely framed as a predator. And as someone who has always maintained Hanks has it in him to play the very best villains, it's captivating to watch. Less an out-and-out moustache-twirling bad guy, the Colonel is an oily opportunistic exploiter and it wouldn't surprise me if this is going to be a lot of viewer's first real introduction to this part of Elvis' life. In truth, since the release of parody Walk Hard the biopic should have died a death because its tired structure was skewered and laid bare so perfectly. But it endured and has ever so slightly shifted from tortured talent, to prodigies who have been manipulated and imprisoned by those around them, as much as the fame and success itself.
But when approaching this movie from a critical perspective, we cannot grade it solely on a central performance – not even one as good as this. And as a film, with every positive, there is a dissatisfying undertow running beneath the surface. See, when it's given room to breathe it flies but with so much time-hopping and emotional bouncing around, it mostly struggles. And when looking back at Luhrmann's work on things like The Great Gatsby and Romeo + Juliet, it's clear he has it in him to make an engrossing straightforward narrative. But Elvis veers closer to something like Moulin Rouge!, by trying to instil an emotional connection through experience as much as tell an actual story. Essentially, and somewhat ironically, we have an incredibly ostentatious creative personality who is caged with hemmed-in boundaries. Now, whether they are of his own making or through studio involvement, that's harder to say, but regardless, the film never truly achieves the heights of what it is capable of because of it.
Coming away from this movie, one is hit with a question of legacy. Is it an accurate representation of the man? Like all biopics, who's to say? This isn't a documentary. But, to my mind, it sits between two other recent musical biopics of note: Bohemian Rhapsody and Rocketman. The former got a lot of attention but was ultimately quite sterile and bland, save for the music itself. Whereas the latter didn't garner the same public reach but through its unique visual storytelling and honesty, was the infinitely superior release. Meaning, at the end of the day, Elvis is an interesting cinematic point of note but is far from the epic sprawling biopic many will want or expect.

Release Date:
24 June 2022

The Scene To Look Out For:
Fairly early in Elvis' career, he is met with extreme backlash for his lewd gyrations and use of "black music." The Colonel insists a rebrand to a more family-friendly Elvis, which comes to a head when the young Presley defies expectations and performs Trouble to ten thousand fans. The entire scene is presented with a mix of tension, hypnotic sexual energy, chaos and euphoria through invasive tight shots and camera stills. All while the Colonel looks on in mystified horror that his young apprentice would act so foolishly. It's compelling stuff.

Notable Characters:
We haven't discussed the supporting cast and you'll notice I haven't really listed anyone at the top of this review. And that's largely because this is a two-man show. Subsequently, there isn't really room for anyone else. Logically, you would assume Elvis' wife, Priscilla (played by Olivia DeJonge), would be a logical contender. But in truth, she's whisked away almost as quickly as she's introduced. Arguably, the only real constant in the film is Elvis' father but, while Richard Roxburgh's performance is commendable, it doesn't make enough of a mark to be noteworthy.

Highlighted Quote:
"Now I don't know much about music but I could see in that girl's eyes, she was feeling something she didn't know she should be feeling. He was a taste of forbidden fruit. And she could have eaten him alive."

In A Few Words:
"A celebration of myth and music at war with itself over whether it should be a chronicling or an experience."

Total Score: 3/5