EVERYTHING EVERYWHERE ALL AT ONCE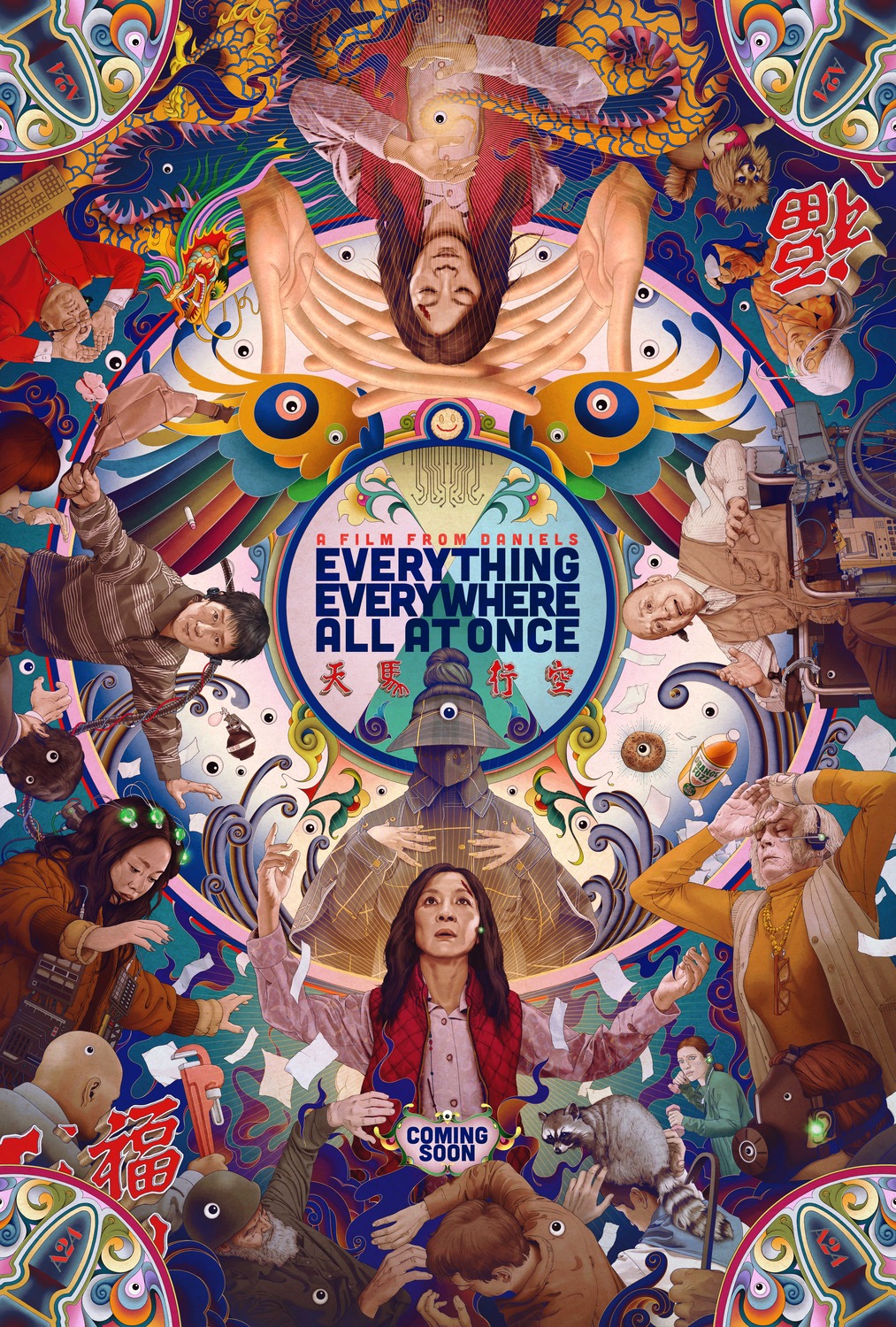 Directors
Dan Kwan
Daniel Scheinert
Starring
Michelle Yeoh
Stephanie Hsu
Ke Huy Quan
James Hong
Jamie Lee Curtis

Evelyn Wang [Yeoh] runs a struggling laundromat with her husband, Waymond [Quan] and is juggling various financial and social pressures with a pending audit, a visit from her elderly father and trying to connect with her lesbian daughter, Joy [Hsu]. She is, however, shaken out of monotony when an alternate Waymond hijacks her husband's body and explains the concept of an infinite multiverse, going on to detail that a dark and powerful entity – Jobu Tupaki – is seeking to destroy all existence. And that Evelyn may be the only one able to stop it.
To put it bluntly, this movie is a flex. A rare-breed, transcendent masterpiece of beautiful and (possibly more importantly) compelling absurdism. A movie that knows exactly what it wants to say and do, then sets out to achieve it without a care for scrutiny or criticism, because you either get it or your opinion, frankly, doesn't matter. Culminating in a release that is deep, meaningful and unapologetic yet unafraid to have an exceptional amount of fun in the process; something that has been noticeably absent from cinema for some time.
Everything Everywhere All At Once is also very much the product of its creators, wearing references and influences proudly on its sleeve. Whether that's through the rich cinematography – ranging from the saturated hues of something like In The Mood For Love to the softer-contrasted aesthetic of 70s kung fu films – the narrative parallels with The Matrix via peak Gilliam, in-joke sight-gags from Ratatouille, 2001: A Space Odyssey and Sherlock Jr or the explosive, vibrant score from experimental band, Son Lux. In a world of infinite potential, the Daniels (the collective name for both directors) have openly drawn on things they love, to create a world that feels alive and real, despite the seeming discordance at its core.
But let's talk about that discordance, because maybe that's a misnomer. What, at a glance, feels like the chaotic ramblings of a lunatic, is actually an expression of weighted absurdity. Every passing oddity has meaning and significance. Everything mattered. And the sheer level of planning, organisation and oversight to make that work in a cohesive and pleasing manner, is both truly baffling and a sincere testament to the Daniels' collective and respective talent.
For some, this movie will bounce cleanly over their heads, for others there will be a wealth of concepts to unpack but the truth is, this is arguably the perfect horoscope film. You see, underneath the action, the science fiction dimension hopping and the lavish production design, is a remarkably simple family drama with an even simpler resolve. As such, the real crux of the story is so broadly earnest and relatable, that it's so difficult not to see yourself in the central narrative – like a horoscope. It's not written for you, but it bloody well feels like it is.
Who hasn't felt lost and rudderless, or as the film puts it, "your clothes never wear as well the next day, your hair never falls in quite the same way." And once it has you with the surface-level discontent, the film heavily flirts with themes or existentialism and nihilism, opening the cyclical nature of self-assessment and exploring the temptation of simply giving in to it all and letting go. All before pulling you back from the brink with an enduring message of hope and love. I should be furiously typing about how trite and rote that conclusion is, and yet I'm in awe at how effectively it was presented to me.
But of course, no matter how masterfully everything has been crafted, it would be nothing if we didn't care about the characters and holy hell is this cast perfect. The roster is deceptively contained but each character has so many facets and alternatives that it feels far greater. Quan makes a welcome return to cinema as the meek, unassuming husband and devilishly handsome 'one who got away,' Hong is cantankerous or endearing whenever the plot requires and Jamie Lee Curtis continually steals scenes reminding us how far she can go, when given something to get her teeth into. But we need to talk about Yeoh and Hsu. Yeoh has always been a powerhouse and throughout her career has effortlessly portrayed every kind of role – as if preparing herself for this moment. Similarly, Hsu is so wonderfully grounded, giving complete credence to an often unknowable character. And the pair work magnificently together, sparking chemistry as the most believable mother-daughter combo.
So let's talk about representation for a second. In an alternate universe, this film was released with the parent-child dynamic portrayed by two white guys. And in that universe, alternate Matthew Stogdon wrote a review about how it was an impressive effort but sadly missed the mark. This is because the nuance and complexity of this tale is so deeply rooted in the story of an immigrant family, and more specifically, the female members of it. But by highlighting cultural differences, the film conveys universal similarities: overbearing parental figures, inherited stigmas posing as tradition, navigating an oppressive system designed to work against you. It is at once a quintessentially Asian-American experience, as well as one with which so many can identify. The same thing happened with The Godfather, how could I possibly relate to an American crime family? By opening with the politics and chaos that bursts out at a wedding, suddenly everybody is able to project themselves onto these individuals, while acknowledging the unique specificities.
As far as flaws or weaknesses are concerned, I honestly can't think of any. Sure, I can conjure up a handful of hypothetical comments based on contrarianism and prejudice. Lots of "I don't see myself in this" or "it's just too weird for me." The only thing I could accuse it of, is self-indulgence; like watching creatives actively going through collective therapy. To explain, a lot of the plot hinges on the nihilistic concept that to see and know everything creates apathy that courts destruction. It's quite easy to see this as an expression from millennial filmmakers, growing up in a world of global interconnectivity, presented with infinite knowledge and potential with the birth of the internet and coming to the conclusion that everything is helplessly fucked. While simultaneously coming back to the same 1970s exploration of "my parents are unknowable entities" with the added twist of "but I'd like them to acknowledge their flaws and apologise in order for us to grow."
For all its spectacle, the grasp that somehow matches its reach and the confidence of its execution, Everything Everywhere All At Once is a pure, unadulterated, uniquely cinematic experience. And something truly special.

Release Date:
13 May 2022

The Scene To Look Out For:
I've waxed lyrical, extolling the virtues of this film and its assured daring but to give a very specific, largely spoiler free, example of what I mean, there's something undeniably captivating about watching a clearly-shot, engaging fight sequence, wherein one of the combatants is trouserless with an award jammed into his arsehole.

Notable Characters:
The only character who feels a touch underdeveloped, is one we don't actually need much from. I'm referring to Tallie Medel as Joy's girlfriend Becky. Could I have seen more about her character, her drives, motivations, alternatives and relationship with Joy? Sure. Would it have added much more to the film? No, probably not.

Highlighted Quote:
"You're capable of anything because you're so bad at everything."

In A Few Words:
"An amazing, impossible achievement."

Total Score: 5/5