DOCTOR STRANGE IN THE MULTIVERSE OF MADNESS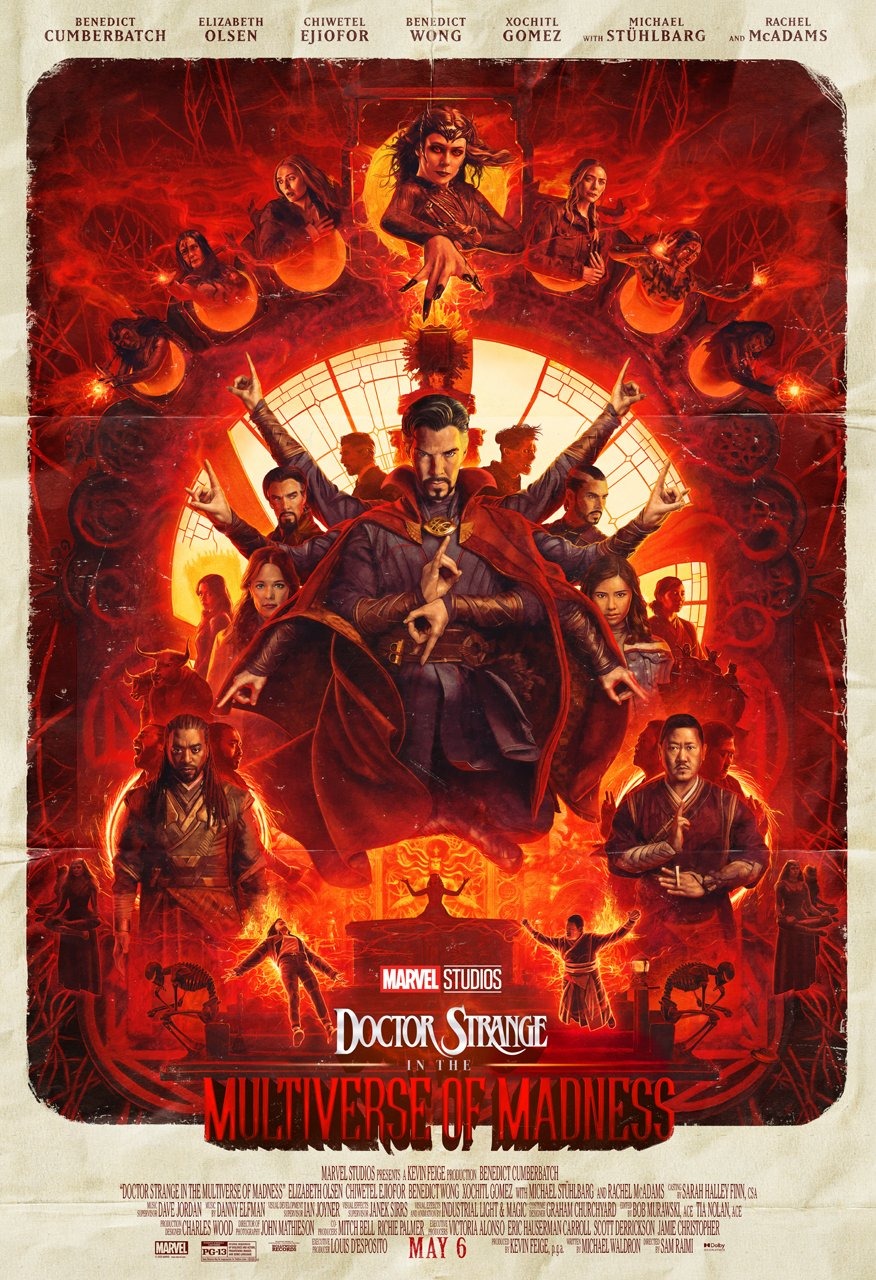 Director
Sam Raimi
Starring
Benedict Cumberbatch
Xochitl Gomez
Elizabeth Olsen
Benedict Wong
Chiwetel Ejiofor

In an alternate universe, America Chavez [Gomez] is chased by a demon for her ability to hop between multiverse dimensions. Seeing little alternative, Dr Stephen Strange [Cumberbatch] realises that the only way to ensure the safety of every universe is to harvest Chavez's power, killing her in the act. Before he can do this, he is killed by the demon and the young woman's power activates involuntarily, transporting her and the corpse of Dr Strange to the MCU universe we know and love. Chavez reluctantly works with this universe's Dr Strange, who learns that a colleague is behind the attacks.
For a film so heavily centred on the dangers of ego and the risk of a central overbearing personality operating under the belief that the only way to operate is their own, it's curious how tightly the creative pen is gripped by its director. This movie is so unabashedly Raimi. And as such, this will likely be the talking point at the top of almost every critical review you cast your eye over. For those who don't know, one of the reasons the MCU is the way it is, is due to the close management of their directors. For better or worse. But while Raimi toes the company line, he has clearly been given free rein to inject so much of his own personality and flare, that this release feels inseparable from its creator. Subsequently, the action and peril feel indicative of the early 2000s Spider-Man films – playful and cartoony but clear – and we're treated to several interesting match cuts, transitions and Dutch angles, which gives the film a decent degree of character and memorability. All of which feels like an intentional course correction by Marvel; as seen with Zhao's directorial authority and fingerprints on Eternals.
This feature is also surprisingly lean for an MCU movie. Granted, it's just over 2 hours but the entire adventure moves along at a pleasing pace, with jovial lightweight tones counterbalancing what is easily the darkest MCU entry to date, laced with jump-scares and haunting visuals that push the 12a/PG-13 envelope to breaking point. There is, however, a slight trade-off. The departure of Scott Derrickson (director of 2016's Doctor Strange) means we miss some of the rich cinematography and more mind-bending visuals, but the magic itself is handled significantly better here. By contrast, Derrickson seemed to fixate on fractal warping whereas this film affords the visual team an opportunity for some truly creative spectacle; two disparate examples that come to mind are a fight with musical notes brought to life and used diegetically as projectiles and a zombie figure shrouded in a cloak of ghosts. Honestly, amazing visual work with everything from the absurd to the mesmerising given the same gravitas and worth.
Speaking of music, it's a slight point of contention for me. Danny Elfman is undeniably one of the greats, having worked on stellar features and crafted beloved memorable scores. That being said, as with his work on Avengers: Age Of Ultron, he doesn't seem to care much for established leitmotifs. One of Doctor Strange's finest aspects was its impressive and unique score by Michael Giacchino, stacked with harpsichords, wailing guitars and prog nonsense. It's beautiful and clearly identifiable. And while Elfman's offering fits the tone of this particular film, adding some wonderful trippy prog guitar and thundering brass, the whole thing lacks the former's charm and it's a genuinely unfortunate loss because I would have loved to hear what Giacchino could have done with the more delicate moments.
From an acting standpoint, Doctor Strange In The Multiverse Of Madness is wonderful. Wong continues to enthral with what he's given and Ejiofor is just as dangerous and charismatic as ever. But there are four individuals of note (one of which I've saved for later in this review) that really stand out. Firstly we have the eponymous master of the dark arts, played by Benedict Cumberbatch. With each passing film it feels like we're getting a good mix of the different aspects of Strange. In his introduction he was a bit of an arrogant Tony Stark template, then he evolved into a stern but wise professor and finally we have the edges sanded down a little to reveal a magnetic if pompous authority. Hubris has always been the strongest angle to take with Dr Strange – true of all doctors cursed with a god complex – but the erosion of self assurance we see here, brings him on a genuinely pleasing arc. Even if the conclusion is still "ah but I was right all along."
What's also pleasing is how this film attempts to make Christine meaningful. Much like the What If? animated series, heavy importance is placed upon Strange's relationship (or turbulent lack thereof) with his colleague Dr Christine Palmer [Rachel McAdams]. To date, their dynamic has felt inconsequential, rather clumsily thumbed in without consideration of agency or purpose. Rather than forcing it to work, this film takes a moment to address Strange's inability to compromise with his beau and how the two simply aren't that compatible, despite best efforts. It may not sound like much but it's honestly quite refreshing. And then we come to Elizabeth Olsen as Wanda Maximoff; a character who, since her 2014 introduction, has struggled to gain real traction. That is, until the pandemic hit and we were all glued to Marvel's first Disney+ show: Wandavision. Olsen is frankly magnificent. It's not the perfect portrayal, it underwrites some of the series' close and pushes on the "mothers do crazy things for their kids" angle with less finesse than I'd like, but the presence is undeniable. Twisted, maniacal, emotionally charged, complex and engaging, it's everything you could want in a villainous adversary.
I'll try to keep this next talking point spoiler free. Let's talk multiverse. The MCU has been slowly bread-crumbing the concept of merging film and TV universes across multiple genres, platforms and studios but thus far it's all been fairly piecemeal and sometimes to the film's detriment – with the focus on character and story hijacked by ephemeral cameos. For all the benefits of a multiverse (specifically the idea that you can safely explore alternative directions and work around casting issues) it ultimately reduces consequence. With every fleeting cameo, we have to ask if this is a quiet introduction to new casting or is it a way to shut fans up? A sort of "there's your fan-service, now go be quiet." Does the death of someone we don't know mean anything? Similarly, does the death of someone we do know mean anything if there are an infinite number of back-ups? As a result, we end up with something a bit tawdry and manipulative, a way for the studio to have their cake and eat it. Thankfully, I will admit that it doesn't impede on the central story or narrative flow as much as it could have, but if we want these standalone films to maintain a semblance of endurance, they cannot solely exist to appease the demands of the moment. Oh and don't get me started on the mid-credits scene. The film closed fantastically only for the whole thing to be undercut by sequel bait cameo nonsense that didn't really mean anything… unlike the post-credits sequence which I unapologetically loved.
For many, this will be seen as a notable improvement over the first Doctor Strange film and an exploration into how dark this family friendly franchise can go. Overall, while it's easy to highlight various chinks in the armour, Doctor Strange In The Multiverse Of Madness is a genuinely satisfying, ambitious romp. And sometimes, that's all you need.

Release Date:
06 May 2022

The Scene To Look Out For:
**mild spoiler**
With a strong glide between tone (not enough to generate tonal whiplash but not far off) it's difficult to highlight a specific standout moment that encapsulates everything decently. That being said, Wanda's assault on Kamar-Taj was particularly engaging and a solid signifier of the extent of her instability and the lengths she'll go to in order to achieve her goals.

Notable Characters:
I have to confess, I'm genuinely impressed with Xochitl Gomez. As a character, America Chavez is a bit of a MacGuffin, more a thing to be moved around than an actually fully fleshed out character. But the potential is definitely there and considering she was something like fourteen or fifteen years old when filming this piece, I have nothing but high hopes for what can be achieved.

Highlighted Quote:
"If you knew there was a place where you were happy, wouldn't you want to go there?"

In A Few Words:
"A marvellous mix of gloom and levity, paired with wonderful, impactful visuals."

Total Score: 4/5