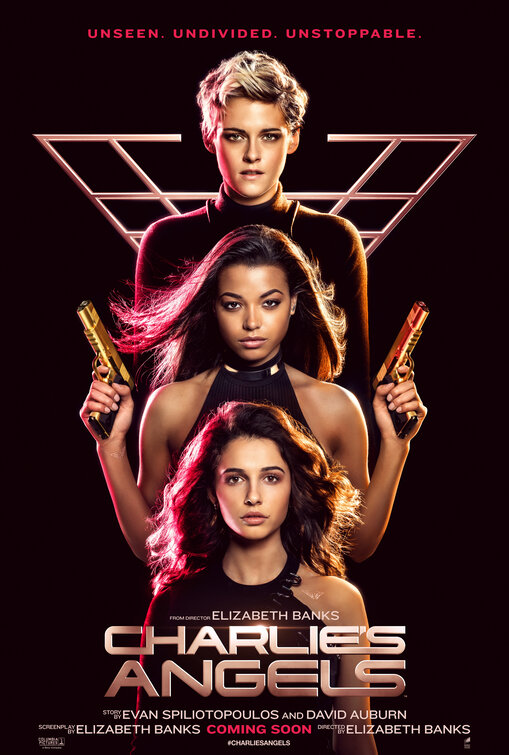 Unseen. Undivided. Unstoppable
Director
Elizabeth Banks
Starring
Kristen Stewart
Naomi Scott
Ella Balinska
Patrick Stewart
Established as a sequel to both the TV series and the early 2000s films, the Townsend group has expanded to a global initiative headed by a number of "Bosleys" with their own international teams of angels. The film opens with a successful mission in Rio de Janeiro headed by contrary angels, the slick and semi-recalcitrant Sabina [K Stewart] and the no-nonsense former MI6 heavy-hitter Jane [Balinska], which is then followed by the retirement of the first Bosley, played by Patrick Stewart. We are then introduced to Elena Houghlin [Scott], the head of a programming team for tech conglomerate Brock enterprises. Elena has finished work on a project named Calisto which can act as a new renewable power source but Elena is concerned that the current design means the device could be weaponised and should therefore continue development. With her manager disagreeing, Elena breaks rank and contacts the Townsend group, only to be ambushed and caught up in a major conspiracy.
The first and overall standout takeaway from this release is that no one is having as much fun in this movie as Kristen Stewart. I will admit that many years ago, I did my fair share of Stewart-bashing off the back of her presence in the Twilight films but like her co-star she has gone on to forge a truly impressive career in independent cinema and expands that diverse range with this incredibly funny and pleasing performance. Scott also proves once again that she is an incredibly reliable and entertaining addition to any story and Balinska decently holds her own alongside her co-stars. The angels also have fairly decent chemistry but this could largely come down to Sabina's excess of personality bleeding into the other characters. Also as a bit of a side-note, while the remainder of the film is populated with plenty of dumb, obnoxious men, Saint is a refreshingly ridiculous character that stands out as one of the few decent, selfless examples.
Banks is still new to directing but already she has proved she can handle mainstream releases with ease and while Charlie's Angels is very different from something like Pitch Perfect 2, the action is cleanly directed and edited action and everything flows commendably. Having said that, there are some examples of some questionable Photoshop and CGI work – explosions in particular – but these are minor quibbles. The real frustration is that despite this film seemingly hitting all the right notes, something still feels missing with everything coming off as somewhat low-stakes. The script is filled with international espionage, female empowerment, snappy dialogue, plenty of action solid scenes and the franchised Townsend operation is a decent plot device but the story threading all of these elements together fails to captivate enough to justify this film existing in the first place. Having said that I feel any of this film's flaws will be unnecessarily magnified because despite the amount of progress we feel cinema has made, it's still a female led feature film and therefore will undergo amplified scrutiny. Although the biggest drawback is how significantly formulaic the story is, unaided by obvious misdirects, it's no worse than something like Hobbs and Shaw which will be infinitely more successful in spite of these issues.
Regardless of preconceptions and what people think they want from a release of this nature, the fact that Charlie's Angels doesn't cut any new territory or bring anything especially revolutionary means it ultimately feels disappointing and very disposable. Thus I'm torn because despite this not being a functionally very good feature, I found myself enjoying it for the most part and genuinely wouldn't mind a continuation with this team.

Release Date:
29 November 2019

The Scene To Look Out For:
Part of the trouble with this feature is that, in truth, almost nothing stood out to me. There was no heightened action sequence or emotional exchange that stuck with me enough to single out as a noteworthy positive or negative; which is probably the very best summation of this film's foible. Having said that, there is a strange moment before the initial presentation of Calisto that calls for Elena to set one of the units on a podium next to a lit candle. Then, for seemingly no reason, she starts a capella rapping the opening lines to It's Tricky by Run DMC. In terms of context, setting and the fact that she is stood in front of an audience of press and peers, it's a really tonally-weird moment.

Notable Characters:
**spoilers within**
In addition to directing, Elizabeth Banks also plays the role of Bosley (another one), the group's senior liaison. Her character is quickly embroiled in a twist which plays out rather predictably but I like the idea of her character. As the plot progresses we learn that Rebekah is the first former angel to be promoted to the rank of Bosley and thus holds a degree importance and prestige, which is a plot point I found myself genuinely enjoying.

Highlighted Quote:
"The world is on fire, Alex, but I'm sure your generation is going to figure it out"

In A Few Words:
"Light action comedy fluff regrettably devoid of any real presence"

Total Score: 2/5