MISSION: IMPOSSIBLE – GHOST PROTOCOL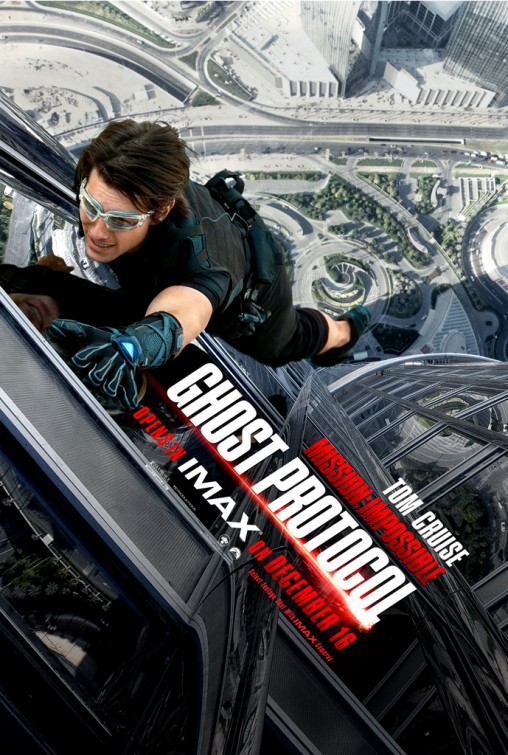 No Plan. No Backup. No Choice.
Director
Brad Bird
Starring
Tom Cruise
Jeremy Renner
Paula Patton
Simon Pegg
Michael Nyqvist
Set some time after the last instalment, Mission Impossible: Ghost Protocol opens on a fittingly elaborate prison break from a high-level Moscow facility; the prisoner in question is disavowed IMF agent, Ethan Hunt [Cruise]. Hunt soon learns that the only reason he has been released is to apprehend information from within the secure vaults of the Kremlin, which will identify the mole within who has stolen nuclear launch codes. Hunt and his team (Benji [Pegg], recently upgraded from technician to field agent and Carter [Patton], the partner of an agent assassinated in the opening sequence) devise a plan to infiltrate the Kremlin, retrieve the data and get out. Before they can fully execute the plan, they discover that the mole, codenamed Cobalt [Nyqvist], has already planted an explosive device and removed any evidence of his actions. Hunt's team quickly abort but before they can get away, the north wall of the fortress is completely destroyed. Hunt awakes in a hospital, apprehended by Russian intelligence and labelled as the rogue US agent, responsible for the bombing. Shortly after escaping, Hunt briefly meets with the head of IMF and his lead analyst, Brandt [Renner], who explains that he has only one chance to find Cobalt, avoid nuclear war and reinstate his good name. From there the team travel to Dubai and then Mumbai in a gripping, thoroughly entertaining, round-the-world spy romp.
I must confess, I was in no way excited about this film when first advertised; despite the reasonable execution, the first three instalments left me cold and largely unimpressed, so the prospect of yet another Mission Impossible release was hardly sensational news. Thankfully, Brad Bird's first live-action release is probably the best of the series to date with several spectacularly tense action sequences grounded by a decent story. Granted a lot of it is quite ridiculous and Tom Cruise does his usual "how do I solve this problem? Oh, I know, I'll run" thing but if you suspend disbelief, it's pretty damn good. Furthermore, it feels more like a genuine continuation than any of the other sequels to date. Each film felt like it was either trying to distance itself from the television series, or from its immediate predecessor but Ghost Protocol acknowledges the past outings, with several cameos and the correct proportions of bungled plans, over-the-top action sequences, steady plot flow and rip-roaring pace to ensure an all round decent spy action-thriller.
Compared to something like Sherlock Holmes: A Game Of Shadows, the plot device is incredibly tame and simplistic to follow: mental dude encourages nuclear war because we can start over equally, has launch codes, launches nuke, Tom Cruise must stop. It's not insultingly dumbed down but it doesn't alienate audiences by trying to overtly confuse them – mistakes made by previous Mission Impossible releases. In fact, the whole thing walks a very thin line between gritty realism and escapist hammy nonsense and it succeeds almost every time. This is emphasised by Michael Giacchino's fitting score, which does the atypical spy thing broadcasting where you are (Budapest – Moscow – Dubai – Mumbai) with the usual paint-by-numbers male Soviet choir or ringing sitars without ever crossing that cliché, somewhat racist, line.
The performances are all engaging, filling every tickbox of sassy, capable female accomplice, quirky comical sidekick and the wild card with the obscure past, all headed by the ..well.. Tom Cruise. But despite the obvious parts they play, everyone gels together well and avoids the hammy clichés. Having said that, Tom Cruise has been known for his insistence on performing all his own stunts and there's something delightfully charming about that. Granted, the man is a reckless fool and by doing so not only endangering his own life but also any hope of actually finishing the film but you've got to respect the man for trying. On top of that, it makes everything just a little more tense; I appreciate the multiple cables holding him to the side of the Burj Khalifa were digitally removed but he was still some ninety floors up, which is bloody impressive, if for the spectacle alone. Although, I wouldn't be surprised if he ends up like Franz Reichelt.
Bird clearly has a keen eye for the scope and scale of cinema and every single shot really slaps you in the face, as if to say (well, shout) "We're 90 floors up! Jesus! Look how high that is! Just look! Do you feel sick!? That's Tom Cruise! Does he look sick? No! Can you look away? No!" I must admit, I don't often comment on 3D as I feel it's a gimmick (I'm sure you're all aware by now) but I am so astonishingly happy that this film was shot with thirty minutes of IMAX footage rather than focusing on 3D. The sooner filmmakers start acknowledging that IMAX really is the future of cinema, the better. Bird's transition from amazing animated films (The Iron Giant, The Incredibles and Ratatouille) to live-action is a marvel and has really resurrected the credibility of Mr. Cruise and his Mission Impossible saga.

Release Date:
27th December 2011

The Scene To Look Out For:
There are several magnificent shots and sequences but without a doubt the infiltration of Burj Khalifa was simply breathtaking. Real cinema with real locations and real stunts trumps anything one can create with computer generated imagery. The cinematography, camera placement and acting were all sublime and, as somebody who suffers from vertigo can attest, one of the most agonisingly brilliant moments of the entire film.

Notable Characters:
As stated above, the team work really well together and pushing Simon Pegg into the main light and including Patton and Renner was an incredibly good call. Having said that, I had a few issues with Mr. Nyqvist. He's familiar to me only in that I've seen him in The Girl With The Dragon Tattoo trilogy but I just couldn't believe his character. Not so much the maniacal, hell-bent apocalypse lover but the agile, nimble powerhouse with infinite stamina. Something just felt off and I really couldn't decide if it was because Nyqvist was underplaying it or Cruise was overplaying it.

Highlighted Quote:
"I wish we could have used masks, you know full masks. I've never got to use a mask.. I mean, your disguise is great you look just like him but I wish we could be wearing masks"

In A Few Words:
"Exemplary action-packed spy thriller and arguably the most enjoyable of the series"

Total Score: 5/5