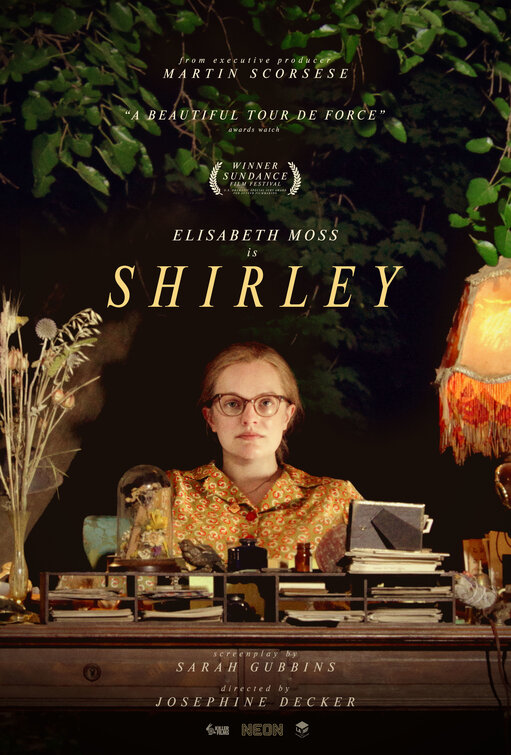 Be Careful Which Idols You Worship
Director
Josephine Decker
Starring
Elisabeth Moss
Odessa Young
Michael Stuhlbarg
Logan Lerman
Young newlyweds, Fred and Rose Nemser (Lerman and Young respectively) have travelled to Vermont so Fred can begin work at Bennington College. Upon arrival they are immediately greeted by fun and magnetic professor Stanley Hyman [Stuhlbarg] and his caustic but remarkably talented wife Shirley Jackson [Moss], famed horror/thriller author. While Rose is a fan of Shirley's work, being asked to take care of the reclusive and difficult writer takes a toll on her mental health. However, over time, with her husband preoccupied with college affairs, she is drawn closer to the mercurial author who is working on her latest novel.
As an adaptation of a novel, Shirley is a fairly unorthodox study of clearly talented but deeply toxic individuals. Even uproarious celebration has an undercurrent of tension – Stanley giving his feedback on Fred's dissertation, for example, is a petty crushing under the guise of constructive criticism. Yet Shirley is far from a saint, manipulating the events of Rose's life to generate inspiration for content; giving the film a sense of part detective drama, part brainstorming exercise, spinning the standard biopic tropes.
While I will expand on this further later in the review, Moss' portrayal of Jackson is a fantastically immersive performance. From her introduction in a crowded party, rasping venomous gibes, Shirley's personality ensures a prevailing sense of tension runs throughout, causing those around her (Rose specifically) to constantly tread on egg shells for fear of disapproval. In truth, there are plenty of portrayals of the tortured artist, shutting themselves off from the world to capture inspiration and perfect their work but unlike a lot of similar biopics, the character of Shirley doesn't draw focus, allowing the supports to be just as compelling and interesting in their own right.
Speaking of which, the three major buttresses are Stanley, Rose and Fred. I can't think of a time when I haven't heaped immense praise on Stuhlbarg and this time is no different. Hyman is immediately framed as an enigmatic and charming individual that appeals to his young, impressionable, and predominantly female, students and it's only as events unfold that the outwardly loveable charismatic professor has a painfully overbearing critical streak and a very nasty edge to him. In a way, the entire dynamic reminded me of The Wife but only partly and it's better that we don't fixate on that release too long as it is the superior story.
This leaves us with Rose and Fred. Fred is remarkably paint-by-numbers: ambitious, hardworking but disloyal and ultimately dull. Lerman plays this well enough but is off-screen more often than not. This is, however, not necessarily a bad thing as any screen-time with Shirley and Rose is where the film shines. I've only seen a handful of releases from Young but not only does she stand shoulder-to-shoulder with acting greats, she is able to offer a beautiful dual role in both the young, naive Rose and the fictional embodiment of Shirley's character, Paula.
For me, the music is one of the absolute standout elements of the film. Tamar-Kali continues her stellar work on Mudbound, bringing a truly haunting, delightfully tense score. A momentous building of intrigue and unease that compels the viewer when the on-screen events come off as merely functional, with layers of female choral voices acting as an extension of the strained psyche of the leads. Overall there is a very slight air of Hitchcock to the whole thing.
Visually the film is exceptional, with Decker's strong visual style playing beautifully throughout. A keen example would be the representation of Jackson trying to form prose, working out the character, seeing her in her mind's eye, etc. It's a very solid yet straightforward way of portraying creation through imagination as well as harvesting external influence. If there's one thing this film does well, it's explore the female gaze. Whether from the perspective of Shirley or Rose, the world and how it sees you because of your gender, actions or intentions, is made painfully apparent. Additionally, the juxtaposition between college sexual awakening and the embittered slump of ageing talent is magnificent. Every shot has a presence, every frame feels intentional – like a more grounded Terrence Malick feature – and yet somehow the whole suffers as the story is never truly enough to keep us going.
While my review thus far has been steeped in praise, you may have noticed that I only awarded this movie a three out of five. Regrettably, that comes down to one major issue, which is the entire movie's downfall. I was left with a feeling of striking inconsistency. The performances are great, the visuals are marvellous, the sound design and music are second-to-none but the pace was surprisingly languid and while admittedly, every time I felt the film lagging or pulling away from me, I was thankfully drawn in again but these distinct peaks and troughs were enough to make half of the movie fascinating, while the other half a chore.

Release Date:
30 October 2020

The Scene To Look Out For:
**spoiler warning**
The following is going to sound utterly nonsensical for anyone who hasn't seen the film but Rose marking down Paula's name in the library book is a turn that doesn't entirely feel justified; or at least one that was a little too rushed. I fully understand the narrative reasons for it being there and for Jackson to react the way she does but the revelation that there is no Shakespeare Society quickly robs this moment of the importance it needed; especially as it builds to the final exchange between the Nemsers, which shows a sort of transition into Jackson – notably in terms of cadence and delivery.

Notable Characters:
This is very much Moss' film with so many extreme close-ups pushing into these twisted and manic expressions that say so very very much. Moss is one of those individuals that I will watch in anything, just to see what she brings to the role but while this movie has its flaws, Moss' portrayal has none.

Highlighted Quote:
"Let's pray for a boy, the world is too cruel to girls"

In A Few Words:
"A decently acted analysis that stumbles only due to the amount of bloat and padding that keeps it from soaring"

Total Score: 3/5