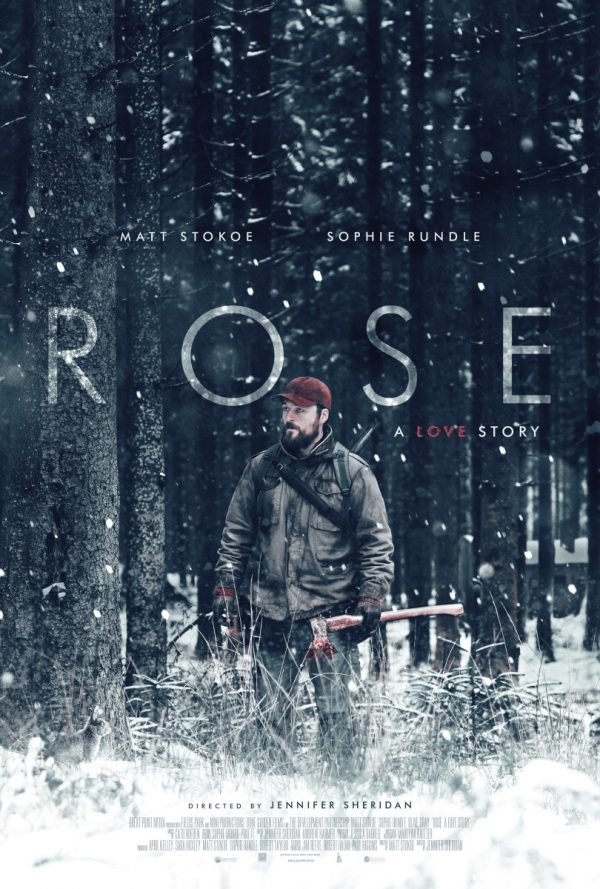 Til Death Do Us Part
Director
Jennifer Sheridan
Starring
Sophie Rundle
Matt Stokoe
Olive Gray
Sam [Stokoe] and Rose [Sheridan] are an outwardly normal couple but Rose is struggling with an illness that requires them to live in almost complete isolation, relying on a handful of supplies regularly couriered to them by a trusted source. As the story progresses, it becomes clear that Rose is afflicted by a form of vampirism. While the couple have been able to survive all this time in secret, their safety and stability is jeopardised when a young lady, Amber [Gray], is caught in one of Sam's traps and requires medical attention.
Rose: A Love Story is an impressively tight, contained piece reminiscent of Scandinavian features or something like It Comes At Night. The fact that Stokoe is both writer and male lead is an additionally interesting factor, with the attention to detail, the lore and the routine having been carefully and cleverly thought out. Only to be thoroughly disrupted by the introduction of Amber to the dynamic. But the truth is, every day Sam and Rose are pushing their luck and running out the clock together.
With such beautiful chemistry between Rose and Sam, it's didn't surprise me in the slightest to learn that they are now a married couple in real life. The relationship dynamic, the conversations are voyeuristically believable and this empathetic familiarity is through the cultivation of captivating performances.
While Sheridan has a solid history in television, this is her feature debut and it is a very strong one. Beautifully shot, magnificent, atmospheric sound design and a eerily winding score, start off a very unassuming tale which compiles tension ever so slowly and subtly beneath the surface, unfolding perfectly to the extent that as the last 15 minutes approach you start to realise everything has been fairly consequence free up until this point.
In truth, vampires are spectacularly well-trodden mythology. Since cinema's inception we have been flooded with a host of different interpretations from the perspective of the victims and even the creature itself but this movie is a rather humanising look at vampires. The twist or gimmick here is that it is framed as any other story about a couple, one of whom has a degenerative illness or an infirmity that requires niche care and attention. In that way, one could draw a strange parallel with something like Supernova with the intensity of the bond between the leads and the crushing affliction that is eating away at them. You could also add that there is an additional unique layer to this film regarding the timing of its release; specifically, the notion of being locked in a cabin, having everything delivered to you and only able to leave your house with a mask on – it's a painfully relatable scenario during a global pandemic that may stir a resonance within certain audiences.
Other than a few genre tropes and cliches that make their way into the film, it's a very promising directorial debut and arrival for a lot of the central cast who have mostly been utilised in television up until this point but I would be very interested to see what they all respectively have lined up next.

Release Date:
13 October 2020

The Scene To Look Out For:
Nursing Amber's broken leg, still debating what to do with her, Sam is very cold. This is broken with a moment of earnestness wherein Sam explains to Amber what it's like to fall in love with someone and how it can not only cloud your judgement but also press you to act against your own interest or endure strange circumstances. In this way, it's one of the rare opportunities to get into one of the leads' heads and a welcome one.

Notable Characters:
Being such a contained piece, there are almost no supporting elements. We have a handful of faces that make sporadic appearances but ultimately it comes down to the co-leads. And while I mentioned Sam opening up in a previous scene, I found Sophie Rundle's performance particularly impressive, with its combination of affability and a deeply suppressed ferocity.

Highlighted Quote:
"I will help you forever because I love you. But the second you lie down and give up, I'm sorry, but that's the second I lie down and I die next to you"

In A Few Words:
"A remarkably twisted tale of devotion"

Total Score: 4/5