KILLERS OF THE FLOWER MOON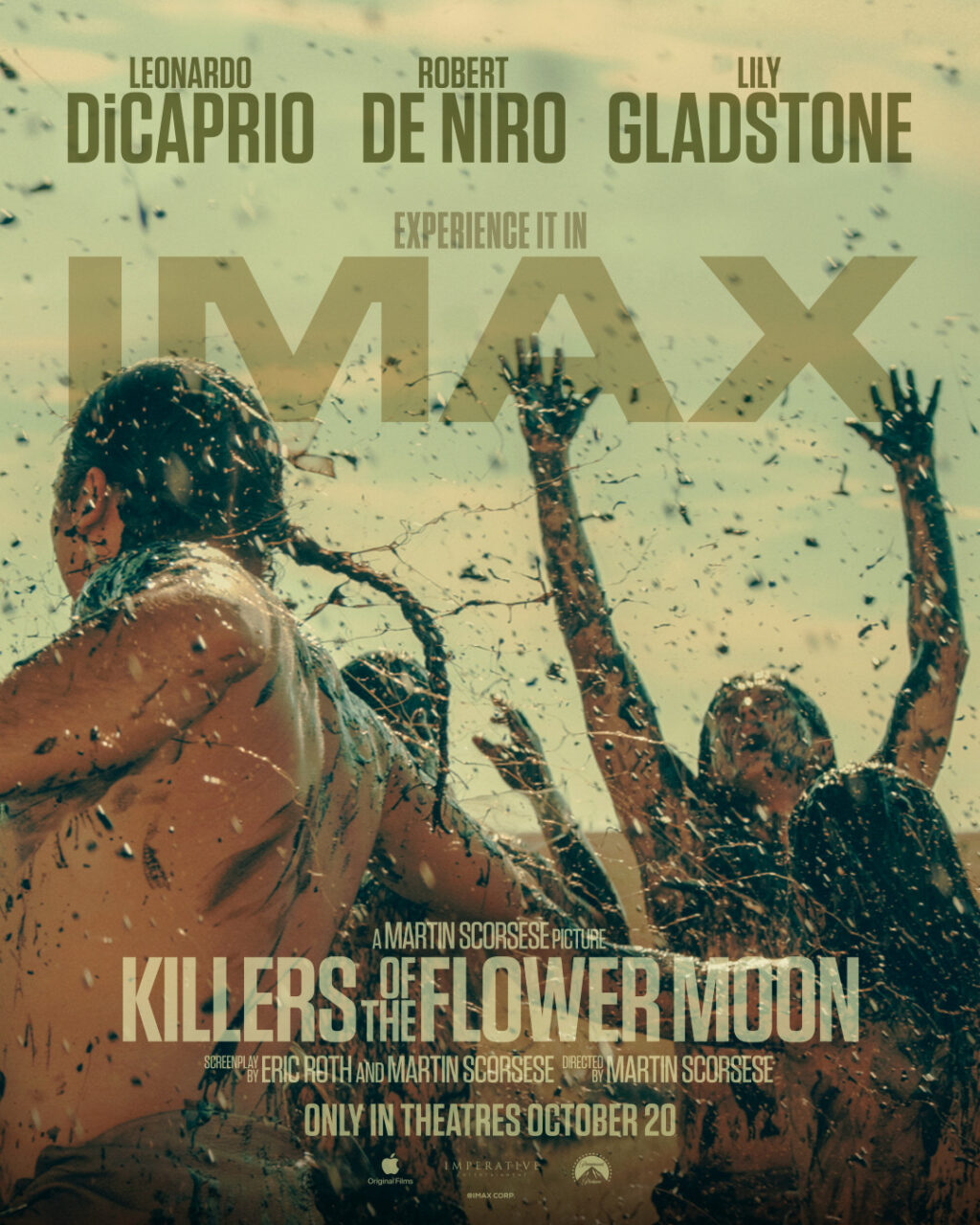 Director
Martin Scorsese
Starring
Leonardo DiCaprio
Robert DeNiro
Lily Gladstone

To try and discuss the plot of Killers Of The Flower Moon is to track an entire movement of history. Such is the runtime and sprawling focus of this movie. Shortly after the first world war, Ernest Burkhart [DiCaprio] seeks employment with his uncle, cattle mogul William King Hale [DeNiro]. Setting up as a cab driver, Ernest meets Mollie Q [Gladstone] and the pair fall in love. The unique nature of the story is that this is all set in the Native American Osage Nation, in Oklahoma. And since the discovery of oil, is one of the most prosperous and wealthy parts of the United States. But as the land and wealth are in the hands of the Osage, there is a rise of white workers who are courting and marrying the women, only to suffer mysterious, largely ignored, murders.
This movie is a truly mammoth undertaking; a film that would terrify an aspiring director and can only be accomplished properly by someone of exceptional experience and clout. Moreover, it's a fascinating untold story that reveals a darkness that has always been at the heart of the American mythos. It tells the tale of a people and a land, but also a tragic saga of love and friendship being a transactional part of scheming manipulation. A long con, laced with greed and arrogance, and that of a pathetic and complicit pawn at the heart of it all. And yes, all of that may sound verbose, over-the-top and akin to an essay about classic literature, but that's what this movie brings to the screen. Scorsese has little interest in playing it safe. And while there are plenty of familiar tropes and obsessions, this movie sets out to charter the truth of the land the director calls home.
If you see the main posters (or indeed any promotional material for this film) you could be quite mislead as to what this film is about. Or more accurately, who. If we're talking screen-time, DiCaprio's Ernest is the lead. But in truth, there is an oscillation of 'lead performance,' a lot of which hinges on where you think the story and perspective truly lie. The overbearing, string-pulling master manipulator, the easily-led simpleton, or the weary heiress trying to keep the wolves from her door. In their own right, each one is a fascinating character study in the complexity of human behaviour, and the inherent blindspots and weaknesses that ultimately lead to our downfall.
Regardless of whatever component you explore, this movie is pure, luxurious, sweeping American cinema. Like Giant or There Will Be Blood it sets out to examine the dark and grimy parts of frontier history that shaped the landscape we know today. Power, greed, wealth, corruption, betrayal, death. There is no other fitting word than 'epic.' And as such, this movie commands a hefty runtime of around three and a half hours. But despite this length, it's extremely well paced. I personally felt The Irishman (which ran 3 minutes longer) attempted the same thing but struggled to hold you in the same way. Killers Of The Flower Moon, conversely, never lets up. Every inch of every frame is crammed with the finest production design, every lilting blues-inspired note of the score marches the film onward, and through expert editing, an absolute triumph of storytelling is laid bare before you.
From the eerily prescient funereal opening to the frankly brilliant radio play ending, we're treated to the equivalent of an entire Godfather trilogy arc. A complete rise and fall in America. And, subsequently, this films feels like it is one that will attract a certain snobbery. A slow burn period drama of such masterful calibre that having it recommended to you is to be signed up for a marathon as much as it is to experience a wholly important tale. Covering the end of the Old West, post WWI America, the KKK's hand in crushing the successful development of minority-run communities, oil baron exploits, true crime, domestic manipulation, and the early cases of the fledgling FBI, it's Herculean and all at once too much to take in.
That said, you have little choice but to watch and are compelled to do so. To learn of this story is to understand America – to glean the influences that suppressed the prosperity of its indigenous people and saw the ultimate downfall, corruption and destruction of that affluence. So, this begs the question, what would I cut or cull from the film's gargantuan runtime? Nothing. Every conversation feels poignant and every silence details just as much. If anything I wanted more. Which then raises yet another question: is there a place for a 4-5 hour interval-split epic? Or would this tale be better told episodically? Whether that's multiple films or via TV. Honestly, I'm not sure but as long as you know what you're getting yourself in for, I believe this movie is not only endurable but vital.
In conclusion, Scorsese continues to seek out and cinematically capture the American soul. Not only it's passion and prowess, but every haunted facet of its dark and terrible rise. As such, this isn't just a movie that's better than others, it's rarely seen iconic cinema.

Release Date:
20 October 2023

The Scene To Look Out For:
Unsurprisingly for a Scorsese production, death and religion run through the core of this feature. And the various portents of death, which would feel hammy or amateurish in another storyteller's hands, act as ominous heralds. One in particular that stands out, is the death of Mollie's mother Lizzie. One moment she's surrounded by her family, the next she's alone, silently greeted by her ancestors. But the whole unspoken conversation is a calming one. Essentially in a movie filled with gruesome murder, Scorsese offers a reprieve with a death we all hope is to come: a warm and familiar welcoming, free from fear or woe. Before, of course, snapping back to reality with the wailing, grieving family members.

Notable Characters:
Just when you think you're done, the movie pulls another surprise out. On the one hand you have the likes of Lily Gladstone, Tommy Schultz, Cara Jade Myers, William Belleau, Ty Mitchell setting the tone and authenticity of the movie. And then Jesse Plemons, John Lithgow and Brendarn Fraser dip their toe in to catch you off guard. And every.. single.. one of them.. understood the assignment and turned up to deliver.

Highlighted Quote:
"This blanket is a target on our backs."

In A Few Words:
"Powerful and urgent cinema from one of the finest living talents."

Total Score: 5/5