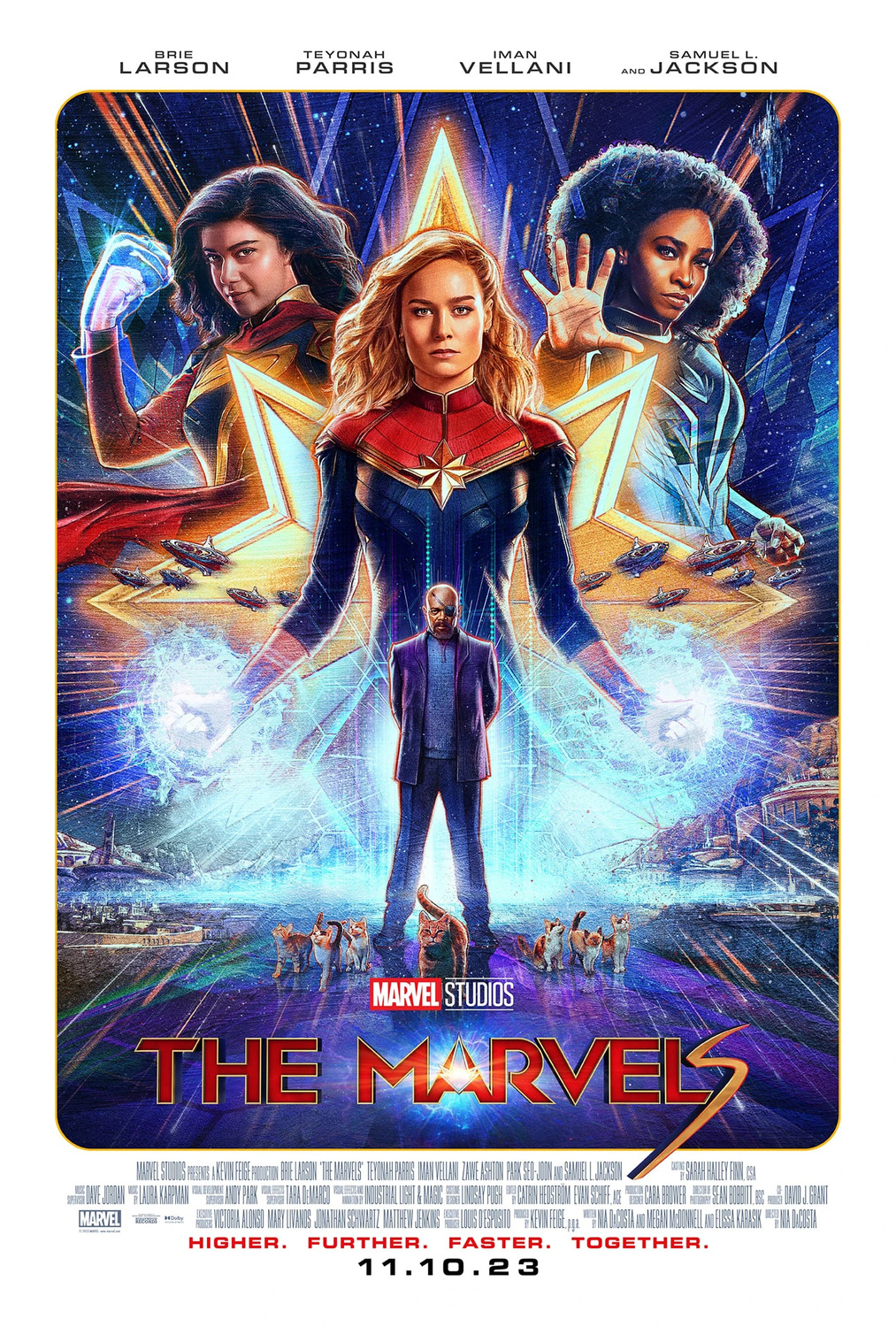 Director
Nia DaCosta
Starring
Brie Larson
Teyonah Parris
Iman Vellani
Zawe Ashton

Several years after Carol Danvers/Captain Marvel [Larson] returned to the Kree world to destroy the Supreme Intelligence that effectively held her hostage, the Kree devolved into civil war – the effects and fallout of which we've seen throughout previous MCU films. Now, the most recently appointed leader of the Kree, Dar-Benn [Ashton], has discovered an ancient relic, one that was used to open travel gates throughout the galaxy, and intends to use it to siphon resources from around the universe to restore her homeworld. In the process, said mystical device inadvertently links the powers of Captain Marvel, Monica Rambeau [Parris] and Ms Marvel, Kamala Khan [Vellani]. And subsequently the trio must work together to not only keep their powers in check, but also save several planets from annihilation.
Alright, first observation. This is the shortest MCU movie. Coming in at just over an hour and a half, this makes for a truly insanely fast pace. This will come as welcome news for many who have had to routinely sit through two and a half to three hour features but it's very much to the film's detriment. Namely because every aspect of this movie has been excessively pruned. So fearful of bulk and positive moments being undermined, we're left with the sheer bare bones, meaning a lot of the events just happen at you. You're not as immersed as you'd like to be, or are given the time to fully appreciate what has happened, you're simply whisked from pillar to post at breakneck speed. Think of it like a constantly spinning Lazy Susan, with appetising dishes flying past. Before you get a few bites in, you're served the next plate, and then another, and another. Until the bill appears and you're suddenly stood dumbfounded outside the restaurant, both still hungry and somehow also with a stomach ache.
That isn't to say this is a necessarily bad movie. On the contrary, there are some truly fantastic moments on display. The first half in particular is fun, energetic and engaging – with much of the fight choreography being creative and incredibly eye-catching. But many of the problems with the MCU version of Captain Marvel as a character are still on display: no one seems entirely set on her direction and how to write and portray that. Not only in a sense of personality and motivations, but also her power-set which veer from the strongest being alive, to being bested by a handful of henchmen. Sure, there's the classic kryptonite style power neutraliser (embodied by the villain's hammer) but it leaves her frustratingly inconsistent, despite best efforts from Larson.
Then we have the new additions. Rambeau feels somewhat vestigial and transitionary. Intended as the voice of maturity and reason, as well as a friend scorned, but ultimately ends up under-baked. Khan, on the other hand, utterly propels and steals the show. Vellani's energy is captivating. She is not only the heart of the feature, she's also the soul and the humour. To the extent that you'd be forgiven for thinking this is more a Ms Marvel Season 2 treatment, than a cinematic crossover event – especially as the cinematography in that series outshines this movie at times. No matter the dialogue, scenario, or emotional requirement, Vellani knocks it out of the park every time. Jumping back and forth between Spider-Man like quips of "If this is all top secret information, why is it on a clear case?" and screaming "Oh my God, oh my God!!" And yet, oddly enough, the dynamic between the three central heroes touches on something great. Sure, there are faults and flaws but every now-and-then you're given a glimpse of the natural rapport that these actors bring to the table.
**spoilers toward the end of this paragraph and until the end of the review**
Unfortunately, the MCU has dipped back into its disposable villain trait. Dar-Benn is the very essence of a reskinned character: someone that we've seen countless times before, bringing very little that's new to the table. Granted, there are hints of hubris, a colonising/terraforming tragedy, and devotion veering on insanity, but it's all lost in the whirlwind of events. Again, another victim of the heavily trimmed runtime. What really irks me, however, isn't the multiple sky portals (although, the fact we're still doing that is getting irritating), it's the Indiana Jonesification of a villain's arrogance. To explain, there is an observation that in many Indiana Jones movies, the villains were arguably always going to be thwarted by meddling with forces and powers beyond their comprehension. As such, the hero doesn't actually do a great deal, they're simply there to witness it. And the same could be said for Dar-Benn. Yes, she's causing devastation and wreaking havoc, can't deny that. But if she were able to get her hands on both bangles, the power would have consumed her regardless. It's just one of those tropes that when you're aware of it, it's difficult to see past.
And while we're on negative points, let's cover two more. As is the problem with a lot of science fiction features that show multiple worlds, often times you'll run aground and everything will start to feel very safe and samey. Case in point, in The Marvels, we're shown 3 different alien worlds but each lack a sense of presence and wonder. Which is frankly impressive because on paper the idea of one being a resource-stripped dying husk and another being a 99% water planet with a population who can only communicate through song, should feel bigger and bolder. And yet it's all painfully generic and a little made-for-TV at times. The second point is the tone. Less a criticism of the film per se, more a highlighting of what others will draw derision from. Without going into too much detail there is a Cats/Flerken scene. Personally I thought it worked overall but it's the sort of playful humour and dash of irreverence that many feel is at the heart of the problem with MCU movies. Namely that we're supposed to care about countless deaths, while being severely undercut with humour. And, this one in particular is possibly one of the most love it or hate it moments in quite some time.
The Marvels isn't Black Adam or Quantumania levels of disappointment – with both feeling unsatisfactory and ugly. Instead, it's more akin to Blue Beetle. A wholly serviceable release that entertains while on screen and is forgotten probably just as quickly. Not enough to be offensive or rage inducing, but also nowhere near good enough to happily endorse or recommend. In a word, this movie is lightweight. It's not the end of the MCU or the shambles detractors will label it as, but it's not what it should have been, given the calibre of creatives involved both behind and in front of the camera.

Release Date:
10 November 2023

The Scene To Look Out For:
The movie opens with Kamala having a sterile fantasy idea of what superheroing entails. It's animated, vibrant and upbeat. But when Dar-Benn attacks and Kamala works with Danvers for the first time, she comes face-to-face with the reality of "We have to save the ones we can." This offers a decent level of complexity and nuance to the story and character building. Granted, the actual attack itself is without a lot of consequence. We see a lot of death and it doesn't always land with the importance and gravitas that it deserves. But this sobering departure from hero worship is a genuinely nice touch.

Notable Characters:
Much like the comics, having characters appear in various titles offers you the opportunity to see different sides of these individuals. In a mainline X-Men comic, Wolverine can be dour and brutish, often at odds with Cyclops. But with something like Wolverine and the X-Men, he's in space drinking, gambling and kicking it up. Both iterations are true to the character but feel reflective of the title's tone and perspective. With that in mind, some people will be irked by this version of Nick Fury [Jackson]. But, coming out of the mess that was Secret Invasion, I'm not as bothered as some might be over him being used as 100% comic relief.

Highlighted Quote:
"Are you praying? Don't stop! We need all the help we can get!"

In A Few Words:
"Another release that limps along under the weight of a meandering MCU, with only a handful of solid elements keeping its head above water."

Total Score: 3/5