THE SUPER MARIO BROS. MOVIE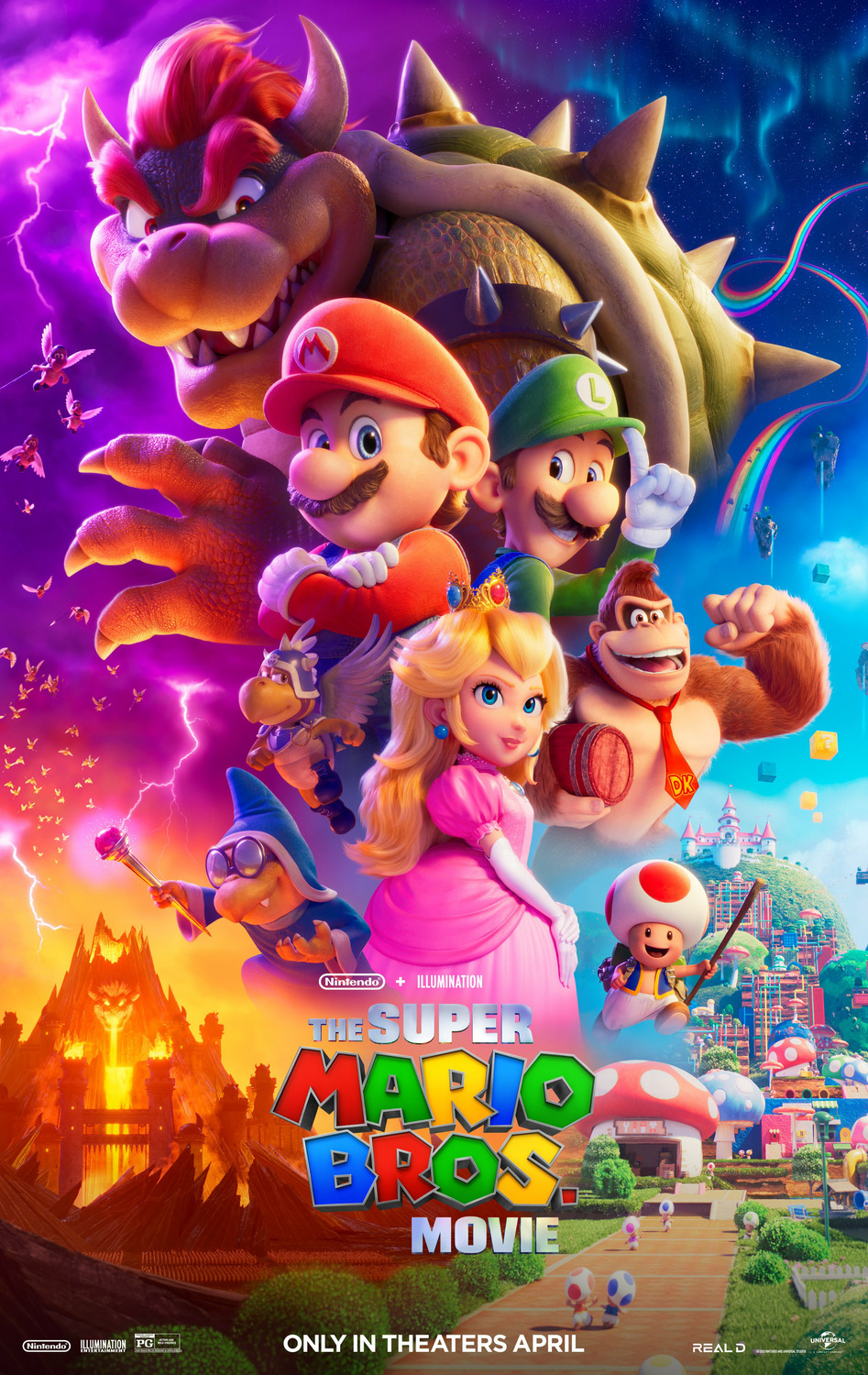 Directors
Aaron Horvath
Michael Jelenic
Starring
Chris Pratt
Anya Taylor-Joy
Jack Black
Keegan-Michael Key
Charlie Day
Seth Rogen

Brothers Mario [Pratt] and Luigi [Day] are trying to get ahead in their hometown of Brooklyn but their startup plumbing company is struggling to get off the ground. One night, when trying to prove their value, Mario and Luigi find themselves deep beneath the city streets and are sucked into a pipe that transports them to a distant, fantastical land: the Mushroom Kingdom. Unfortunately, they are separated in the process. Luigi is captured by the malevolent Bowser [Black] and Mario must seek help from the kingdom's ruling princess, Peach [Taylor-Joy].
The Super Mario Bros. Movie has all the sheen one would expect from a project of this scale and heft. But more than that, it's actually incredibly pretty and lush, with strong, vibrant visuals and rich detail. Not only in terms of surface and construction, but the overall production design, which sees every single inch of the frame stuffed with homage. Subsequently, what we get is an incredibly loving and sincere celebration of a franchise which has spanned forty plus years.
A point of contention for many going into this movie was the cast. All thoroughly capable in their own right, but perhaps not the best fit for this collection of beloved (albeit silent or monosyllabic) characters. Thankfully, the narrative quickly outlines why they don't opt for the "Mario voice" and, as much as it may pain people to hear this, it's the right call. That high pitched energy would grate very quickly. And while Pratt doesn't do much to really earn his place as the perfect guy for the role, he doesn't scupper it either. Similarly, Seth Rogen as Donkey Kong feels like a largely ill-match, solely for the fact he brings his own voice to the performance and nothing else. But this never derails the feature, and once you acclimatise, it's perfectly serviceable. Whereas Black, Day, Taylor-Joy and Keegan-Michael Key as Toad, all deliver exactly what you might want or have hoped for with their respective characters.
But the truth is, this film is exactly what many people presumed it would be: a wholly competent, somewhat generic, animated action adventure. The story is incredibly straightforward, with any real nuance or complexity sidelined in favour of momentum. Granted, there will be debates about whether that was the right call or not, with some claiming a Mario film needs to hit certain beats and this provides more than enough without stretching itself too thin. That said, the film commits something of a cardinal sin by setting up a surprisingly fantastic, endearing dynamic and then stripping it from us. I'm talking about the folly of separating Mario and Luigi. Yes, Mario needed someone to rescue but the relationship and energy between the eponymous brothers was remarkably charming. So much so that, without it, the film seemed a little rudderless at times.
And speaking of things that mostly work, we need to talk about the music. For the majority of this film's (mercifully short) runtime, Brian Tyler's score manages to juggle its own atmospheric ambience as well as injecting countless iconic leitmotifs. But then there are the needle drops. Par for contemporary animated releases, this film feels the need to litter the movie with copious amounts of 80s songs, which end up feeling a bit much and pull you out of the film. And that's me as a nearly forty year old speaking. I can only imagine what a ten year old will be thinking – considering the equivalent would be filling the 1993 Mario Bros film with constant 50s rockabilly.
At the end of the day, this movie's heart is in the right place and what we end up with is an undeniably fun, if lightweight, feature that families will enjoy. So, if your hopes are for something akin to Lego Movie, Kung Fu Panda, or even Cloudy With A Chance Of Meatballs you'll be in for disappointment. What has been produced here is everything I'd expect from a Mario movie.. but nothing more.

Release Date:
7 April 2023

The Scene To Look Out For:
Very early on, still in the prologue stage, we are introduced to Mario and Luigi through a commercial they have made. This then transitions to their first major job as independent contractors. For me this was one of those subtly pivotal moments that informed me how the rest of the film would unfold. All the world-building and subtle nods were replaced with a plumbing job where the brothers get into a very cartoony fight with a dog. Needless to say, while you have films like Spider-Man: Into The Spider-Verse, Puss In Boots: The Last Wish and the upcoming Teenage Mutant Ninja Turtles: Mutant Mayhem pushing the boundaries of animated films, this sequence felt like the most safe and generic escapade that could have sat comfortably in countless other forgettable releases.

Notable Characters:
While I've chastised the film for separating Mario and Luigi, I can possibly understand the thinking behind it, given how much of the spotlight was taken by Charlie Day as Luigi. Not only a great casting choice but a genuinely amusing and engaging individual, and possibly the only character who feels like they have an actual arc.

Highlighted Quote:
"Mamma mia!"

In A Few Words:
"As an inoffensive tick-box family feature, Mario Bros delivers, but fails to take the franchise further than its origins or trappings."

Total Score: 3/5