DUNGEONS & DRAGONS: HONOUR AMONG THIEVES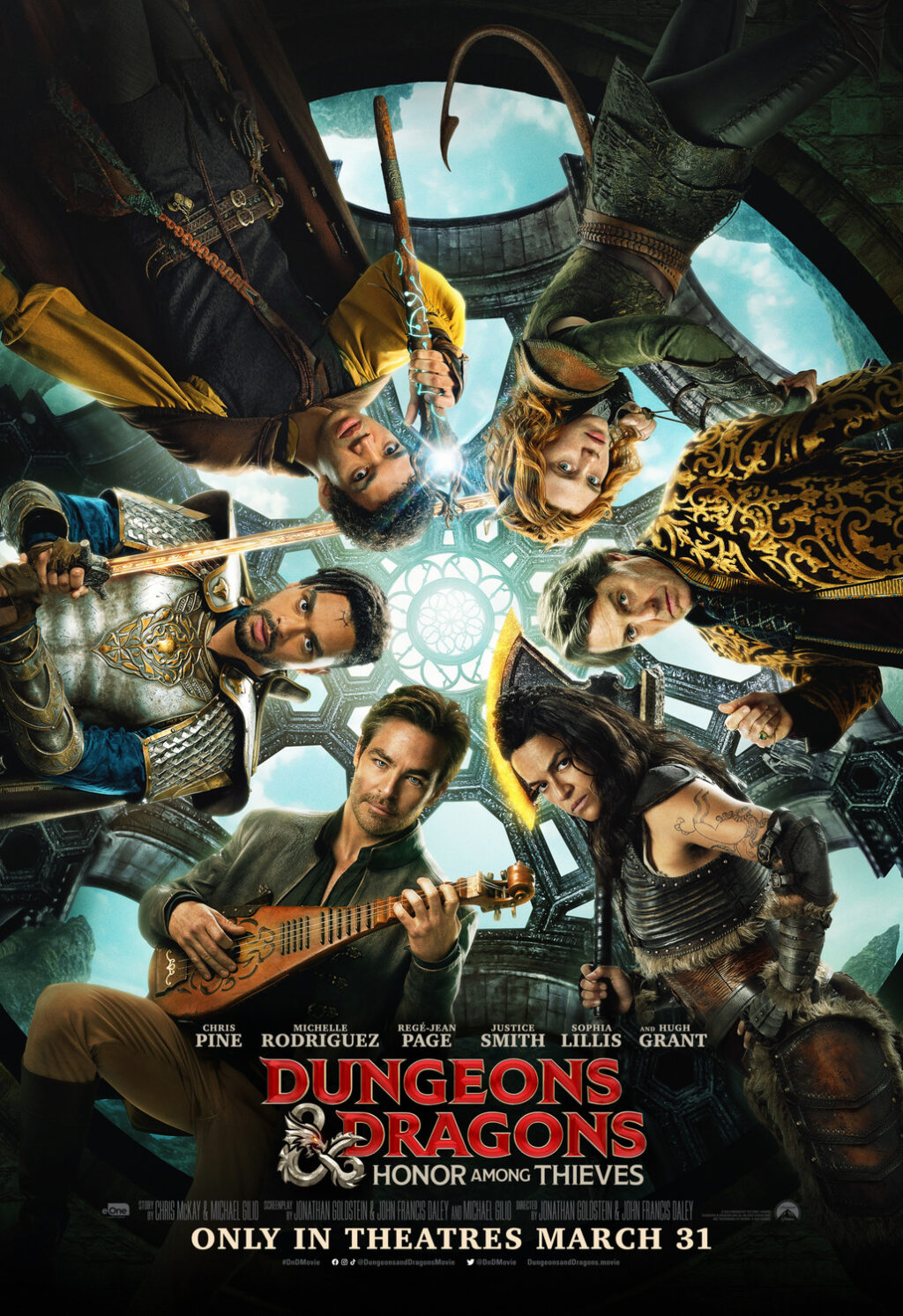 Directors
Jonathan Goldstein
John Francis Daley
Starring
Chris Pine
Michelle Rodriguez
Hugh Grant
Daisy Head
Justice Smith
Sophia Lillis
Regé-Jean Page

Following a daring prison escape, roguish bard Edgin Darvis [Pine] and hard-headed barbarian Hogla Kilgore [Rodriguez] return to their lives to find that their former colleague, con-man Forge Fitzwilliam [Grant], has paired up with the evil red wizard Sofina [Head] and is holding Edgin's daughter hostage. In order to save his child, expose Forge, and bring his wife back from the dead, Edgin must put together an unlikely team, including struggling sorcerer Simon Aumar [Smith] and shape-shifting resistance member, Doric [Lillis]. But, admittedly, like any good DnD game, this is just a fraction of the story.
In an age of quality fantasy productions, DnD has to do a fair amount to stand out. It's not enough to simply ride on the brand name alone, it has to to overcome a mountain of prejudice and misassumption, as well as atone for its first disastrous foray into cinema: Dungeons & Dragons (2000) I'm looking at you. But how do you distil all the potential campaigns and stories that have immense personal significance, in a way which is entertaining and enjoyable to the masses? By recreating the feeling of the hijinks, camaraderie and chaos. In essence, by making this movie a comedy first and a fantasy adventure as a close second.
And, unlike other ensemble pieces, which can feel cluttered and underdeveloped, the benefit of the party means clearly defined roles and characteristics, which make each member memorable and engaging. Whether that's Simon's insecurities being the obstacle between his magic being truly powerful, Dodric's distrust of humans, or Holga the barbarian bluntly assuming the magic-users can solve every problem with magic… because a fighter solves every problem with their fists. Each individual has a distinct, easily interpreted presence.
This gives rise to the simple conversational scenes where the film truly shines; possibly more so than the sweeping spectacle, pleasing references and compelling combat. For example, having narrowly escaped death and plotting how to save Edgin's daughter, it's suggested they shoot an arrow with a message into the tower she's being held in. When it's highlighted that she could be hit by said arrow, Holga's only response is that it feels worth the risk.
Which brings us to the cast. On the surface, this ragtag bunch feel like an ill-fit. That's not intended as a disservice to their abilities, more a presumption that the chemistry they'd bring would be all but non-existent. Thankfully, this couldn't be further from the truth. Every principal member of cast has been selected for how well they mirror that character type. Rodriguez is a mean-staring blunt instrument, Smith is unsure but perseveres, Lillis is frosty, Page is stoic and impossibly enigmatic, and Pine is ceaselessly charming. None of them fight for dominance but all are given their moment to impress and excel.
That said, there are a few issues that prompt a furrowed brow. The fact our main character is a sad dad in his forties, steers a little too close to contemporary trends. As much as I really enjoyed not only what Page brought to his role, but how the other party members bounced off his energy, I was very disappointed to learn how little he's actually in this movie. And while Grant is hilarious and utterly scene-stealing as Forge, the true villain is quite hollow; Sofina is genuinely hard to care about. Possibly because of the film's overall mirthy tone, or her motivation being fairly bland, but ultimately, the threat she presents doesn't feel particularly menacing.
The pacing is also a little weird. The first half hour races along a little disjointedly, interspersed with scenes that work well to build a dynamic kineticism. But once it settles in, time passes with ease and you're swept up in the spirit of it all. This is helped by a consistent level of lavish production design with plenty of practical creature and costume effects, countless buried easter eggs in the form of canon fauna and flora, and a pleasing amount of creative camerawork and direction. Similarly, the score is also a little unbalanced. Amid the plinky fantasy twangs and moments of thunderous orchestral majesty, there were far too many surreptitious reworked leitmotifs that felt nabbed from Lord of the Rings in 'Dungeons and Dragons,' Ant-Man in 'The Heist' and, bafflingly, Tron Legacy in 'The Ruckus', among other films. Subsequently, the music never feels distinct – which, considering this is Lorne Balfe, a composer I deeply respect, is a shame.
Frustratingly, Dungeons & Dragons: Honour Among Thieves never reaches the great heights of its potential but what has been crafted is a very enjoyable, solid foundation. At its worst it comes off a little messy and predictable. When it works, it really flies. But thankfully, this film possesses the charisma to somehow sell you on both the positives and the negatives. And in trying to cater to every audience type, from the hardcore fans to the uninitiated, it does a surprisingly decent job of entertaining you. And by loading their script with encounters that make this a fun and charming viewing experience, the creative team have also made it surprisingly smart and cool at the same time. And isn't that the true heart of real DnD?

Release Date:
31 March 2023

The Scene To Look Out For:
The fact the directors are DnD players makes the world of difference. One scene where this is specifically apparent is the plan to get into the magical vault. Each idea is well conceived and constructed but is fumbled by unforeseen events that are the equivalent of "rolling a 1." Specifically, concealing a portal in a painting is the kind of incredibly novel and inspired thinking that comes out of madcap improvised dialogue, more than a cleanly written screenplay resolution.

Notable Characters:
Hugh Grant is fantastic in this film and continues carving out his niche of playing a series of charming bastards. Channeling all-too recognisable egotistical real-world politicians to create this self-serving unscrupulous menace. As stated, maybe to the detriment of the film's central antagonist, but it's a price worth paying.

Highlighted Quote:
"You look like a well-read fisherman.. with secrets."

In A Few Words:
"In a sea of fantasy epics, Dungeons & Dragons may not push itself into the foreground, but it sneaks in the backdoor and somehow convinces you it should stay."

Total Score: 4/5