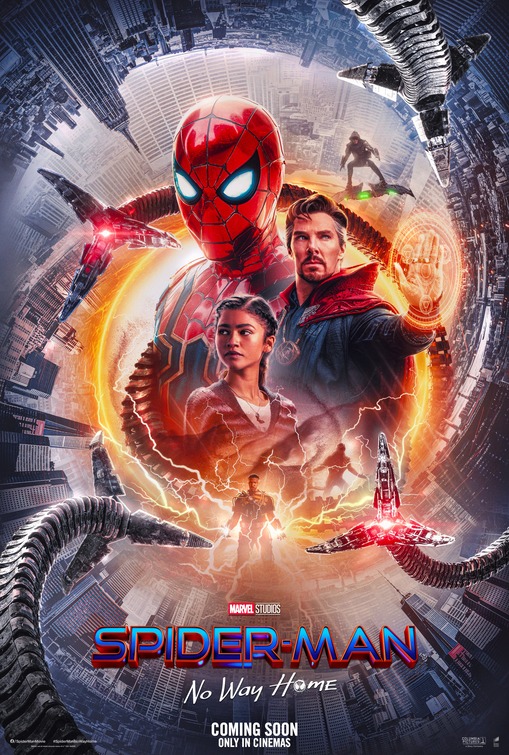 Director
Jon Watts
Starring
Tom Holland
Zendaya
Jacob Batalon
Benedict Cumberbatch

Picking up immediately after the conclusion of Spider-Man: Far From Home, Peter Parker's [Holland] identity as Spider-Man is publicly broadcast, along with the revelation that he was responsible for the death of Mysterio – thanks to fabricated footage. With the ensuing chaos and public furore, Peter approaches Doctor Strange [Cumberbatch] for a magical resolution. In an attempt to conjure a spell to cause the world to forget who is behind the mask, Strange is repeatedly distracted by Parker and decides against it. Despite ceasing the spell, it would appear that a handful of individuals from alternate dimensions have slipped through and all of them have a bone to pick with Spider-Man.
The first and most important thing to note is that this movie had a gargantuan task before it. As such, it wastes no time and hits the ground running. From there on it never really stops until the conclusion and with a substantially decent pace, the two and a half hours progress pleasantly. From a directorial point of view, Watts expertly juggles a lot and the majority of it comes out the other side remarkably intact. But there is very much the sense that this movie is somewhat bisected. The first third deals with the fallout of Far From Home, while the remainder is its own story that gets a little lost under the weight of its own ambitions.
From its first instalment, the MCU has shied away from superhero secret identities and the drama and baggage that comes with it. Spider-Man, being a Disney-Sony collaborative piece, is one of the few examples of the opposite. Subsequently, this gives us a chance to look at a fairly fresh take on the importance of a hidden alias and privacy; spooling into an engaging commentary on social media, conspiracy theories and the impact controversy can have on those around you. Given how heavily this has been experienced by the real life cast and crew as well as a reflection of our current political/celebrity landscape, it's certainly a compelling narrative. But once we shift into the inter-dimensional who's who, that takes a very clear backseat.
One thing that sunk superhero sequels of the late 20th and early 21st centuries respectively was the classic problem of too many villains. But in an age of huge ensemble team films, it's clear audiences not only have the cognitive stability but also the hunger for big, sprawling, interwoven crossovers. There's a sense of satisfaction and expectation with a franchise sequel; it's no longer if we'll get a name-drop or a reference, the focus is now "who is going to walk in just before the credits roll?" So the way No Way Home seems to counter this issue is by reintroducing us to established individuals with previous character development. I was mostly impressed that these aren't simply carbon copies of what came before but a gratifying continuation. Each actor is returning to a familiar role while injecting a hint of something new, offering significant closure. Naturally there are a handful of names that pull focus more than others but each has their own moment to shine and justifies their inclusion.
**heavy spoilers from hereon**
Around the midpoint of the story, everything is thrown in the air. The second it was revealed that actors like Alfred Molina and Jamie Foxx would be in the film, people naturally started wondering if the other Spider-Men would return. I assumed they likely would in a minor cameo but I was very pleased to learn they both played an important role in the film, not only as fan-service but as emotional supports for Tom Holland's Spider-Man. On the one hand, it's easy to point out this derails the film a touch and the emotional drive we had been experiencing between Peter, MJ [Zendaya] and Ned [Batalon] is shelved while we focus on this greatest hits victory lap of nostalgia. On the other hand, it's been a long time since I've heard audible gasps and applause in a cinema. In the future this may not be remembered but for a lot of people this will be the first film they'll venture out to the cinema to watch after being locked down for nearly two years. Sure, it's just two actors returning to roles ten and twenty years after they left them but for many people it will be more than that. There is a genuine weight and significance to this mad cinematic event and neatly gives Tobey Maguire and Andrew Garfield a send-off and chance to say goodbye to the role. It's not necessarily a passing of the torch, it's an acknowledgment of all that has come before as well as a legitimisation of their contributions to the iconic role.
That being said, that fist-pumping deep injection of sheer joy and nostalgia comes at a price. The sense of legacy is undeniable but if you have little to no knowledge of those previous iterations, it could fall a little flat. But it's not just that without the sense of what's come before, the Spider team-up loses some of its impact, it's the fact that the story being told is diluted. Earlier I stated that Watts' direction carries the movie's lavish zealousness, and it does, but when we address the core emotional beats, they are buried in a story preoccupied with a conveyer belt of callbacks. This means, rather than a continuation, we get the impression we're drawing a close to Holland's run as Spider-Man. And once the dust settles from the shock of all the ramifications of what we've seen, you have to ask where Peter has found himself – as a character. One could argue, he receives more development here than in any other MCU outing but we still don't get a clear sense of where it's all headed.
Then, while you're trying to figure that out, a high pitched squeal in your ear will start to grow exponentially. And it slowly dawns on you that there are, in fact, a lot of underlying issues with how the story conducts itself. A prime example is the amount of magic that doesn't make sense. We learn that the spell draws individuals in from different universes at the supposed point of their death, even characters that didn't necessarily die – this is actually brought up by the Lizard but it's instantly dismissed. I get the suspension of disbelief and that it's a fun family film but when you start picking, it unravels surprisingly quickly. If the spell is summoning individuals who know Peter Parker is Spider-Man, pulling through the respective Peter Parkers is a weird move. It also captures Eddie Brock from the Venom movies for all of three seconds even though he doesn't even know Peter Parker is Spider-Man (I don't buy that the Venom symbiote supposedly knows). Furthermore, there's a painful lack of resolution. The character disappears in a ball of glowing light and we wipe a tear away for having witnessed the impossible. But what does any of it mean? Do the restored villains die? Are their worlds dramatically altered? I appreciate it shouldn't matter but as such a strong component of the central emotional crux, we get so very little to cling to.
But it's entirely possible I'm overlooking the key point: the studio set out to give the fans everything they feel they wanted and managed to do a bang-up job ensuring it wasn't an utter car wreck. Compelling, engaging, funny, surprisingly emotionally charged and well shot, Spider-Man: No Way Home does enough to satisfy the naysayers while truly delighting the fans.

Release Date:
15 December 2021

The Scene To Look Out For:
Considering everything that transpires, this is going to sound like a fairly silly observation but one of the moments that stood out for me was Parker speaking with the MIT administrator to give his friends a second chance at getting admitted to the college. That's it. Making an impact despite his lack of preparation and the immediate super-villain threat, not to mention that he's only interested in doing what's right for his friends. It sums up everything you need to know about the character and it's wonderful.

Notable Characters:
Everyone has their preferred version of Spider-Man and I feel Holland has always performed magnificently. What's overtly clear is that he has been working on more dramatic roles and the times when he gets to stretch his legs are the highlights. The quiet moments with his friends, the grief, the despair and guilt and the resignation that he has to sacrifice his own happiness to keep others safe are truly standout. As stated, I feel like we're drawing to a close in Holland's tenure as the web-slinger but it has to be said that he has genuinely excelled in the role and made it his own.

Highlighted Quote:
"Hey Strange, you know what's cooler than magic? Math"

In A Few Words:
"A thoroughly bold and grandiose undertaking that falters under the weight of its own ambitions"

Total Score: 3/5