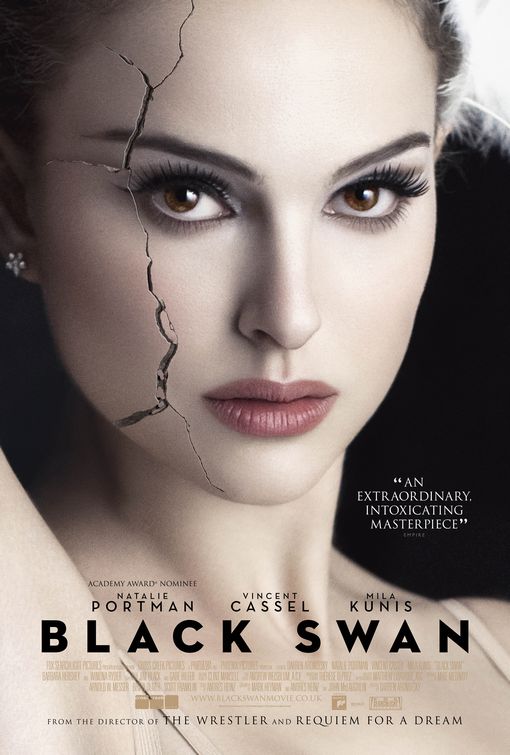 Transform
Director
Darren Aronofsky
Starring
Natalie Portman
Mila Kunis
Vincent Cassel
Barbara Hershey
Winona Ryder
There was a long white flash, followed by a brief credit sequence and then I was in the street, walking the dark misty roads of Norwich, desperately trying to convey the profound effect this film had on me; somehow speechless but unable to stop talking. I have always held the greatest respect for Darren Aronofsky, truly believing that he is simply incapable of making anything other than exceptional, stellar cinema. Black Swan not only confirms this but literally drives me to sheer frustration through gritted teeth, knowing that there are filmmakers who produce inferior works, for the sole purpose of turning a profit, when they could be striving for this level of brilliance.
Natalie Portman portrays the young, hard-working professional ballerina, Nina Sayers. After a recent shuffle that saw the retiring of the company's prima ballerina, Beth Macintyre [Ryder], Nina auditions for the lead role in Thomas Leroy's [Cassel] rendition of Swan Lake. It is quickly made apparent that as driven and dedicated as Nina may be, she is unable to portray anything other than the pure, innocent white swan, whereas the part requires her to also embody the seductive black swan. Things are complicated further by the arrival of a new corps girl, in the form of the undisciplined, headstrong Lilly [Kunis]. Life at home is no different, every waking hour seems ballet orientated, driven by Nina's overbearing mother, a former ballerina who was forced to leave the art after falling pregnant, played captivatingly by Barbara Hershey. As Nina continues to rehearse and explore the dark nature of the black swan character, she becomes increasingly convinced that Lilly is trying to replace her, that her mother is stifling her and the looming fear that she will one day become as bitter and twisted as her idol, Beth Macintyre.
Aronofsky has an incredible ability and every work to date is a prime example of a filmmaker's film, ripe for analysis. Beautiful narratives, soaring emotions, crippling logic, gorgeous scores, career-best performances, heart-wrenching truths, entrancing visuals, deeply meaningful issues, these are the grounds that Aronofsky continually treads with grace and precision, ensuring each film heavily calls upon these elements with as much necessity as simple factors, such as scripting, lighting, etc. Once again bringing on Clint Mansell, Black Swan is treated to an atypically brilliant score, warping and morphing elements of Tchaikovsky's Swan Lake into something darker yet astoundingly beautiful. That is, of course, without even addressing the phenomenal audio production. To add to the subliminal levels of suggestion, every scene is carefully treated with audio tweaks, raising the tension and embedding avian notes – most notably the sound of wings fluttering during various motional transitions.
Adding to this building tension is the distinct hand-held filming style – which ensures that the camera is in a state of continual motion, creating overall unease – and the extraordinary use of subtle visual effects. A true testament to wondrous special effects are those you do not realise were even there and Black Swan is littered with them; ranging from alternate reflections in mirrors, morphing faces, moving paintings and one of the finest on-screen metamorphoses I've ever witnessed. And as the film progresses you become more and more aware that absolutely every single aspect of this film has been carefully and methodically deliberated over; long, dark corridors, walls coated in mirrors, strategically placed stuffed toys and heavy use of blacks and whites. But these are all simply the technical aspects that I appreciate; the film really proves itself to be a true work of genius when you examine the underlying subtexts and psychological levels. Upon further analysis this film is deeply layered, drawing on obsession, competition, repression, confrontation, self destruction, desperate aspiration, paranoia, dedication, guilt, mania, rivalry and most surprisingly, sexual abuse. I could happily write an entire thesis on this film from a psychoanalytical point of view but that's not really what this site is for.
Already one of the finest films of 2011, certainly the high-point of Natalie Portman's career and further cementing Aronofsky's place as one of the finest filmmakers living today, Black Swan is sublime.

Release Date:
21st January 2011

The Scene To Look Out For:
**Subtle spoiler moments within**
Exploring her darker side, Nina rebels against her mother and decides to go out with Lilly. After dancing, drinking, sampling drugs and engaging in random sexual encounters, Nina returns home worse-for-wear with Lilly in tow. After confronting her mother, Nina locks herself in her room. But that's not the bit I'm focusing on. The subtle nods that I adored surfaced during Nina's talk with her mother, drunk and giggling; primarily for the fact that her words were mouthed by the strategically placed Lilly, watching from the corner before relocating behind Nina, staring out through her hair. The implications are .. for lack of a better word .. glorious. Either that or any part of Nina's breakdown and final show; if only for the fact that I became aware that Aronofsky wasn't going to let up and the audience was going to fully follow Nina's story or suffer a heart-attack.

Notable Characters:
As stated, this is a career best for Natalie Portman. She's always demonstrated immense talent but this is just above and beyond. Furthermore, each supporting character is handled amazingly well, living up to their namesake and truly supporting every aspect of Portman's performance.

Highlighted Quote:
"The new production needs a new swan queen; a fresh face to present to the world. But which of you can embody both swans? The white and the black"

In A Few Words:
"As with every Aronofsky film, this is a work of heart-breaking beauty and agonising tension. Quite simply one of the most breath-taking and emotionally draining pieces of his repertoire"

Total Score: 5/5