TEENAGE MUTANT NINJA TURTLES: MUTANT MAYHEM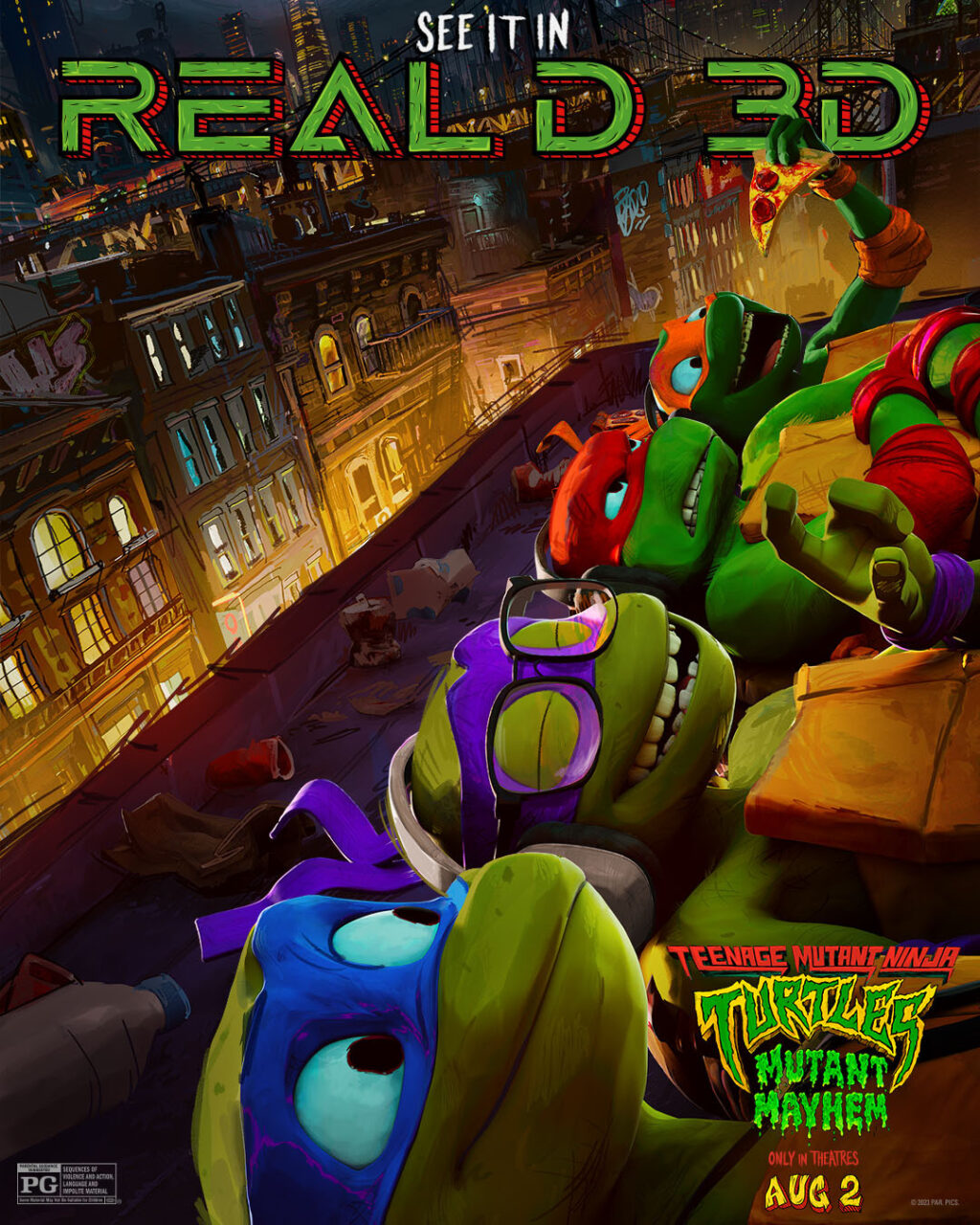 Directors
Jeff Rowe
Kyler Spears
Starring
Nicolas Cantu
Micah Abbey
Brady Noon
Shamon Brown Jr
Ayo Edebiri
Jackie Chan
Ice Cube

The film opens with the familiar events of the Teenage Mutant Ninja Turtles' origin, with the added introductions of several other wayward mutants and the oppressive scientific group TCRI. The film then leaps ahead fifteen years, giving us a glimpse of four brothers who are kept at arms length from a society they yearn to be a part of – acceptance and going to high school being their number one priorities. Meanwhile, New York is hit by a crimewave headed by the mysterious figure, Superfly [Cube]. After accidentally exposing their existence to high school student April O'Neil [Edebiri], Leonardo [Cantu] Donatello [Abbey] Raphael [Noon] and Michelangelo [Brown Jr] come to the conclusion that doing a heroic act (such as stopping Superfly) will be their ticket to the recognition they so desperately crave.
To quote my own review from 2014 "There's no golden age of Turtles." That said, this film might have just kickstarted one. On a technical level, Mutant Mayhem is jaw-droppingly distinct. The hand-drawn aesthetic is phenomenally creative and detailed in a way that doesn't overwhelm, and the action flows clearly but with rousing zeal. Atop all this, we get an absolutely unique and fantastic soundscape. The score darts back and forth between pulsing electronic stabs and tender solo piano moments, to highlight the juxtaposition and switch of heightened emotions that teenagers bounce between. When it comes to the songs and needle-drops, I initially stood at a bit of an impasse. On the one hand, they all work exceptionally well, but on the other, is the choice to go for 80s and 90s hits no better than the thoroughly out-of-place tracks in The Super Mario Bros. Movie? And I think the answer lies in the setting and the characters themselves. Overall the vibe fits New York, and while there could have been more of a reflection of the songs teenagers listen to today, it's hardly a dealbreaker.
The narrative's strongest quality is that it puts an emphasis on each of the four words in the franchise title. The leads feel like teenagers, mutants are ubiquitous, we see plenty of ninja action.. and they're turtles. But it's that first word that has often eluded alternate cinematic versions and adaptations. First and foremost, treating the whole project like an actually endearing teenage comedy means this release hits differently. It sells the sullen nature of ostracised outsiders better than previous versions, while simultaneously creating a dynamic between the brothers that dances a fine line between sweetly relatable and obnoxious. What's more, the other mutants are presented less like disposable adversaries to best, and more like wayward teens that are simply a bad influence.
This is extended to the central villain, Superfly, who is the mirror of Splinter [Chan] and his teachings. I'd love to say this is a highlight (because it is), and the exploration of how an overly protective mindset can stem from how we deal with trauma in a negative way. But the trouble is the film explicitly spells out this double-sided coin metaphor. But, I'll openly admit, that could be a preference thing of a nearly forty year old film critic who can see the patterns, and less the target demographic of younger viewers.
There is, however, one glaring downside to this movie. Something that inherently cuts the legs out from any success and confidence it instils. This film is remarkably straightforward in its execution. Thankfully it's not a retread of the tired Leo v Raph bickering, or the same thrown down with Shredder, but it's still very uncomplicated and elementary. Which may disappoint some viewers. Not to mention it also assimilates a surprisingly large amount of the plot for The Amazing Spider-Man. Is this a problem with action stories of this nature? Probably. But it's still cuts a little too close to plot development points at time.
TMNT: Mutant Mayhem operates with a lot of heart, humour and a chaotic energy that works largely due to the unorthodox recording methods; whereby, rather than being recorded in isolation, the cast are together ad-libbing naturally. Taking this intensity and pairing it with Rogen and Goldberg's track record of nailing the teenage zeitgeist (looking at you Superbad and Good Boys, this film is easily the best Turtles has been for a long time. And I'm very excited to see what's to follow.

Release Date:
04 August 2023

The Scene To Look Out For:
There's a brilliant complementary contrast between the Turtles' chaotic first fight, and the wonderfully edited split-montage fight set to "No Diggity." Putting their skills to the test is a real trial by fire and while there are standout moments, it's manic and desperate. But when working together with clear motivation, everything flows gloriously; in a way where animation truly shines over live-action limitations.

Notable Characters:
Introducing a large majority of the supporting mutant cast in this film was an incredibly bold choice. Partly because it's oversaturation and feel more like somewhat expanded name checks than fully rounded characters. And partly because once you expend the majority of the established foes, where do you go next? That said, despite only getting a handful of lines each, I genuinely liked each portrayal and would happily watch a spin-off show that dives deeper into this catalogue of oddballs.

Highlighted Quote:
"No, pizza's made of cheese, cheese is made of milk, and she's milking me. It's infiltrating my every thought!"

In A Few Words:
"A sublimely entertaining, if basic, romp that could kickstart a new pinnacle for the franchise."

Total Score: 4/5