INDIANA JONES AND THE DIAL OF DESTINY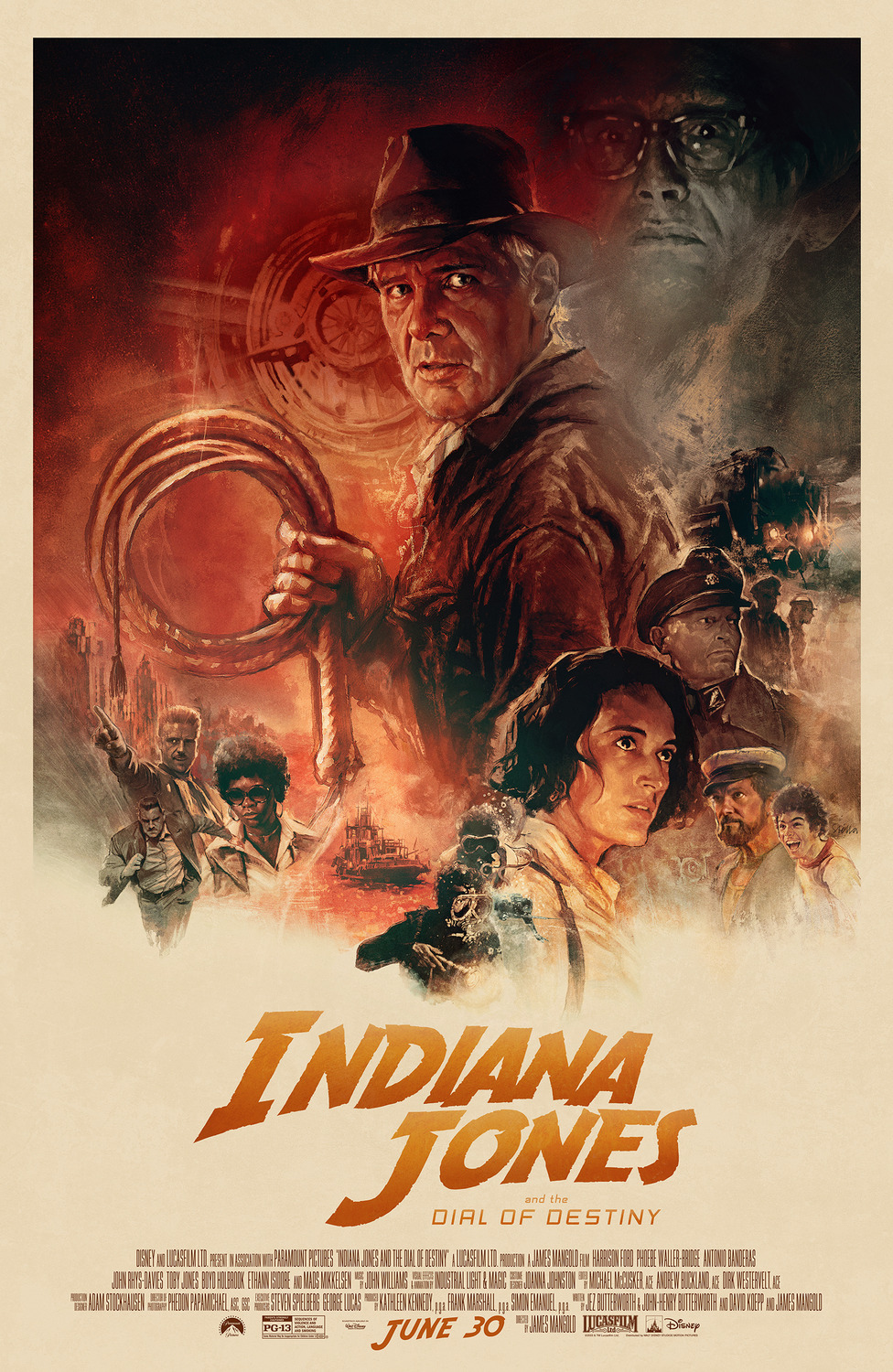 Director
James Mangold
Starring
Harrison Ford
Phoebe Waller-Bridge
Mads Mikkelsen

Following a cold open that sees Indiana Jones [Ford] and Oxford Professor Basil Shaw [Toby Jones] foiling a Nazi plot to smuggle precious artefacts toward the end of WWII, we are rocketed to 1969. As Jones enters retirement, his life is in tatters but the glimmer of adventure walks through the door in the form of his goddaughter, Helena Shaw [Waller-Bridge]. It turns out that on that fateful mission some twenty five years prior, Jones made off with half of an ancient dial, supposedly belonging to Archimedes. But Jones and Shaw aren't the only ones after the dial, Nazi scientist Jurgen Voller [Mikkelsen], now helping the US as part of Operation Paperclip, is hunting for the dial to potentially turn back time and alter the events of the war.
Before progressing with this analysis, we need to have a frank conversation. Indiana Jones, as a franchise, is an exercise in constant course correction. Raiders Of The Lost Ark was a throwback to classic serials and set the tone. Temple Of Doom took a much darker approach and inadvertently birthed the PG-13 rating. The Last Crusade pitched down to a more family friendly adventure, leaning into slapstick and jokes. Kingdom Of The Crystal Skull opted for the outrageous possibilities of CGI. And finally Dial Of Destiny presents something more grounded that, ultimately falls a little flat. Every time a new feature comes out, it tries to counter the criticisms of what came before and creates something that is strong in certain areas but significantly weaker in others.
The unique twist this time around is George Lucas and Steven Spielberg stepping aside for a new voice – that of James Mangold. And, in truth, Mangold does an exceptional job of replicating Spielberg's sense of fun and flare, as well as delivering all the themes and tropes we hope and expect from these movies: adventure and peril, excitement and momentum, good and evil, folly and hubris. Unfortunately, as commendable as this newly minted tale is, it's a clear imitation. Much like the many works the eponymous doctor seeks to unearth and house in museums, Raiders was one-of-a-kind; one even the original creators struggled to replicate.
The one constant, however, has been the weary, cantankerous, fist-swinging, whip-cracking Harrison Ford. And audiences will be happy to hear that, despite his age, Ford doesn't feel tired or bored in the role, and engages the job with renewed vigour. In fact, there's a complexity to his isolation and a forlorn sense of loss as he looks back on his achievements and wonders what it was all for. Thankfully the co-lead role of Helena isn't presented as a bland Indy clone – as attempted in Kingdom of the Crystal Skull – but an alternate type of prize seeking adventurer, serving a stark contrast to the seasoned professor. And, of course, an Indiana Jones story is strongest when squaring up against the mendacious acts of Nazis, so cue Mads Mikkelsen. An undeniably brilliant casting choice but, admittedly, while Mikkelsen performs admirably, he never really gets to really step outside of the rigid borders of the character. Making him a touch underdeveloped.
But how does the film stand up from a technical standpoint? Well Mangold wisely opted for a lighter, more subtle approach to the visual effects. As such, the locations and chases feel real, the expeditions are straightforward, but the danger remains. That said, the use of de-ageing technology, set expanding CGI and stunt assistance are keenly employed in a way that allows this release to sit more comfortably alongside the original trilogy than some of the more egregious/ambitious (delete as appropriate) sequences from Kingdom of the Crystal Skull. To avoid confusion, I'm referring to the jungle chase with the monkeys. And, unsurprisingly, John Williams returns to close out the series with a perfectly fitting, energetic and bombastic score, that hits in all the ways you would want it to.
However, despite all the supposedly requisite set pieces, there's a sense that we are simply going through the motions. Sure, the boxes are all ticked and, on paper, everything you could want from an Indy film is here.. but the entire operation, no matter how thrilling, sails beneath the first three film's achievements, never reaching those heights. And oddly, it's not a matter of pacing, narrative arcs, action sequences or spectacle, but instead, a more fundamental elusiveness. Namely a point. What's the point of this final Indiana Jones escapade? Granted, during the final act, the story picks up, stepping into very interesting territory, but we're then served one of the most abrupt closes, that tries to come to some sort of satisfying conclusion but kinda stumbles over the finish line.
Looking back, I think it's fair to say that everyone reached as far as they could and honestly gave the best Indiana Jones experience, given the circumstances. The sad truth, however, is that the mountain they were climbing seems unscalable. And if this is where we leave the franchise, at least the degree of closure is more powerful and hopefully satisfying than back in 2008. Rest, Dr Jones, you've done enough.

Release Date:
30 June 2023

The Scene To Look Out For:
Indiana Jones and the Dial of Destiny serves up the sort of globe-trotting adventure audiences crave from these movies. France, America, Italy, Greece, Morocco, it's awash with stunning vistas, narrow streets and treacherous environments. And although one could argue there are possibly a few too many, each has its own merit. But the opening sequence during World War II is just fantastic fun that really sets the film in motion in a way that will captivate the imagination and excitement of the most embittered and tentative fans.

Notable Characters:
We are given plenty of small supporting roles and cameo appearances that provide differing levels of enjoyment or nostalgia – depending on what the scene demands. Boyd Holbrook, Antonio Banderas, John Rhys-Davies, Shaunette Renée Wilson, Thomas Kretschmann – all spectacular actors but none of them really make enough of an impact, which is disappointing.

Highlighted Quote:
"I don't need lectures on morality from an ageing grave robber."

In A Few Words:
"Far from the disaster many of us were expecting but not a return to form either. Which, all things considered, is probably the best place to leave this franchise."

Total Score: 3/5