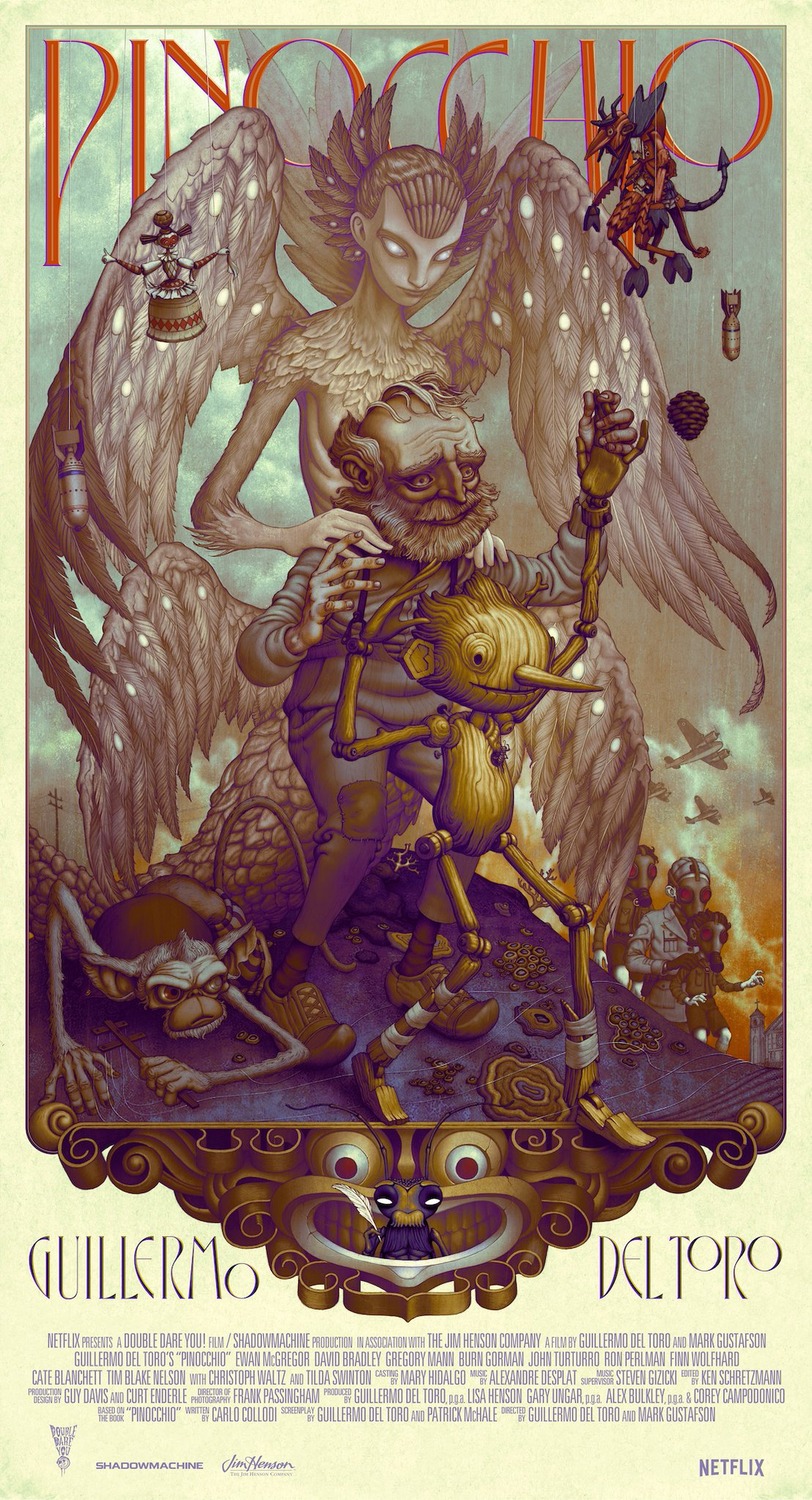 Directors
Guillermo del Toro
Mark Gustafson
Starring
Gregory Mann
David Bradley
Ewan McGregor
Tilda Swinton
Christoph Waltz

Giving a plot synopsis of Pinocchio feels a tad redundant but I'll give you the brief overview – on the off-chance this is your first adaptation of the Italian classic. During the later days of World War I, Italian carpenter Geppetto [Bradley] tragically loses his ten year old son, Carlo, when a church is mistakenly bombed. Over the years Geppetto neglects his responsibilities and falls into a deep depression. One night, drunkenly, the carpenter cuts down the tree growing from his son's grave and crafts a wooden boy. Unknown to him, the tree is the home of travelling writer Sebastian J Cricket [McGregor]. During the night, a mystical wood sprite [Swinton] visits Geppetto's workshop and brings the puppet, named Pinocchio [Mann], to life. She then charges the cricket to watch over the boy, and ensure he lives a good life. But Pinocchio is excitable, rambunctious and easily led. Causing havoc for all.
The art of stop motion never ceases to impress me. That's not to detract from other animation methods, such as hand-drawn, CGI, etc, but there's a specific toil and irreversible forethought to stop motion that melts the mind. The puppetry on show here, is frankly a masterwork. Beautiful and oddly haunting designs, rich with detail, dancing through truly stunning backdrops. Furthermore, there's a dynamism to the direction that would put fear into any animator, an exciting range of framing, movement and energy that is captivating in both its most kinetic and still.
The writing and performances are fabulous. Pinocchio is one of those properties that continuously rears its head with seemingly so little to say, outside of what's already been covered. Yet this adaptation is distinctly del Toro. Featuring subtle brilliances of writing and design; for example Sebastian's house being located in the place Pinocchio's heart resides. Or del Toro's anti war approach (as seen in The Devil's Backbone, Pan's Labyrinth, etc) with the rise of fascism, adding new depth and layers.
And while it has a tendency to get a little dark and despondent at times, there's a surprising amount of wry humour to offset this. Paired with plenty of charming songs, which initially feel a little unusual, but end up wholly fitting. And a lot of this is achieved thanks to warm and wonderful performances from the entire cast. The delivery feels human and emotive, without cynicism or wry smiles that permeate throughout most family films. In fact, there's seemingly an instance of keeping away from pantomime acting entirely. The vocal and physical (if we can call it that) acting is rooted in truth more than excessive expression, so there's a wealth of timeless maturity on display.
The only flaw I can lay at this film's feet is that, as stated, there have been countless versions of Pinocchio to date. Thankfully this one takes a novel visual approach and interesting narrative angle.. but it's still Pinocchio. Every narrative beat is setup and knocked down exactly on schedule. But, much like a really clever cover of a song, if you can get past the familiar and open yourself to a new variation, del Toro and his team have sculpted a wonderful tale.
To my mind, this version goes hand in hand with 2019's Pinocchio as one of the best interpretations of the classic fantasy. Creative, engaging, charming and emotionally-fuelled. Granted, a little scary and off-putting for the youngest of viewers, but before you cast judgment, maybe revisit the 1940 Disney version. That thing gets ridiculously terrifying and makes no apologies.

Release Date:
09 December 2022

The Scene To Look Out For:
In the original novel, Pinocchio ends up at the Land of Toys. A seemingly fun, carefree place, which is later revealed to have ulterior motives, transforming the boys into donkeys. This aspect of the novel could have easily been a straight interpretation, but furthering del Toro's exploration of Italian fascism, this vignette is reinterpreted as a military academy. As such, it's a prime example of 'who is this film for?' On the one hand, it's a remarkably clever bit of satire and yet the simple moral is woven perfectly into the fabric of the narrative. For some, this will be too miserable and dark but for others, it will feel just right.

Notable Characters:
David Bradley is magnificent as Geppetto. The old carpenter is usually a forgotten character, with Pinocchio off on his various adventures being the primary focus. But the opening prelude, outlining Geppetto already had a perfect son, is fantastic. We preserve the misery and longing of the character but add a frustration and sorrow to a man who didn't exactly get his wish. Because when this giddy, naive wooden abomination tears through his life, it feels like a curse more than a blessing. It's only when Geppetto appreciates how broken his life already was, that he is able to love again.

Highlighted Quote:
"Maybe I can help. I'll try my best and that's the best anyone can do… hehe, that's rather clever isn't it?"

In A Few Words:
"A stunning reimagining of a familiar classic."

Total Score: 5/5