DECISION TO LEAVE [헤어질 결심]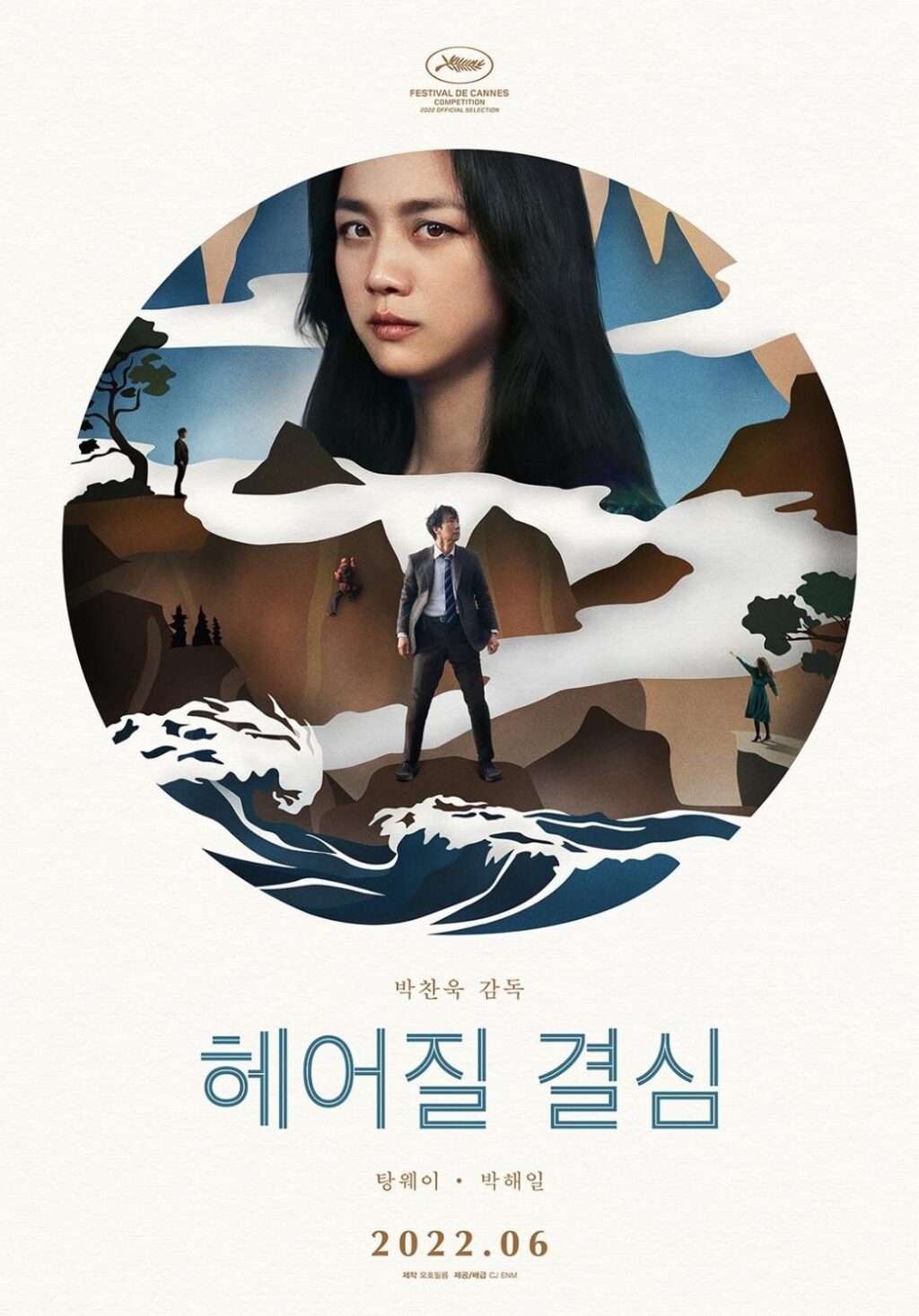 Director
Park Chan-wook
Starring
Park Hae-il
Tang Wei

The story opens with a South Korean detective, Jang Hae-joon [Park], investigating an on-going case, chasing down a notorious gangster, when a new suspicious death crops up. A Chinese citizen is found dead at the base of a mountain. Did he fall, did he jump or was he pushed? Jang interrogates the widow: Song Seo-rae [Tang]. Who not only doesn't seem upset or surprised, but due to her limited knowledge of the Korean language, says things which rouse the detective's concerns. As Jang follows his suspect, he becomes infatuated, and his judgment is clouded.
Decision To Leave is such a complex film to digest (although not especially narratively complicated), and one which would be so easy to blindly laude praise on. From the outset, the story hits the ground running, while dealing out little snippets of character development. It wears its inspirations on its sleeve with so many Hitchcockian Noir elements at play; most notably in Jo Yeong-wook's luscious score. And it has all of Park's directorial expertise and flare coming to bare. But in spite of this, something feels inherently off. It is, at once, exquisite and yet unwieldy.
Without a doubt, the compelling performances keep us glued; the majority of which is held aloft by the two central roles. And as the film unfurls, the severity of the events being investigated are almost secondary to the playfulness of the rapport and chemistry between Jang and Song. Then we have a smattering of supporting roles but these feel partly inconsequential. Although, this is by design. We have Jang's fussing wife Jeong-ahn [Lee Jung-hyun], and his partner, Soo-wan [Go Kyung-pyo] offering some levity and comic relief. But these come off as peripheral trivialities – which reflects how your life feels at arm's length when you fall obsessively in love.
But the real star of the show is the director, Park Chan-wook. There is so much beauty, grace and confidence to his direction. For a specific example, during Jang's stakeouts, it feels like he is almost haunting Song. The cinematography is gorgeous, the framing is unsettling and even the scene transitions feel notably poignant. All of which culminates to simultaneously create a drifting, voyeuristic and ethereal vibe, only for the camera to take a sharp zoom in or out, reminiscent of a 70s crime thriller. Creating a fluidity as Jang – a man who has problems sleeping and immerses himself too deeply in his cases – slides into a crime scene and then snaps back to reality. There's also a wealth of symbolism and environmental storytelling, with themes of compatibility and clarity rooted in nature; represented by water, mountains and fog. Evident in Jang's continual application of eye drops to help him see clearly, and one of the closing shots being a mound of sand dug from the ground, resembling a mountain reflected in the sea.
So if this movie is so majestically constructed and engrossing, why the middling final score? Well, there is one major issue which is so far-reaching that it utterly cuts the legs out from what could have been a genuine sensation: the writing. For the first half hour, it's hard to know where the story is going. More than that, it's hard to get a handle on what the overarching tone is. In a bid to maintain focus on the twists and turns of the misconceptions and assumptions, we end up with fairly uneven pacing. Which is made ten times worse when we get a 13 month time jump at the hour and a half mark. Because for all the gleaming positives, it's extremely difficult to just let yourself feel immersed in a world that seemingly won't let you in.
But maybe it's a case of something lost in translation… possibly quite literally. So much of this film hinges on the language barrier between Song and Jang, with her Korean being sufficient but still lacking; leading to confusion and miscommunication. But when you're working off of subtitles alone, some of that nuance can be missing. And then there's the question of Korean TV.
For those who don't know, South Korea produces some of the most respected and widely exported live-action television in Southeast Asia, meaning K-Drama formula is rife and highly influential. But is Decision To Leave as much a subtle commentary on the narratives in K-Dramas as much as it is an exploration of Noir? Is it in fact an exercise in "what would these heightened developments and coincidences actually look like in a more grounded setting?" Especially considering Song watches these dramas (going so far as to get a job showing Chinese tourists around locations used on a successful show) and absorbs the melodramatic motivations and language, as if they are everyday. And if that is the case, as the entire plot evokes the sentiment of a TV series that's been forced into a film format, would an episodic story structure have been more beneficial?
In truth, Decision To Leave is by no means a bad film, but it is undoubtedly a somewhat lesser, more unrefined work. Not on a micro crafting level but as a cohesive whole. It's so close to being spectacular and in comparison to most other films it's a 4/5. But much like Stoker and I'm A Cyborg, But That's Ok, there's just a sheen that's missing. An absence of nuance and polish that would elevate it to the undeniable masterpieces that Park has it in him to produce. And that's a shame because what we have is already remarkably strong and absolutely worth a watch. It simply could have been better.

Release Date:
28 October 2022

The Scene To Look Out For:
**spoilers**
Presented as quirky confidence, we witness Song's blossoming, albeit partly chaste, relationship with Jang. In doing so she wants him to move on to help him sleep – and subsequently removes pictures from his obsessive cold-case wall, deletes audio logs and expunges evidence of herself from his life. For many this will feel like an astonishing revelation on repeat viewing but anyone who has absorbed a lot of genre writing will see the signposting clearly. This isn't a complaint, as such, because sometimes leaning into genre tropes and beats can add to authenticity and satisfaction. But for decades we've seen Park handle this in a more adroit manner, which only fans my chagrin.

Notable Characters:
Despite being so front-and-centre, we know so little about Song. Her motivations and actions are laid bare but it's hard to feel why she does anything. Sure, love is clearly a motivator, even if it's twisted. But in the pursuit of ambiguity, too much is left unanswered. That being said, as much as she is a mystery, it's also possible that everything we need to know about her is actually very straightforward: she has terrible taste in men and, due to her experiences with her mother, feels she has but one recourse. Something that was done so masterfully in The Banshees Of Inisherin but feels a little unfinished here.

Highlighted Quote:
"There are some for who grief crashes like a wave, and there are some within whom it spreads slowly – like ink in water."

In A Few Words:
"An incredibly powerful film hindered by a disjointed script."

Total Score: 4/5