THE BANSHEES OF INISHERIN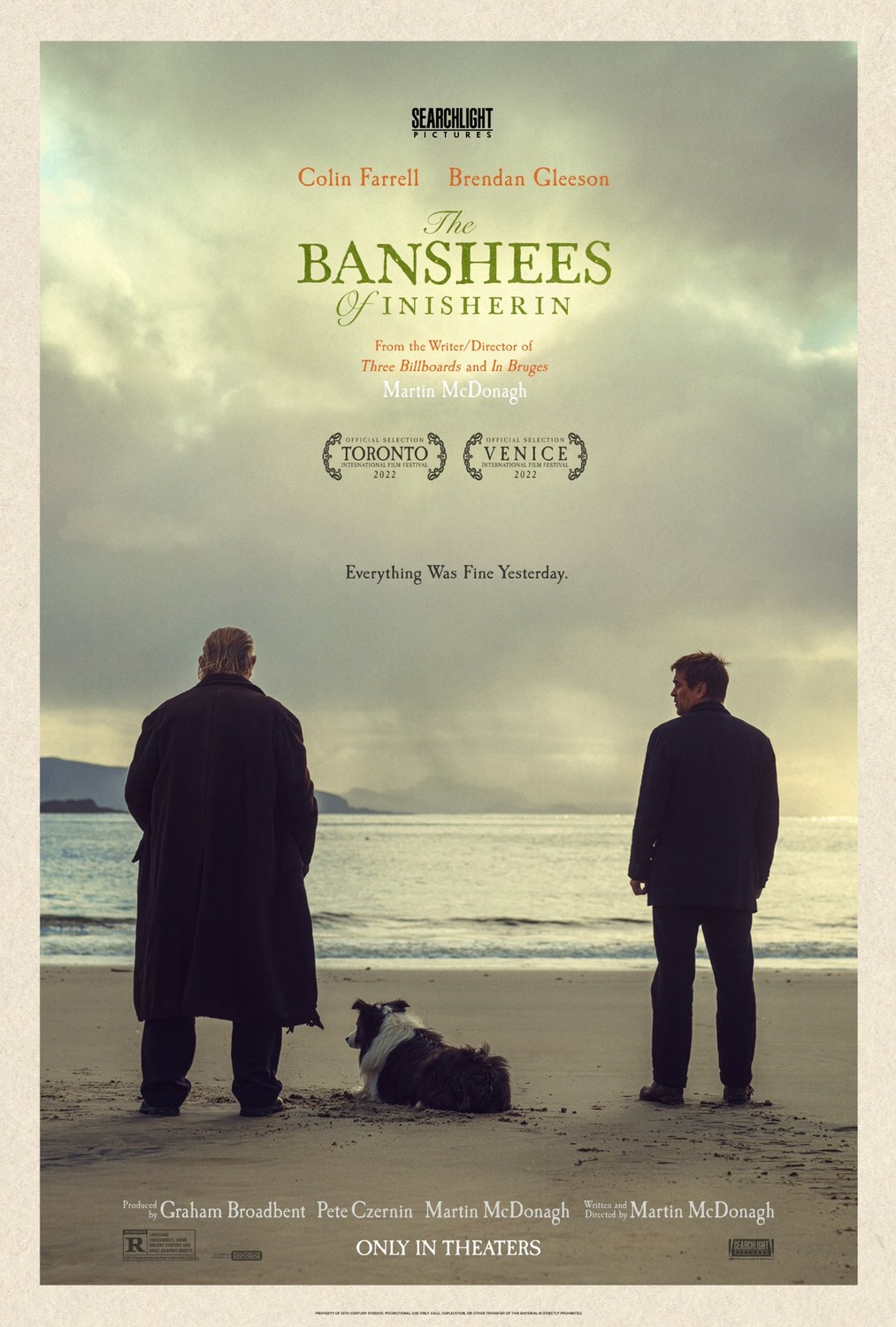 Director
Martin McDonagh
Starring
Colin Farrell
Brendan Gleeson
Kerry Condon
Barry Keoghan

In the spring of 1923, on a small island off the west coast of Ireland, a friendship abruptly, and seemingly inexplicably, ends. One morning, fiddle player Colm Doherty [Gleeson] decides he no longer wants to associate with the perfectly nice, albeit dull, Pádraic Súilleabháin [Farrell]. Baffled by this, Pádraic is unable to let it lie and tries to ascertain what he's done wrong. The entire bizarre ordeal escalates further with Colm finally issuing an ultimatum: if Pádraic doesn't leave him alone, he'll cut off one of his fingers every time he is hounded.
From the outset, the premise is both fascinating and a little beguiling. It's an oddity. The sort of mad tale you'd hear happening two counties over but you wouldn't necessarily believe it. And if we're being honest, that's a very dangerous way to frame your story because it runs the risk of being boring, uneventful and anticlimactic. But McDonagh's writing and direction has a way of instantly captivating you. It's a calm, measured tale; a treatise on the ephemeral futility of friendship. And the film is in no hurry to get to its point. In truth – and hopefully this isn't too spoilery – The Banshees Of Inisherin is not a mystery, everything is exactly as it appears. What we get is an experience, more than an exploration, of the bizarre stubbornness that would drive someone to commit such significant social upheaval.
One of the key elements to understanding the logic and motivations for this story, is an exploration of isolation and island culture. Being 1923, the Irish Civil War is raging on the mainland and explosions and gunfire can be seen and heard on a daily basis. But none of it truly reaches Inisherin, which remains locked and trapped in its own remote bubble. It's also the kind of rural portrayal of island life that would be offensive, if coming from an external point of view. In other words, if this were written by arguably anyone else, it could come off clumsy and diminutive. But, as stated, McDonagh is a master of his craft and has spent a significant portion of the 90s producing plays set in and around the Aran Islands. As such, there's a recognisable charm and honesty that sidesteps cliche and scorn, with countless characters and archetypes that feel like they've been plucked straight out of the past.
But as much as the script and direction offers nuance and complexity under the surface of a remarkably straightforward tale, it is in fact carried by performances that, in the hands of lesser actors, would crumble within moments. When working with the right team, Farrell can completely contort himself, proving his range is markedly impressive. And the gamut of emotions he runs, is a prime indicator of how talented he is. Similarly, Gleeson, sells a very dogged yet charming individual, who the audience should be continually frustrated by but can only find themselves perplexed and concerned. The strongest supports come from Condon and Keoghan who play Pádraic's sister and the mentally troubled Dominic respectively. Both characters feel like they have been assigned an inescapable role on the island – one as the angry spinster and the other the village idiot. But both display heartbreaking depth that elevates and contributes to the overall tragedy at the heart of this film.
And even without the writing and arresting performances, the film is uniquely wonderful to absorb. The music, as with all classic Irish portrayals, drifts between upbeat cèilidh and mournful ballads. But interspersed with the diegetic tracks, is a simple, subtle and sometimes sinister score. Which, considering it's penned by Carter Burwell, should come as no surprise. But it adds to the haunting nature of both island life and Pádraic's dilemma. And, of course, Ben Davis continues to forge such a strong back catalogue, by capturing utterly stunning landscapes and deeply shadowed interiors, with his very natural-feeling cinematography.
The only negative I can offer is a question of taste, rather than quality. You'll be hard pressed to find a negative review for this movie and those that you do find, are from individuals whom this sort of film would never appeal to. But in terms of its components, it's a marvel.

Release Date:
21 October 2022

The Scene To Look Out For:
The mixed messages of Colm loading a beaten Pádraic into his wagon and riding him home in silence, comes at the perfect time in the story. There's a tenderness that goes beyond their feud which makes the whole falling out more confusing and tragic.

Notable Characters:
The four central performances are undeniably engrossing but the collection of minor characters is what truly sells the authenticity of the movie; it's what grounds the events and makes it so quintessentially Irish. From the thuggish cop, the gossipy post office owner and the almost ethereal all-seeing old lady, there's a recognisable richness that fleshes out the fictional island of Inisherin.

Highlighted Quote:
"Some things there's no moving on from. And I think that's a good thing."

In A Few Words:
"A beautifully miserable film."

Total Score: 5/5