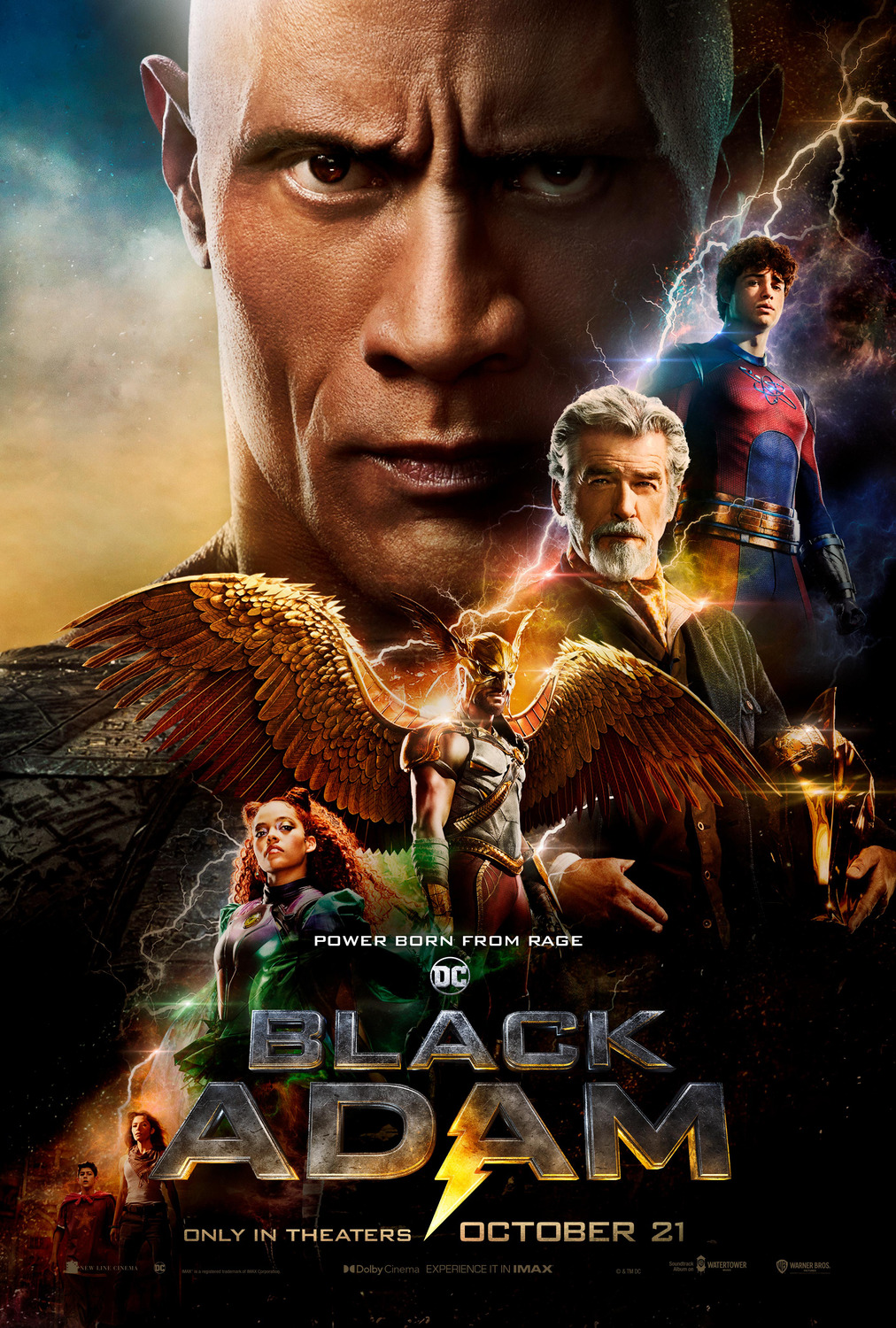 Director
Jaume Collet-Serra
Starring
Dwayne Johnson
Sarah Shahi
Bodhi Sabongui
Pierce Brosnan
Aldis Hodge
Noah Centineo
Quintessa Swindell
Marwan Kenzari

The film opens nearly five thousand years ago in the kingdom of Kahndaq. We see the people ruled by an oppressive king who has them mining a mineral called Eternium, which he wants to fashion into the fabled Crown of Sabbac. But when a slave boy resists, he is chosen by a group of wizards to be their champion: Teth-Adam. Present day Kahndaq is under military occupation and archaeologist Adrianna Tomaz [Shahi] revives Teth-Adam [Johnson] from his tomb, to be their saviour once more. But the legendary champion is not what he seems and his arrival prompts the Justice Society to intervene.
Throughout most of his comic history, Black Adam was the villainous dark side of the power fantasy that is Shazam – a straight-up bad guy. It's only in recent years that he has become more of an antihero. What this film attempts to do, is reposition the character as a more sympathetic and misunderstood, no-nonsense, no-tolerance figure. But by making him a living, breathing badass, largely free from moral constraints, we don't get a chance to walk the fine moral line of an overpowered ambivalent god, it just immaturely indulges in a sad dad revenge plot.
But this film isn't just about the titular character, it also splits its runtime in two and acts as the debut appearance for the JSA: Justice Society of America. But who are the Justice Society? Who are its members? How is it different to the Justice League? Are they just an extension of the military occupation that Kahndaq is currently under? All good questions. Almost all of which the film fails to answer. But let's talk about the four principal members who make up the team. We have the two veterans: Hawkman [Hodge] and Doctor Fate [Brosnan], as well as two fledgling heroes: Cyclone [Swindell] and Atom Smasher [Centineo]. And in truth, these are some solid casting choices, providing a nice balance between experience and zealousness, and emanating positive chemistry, when the film extends the opportunity.
The same cannot be said for Black Adam himself and the central villain. Don't get me wrong, Dwayne Johnson does a decent job, as ever. It's simply that Black Adam doesn't have a lot of actual depth or complexity, he feels like a throwback to a hollow 80s action hero, with minimal nuance and meandering drive. And then there's the fact that everyone in Kahndaq (both past and present) is from the MENA region and speaks with an appropriate accent. All accept Johnson. For many this won't matter. For many more, it'll be a sticking point of contention.
Which brings us to the villain. Kenzari plays the role of Ishmael, and without going into too much detail, his dual intentions are painfully signposted. To the extent the film doesn't really try to hide that this once-ally actually possesses a nefarious agenda. And a key reason for this is that the film spends so much time with Black Adam's rage and allegiances, clashing back-and-forth with the JSA, that there simply isn't room to slot in an engaging, compelling antagonist in a satisfactory manner.
Overall, the film is surprisingly lacking in scope and scale. Despite the myriad locations, dual eras, and plenty of interesting and creative visuals, most of it fails to impress. And for a nearly two hundred million dollar budget, that doesn't cut it. Kahndaq itself feels like a decent, unique setting – but after the opening scene it quickly becomes a faceless CGI hub, devoid of personality. Other than Amon [Sabongui] and his mum, Adrianna, we don't get a feel for the people or the culture. Which is superbly frustrating because the production design of this location feels steeped in history and alludes to a genuine lived-in environment. The problem is, it ends up as an anonymous sepia backdrop.
Yet none of these issues compare to the primary faults at the heart of this feature: the writing and the pacing. Both suffer in the same way, feeling incredibly lopsided and crippling each other. Just when the story feels like it's going somewhere, it gets hindered by yet another fruitless fight. The fight then powers through before running out of steam and we are slapped by another flashback from Black Adam's past. Leaving the momentum continually interrupted and spluttering along. And this is because the script is constantly juggling a Black Adam origin, rise and redemption story, as well as an entire JSA team-up story, and a villain lineage story, not to mention, countless obligatory action sequences. All without affording enough time to develop impactful characterisation and motivation.
So the film's a write-off then? Well, not entirely. See, the opening act isn't necessarily bad. with the audience treated to fairly typical superhero fare. And without wanting to draw comparisons – thanks to the injection of levity, the atypical casting and setting, and the colourful cartooniness of it all – it's incredibly hard to keep the word "Marvel" from slipping past your lips. What's more Lorne Balfe's score elevates the proceedings with appropriately grand and darkly triumphant motifs throughout. In other words, Black Adam, at times, feels fun. And going in with almost no expectations, that might be enough for many viewers to enjoy themselves. But make no mistake, this is far from a good movie.

Release Date:
21 October 2022

The Scene To Look Out For:
**spoilers throughout**
I don't like to highlight post credit scenes, as it implies everything that came before is less important than essentially a "next time on" stinger. That being said, part of Johnson's motivation to play this character, was always that he would clash with Superman. And it's such a dumb idea to pursue. If Black Adam squares up against Shazam, that makes complete sense – with their shared history and power source. But if he battles Superman, Wonder Woman, Aquaman or any other DC hero, it's going to feel hollow and egregious. Because this reworked version of the character already been redeemed. There's no miscommunication, misunderstanding or need for it that will feel satisfying or justified. Yet here we are. Going through the motions.

Notable Characters:
**spoilers toward the end of this paragraph**
There are plenty of commendable performances in this movie but one which was pleasantly surprising, is that of Pierce Brosnan as Doctor Fate. Fate is such a strange ethereal character but bringing in Brosnan adds such a humanity and haunting weight to what could be a very jarring, unknowable individual. That being said, he didn't need to die. Everything about his fridging was remarkably lazy and forced.

Highlighted Quote:
"You may not have been a hero, but that doesn't mean you can't be one now."

In A Few Words:
"Black Adam was supposed to be the start of a new chapter for DC movies but regrettably, too many vestigial inadequacies remain for it to truly evolve."

Total Score: 2/5