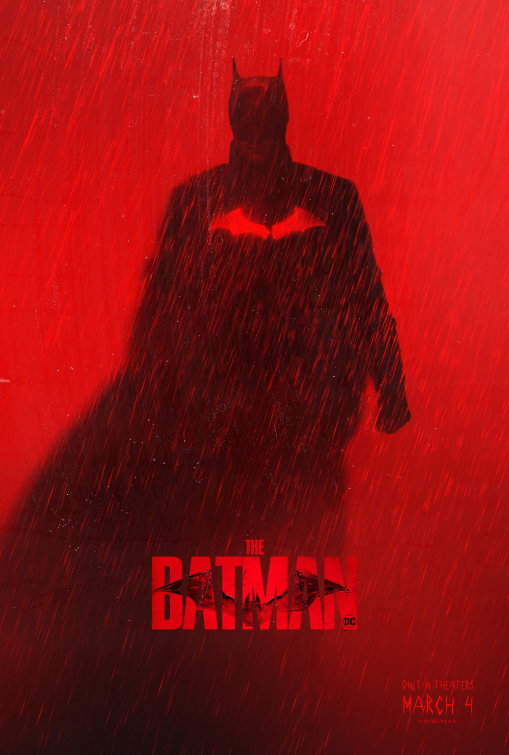 Director
Matt Reeves
Starring
Robert Pattinson
Zoë Kravitz
Paul Dano
Jeffrey Wright

With several prominent Gotham officials being murdered, police lieutenant James Gordon [Wright] brings in masked vigilante, Batman [Pattinson], to consult; most notably because the killer is leaving notes and riddles addressed directly to "the batman." Pressure grows as Batman investigates Gotham's underworld and uncovers various threads which point toward a massive conspiracy.
From the polar extremes of kid-friendly Adam West and George Clooney to the grim and gritty outings of Christian Bale and Ben Affleck, there have been multiple iterations and interpretations of Bruce Wayne and his crime-fighting persona: Batman (or, it could easily be argued, Batman and his billionaire persona: Bruce Wayne). And the simple truth is that while these respective portrayals pull in certain tonal directions, they are all recognisably the same character. But while discourse often fixates on the central performance, a great deal of this is dictated by the director and creative teams behind the camera. With that in mind, The Batman is dark, brutal and unflinching. Essentially (and unapologetically) following the same structure as Seven, with more dark thriller notes than anything else. For that reason, one of its defining features is the excessive runtime – at just under three hours – due to an unhurried meticulousness. But admittedly this is because the film has a lot of story to tell and much like No Time To Die, doesn't hinder the experience as much as one would initially assume.
Front and centre, we need to talk about Matt Reeves. Slowly and steadily shaping an incredibly impressive yet understated career, Reeves' direction is on point; juggling mounting tension with kinetic eruptions – like one of those shady bars that's in a perpetual state of patrons uneasily sizing each other up or engaged in all out brawls. More so than any other version of Batman to date, we are treated to a surprising amount of slow burn, long-hanging looks and pauses. There's a methodical stillness at times, where characters just coldly stare, unspoken, at each other and I'm glad the film takes the time to explore that. That isn't to say there aren't times when individuals act irrationally or driven by their emotions but adding that extra veneer of examination and scrutiny, adds a wonderful calm-before-the-storm atmosphere. On top of that, the cinematography is truly stunning. This marks the first time Reeves and Greig Fraser have collaborated since Let Me In, over a decade ago, and the combination of rich, beautifully lit shots with incredibly dynamic camera work is frankly remarkable; showing you can retain an impressive amount of in-camera flare and personality when helming a big budget blockbuster.
With these tonal and visual components, we have an almost past and present duality with The Batman simultaneously feeling like a precursor to both the futuristic Arkham video games, as well as the thirty year old Tim Burton movies. From the dilapidated gothic infrastructure of Gotham City (reminiscent of the 1980s poverty gap and crime-riddled inner cities) to the story beats of uncontrolled corruption, privilege and grounded simplistic action. It's all essentially a manifestation of how rundown America could become if crime were to infest every level of society. And cementing this out-of-time aesthetic is an utterly enchanting score. I'll be the first to admit, I was largely unimpressed with Michael Giacchino's Bat theme – solely based on his stellar work to date. But that was before I appreciated the complexity at work throughout: the score gliding effortlessly between seductive slides and pulsing, pounding stabs, peppered with forceful techno rhythms and the sombre side of 90s grunge. A leitmotif-powered forlorn love letter, penned for the dreary flawed souls lurking in the hearts of our leads.
Speaking of the leads, everyone in this feature is so spectacularly cast; no matter how prominent or background the role, there isn't a single weak factor. We are introduced to a Batman in his second year. His legend is growing but he's still full of rage and torment. We don't need to dwell on the origins of his crusade because we are witnessing the toll it's already taking on his body and his psyche. Pattinson superbly embodies that nigh-on self-harm drive of an individual who is beyond caring about their own safety. It's not that batman is capable (though he is) it's that he really doesn't care if he lives or dies; which makes him remarkably dangerous. To balance this out, we get a glimpse into the life of a man who spends his nights assaulting criminals, then returning home to meticulously document, record and journal his events. In a twisted way, much like a police officer files a report upon completion of their patrol. As I stated before, it's this slow composure as he stalks his way around a crime scene or steps slowly but purposefully out of the shadows, that makes him so terrifying.
On the flip side, we have Paul Dano as the Riddler, who taps into something so eerily unsettling; something we only tend to see in a Jonathan Demme or David Fincher serial killer story. The unhinged but focused mind doing what it believes is just and good. At times it walks the line of being absurd or silly but Dano has the honed ability to snap it back to something unsettling with ease; at which point the score hisses a hint of 'Ave Maria' and shivers run down your spine. Similarly, Kravitz's Selina Kyle is compelling, stepping away from the established and tired portrayals of Catwoman to date. She has her own agency, intricacy and capability. It's also nice to see Gordon getting more of an active role rather than a bamboozled go-between for Batman. I could argue that Alfred suffers from the sheer juggling of on-screen characters but Andy Serkis utilises his time masterfully, making him wholly unforgettable.
All-in-all, The Batman is a dark triumph but it isn't without its issues and obstacles. First and foremost is Batman fatigue. We're all smart enough to know that a new Batman is largely green-lit because it's the most successful property that DC has. But considering we've had twelve live-action appearances, from six actors, in thirty three years, is there anything new that this adaptation can bring to the mythology? And if I'm being brutally honest, aside from a lean towards a detective angle, there isn't much. For some, that's fine, it's more Batman. For other viewers, it won't feel like anything special or unique because – to circle back to my earliest point – it's all shades of the same black. I also know that some fans will be disappointed with departures from comic canon and the lack of separation between Pattinson's Bruce Wayne and Batman (they're effectively given the exact same treatment, in terms of delivery). What's more, despite putting such a heavy emphasis on his attributes as a detective, Batman can be remarkably dumb at times, haphazardly stumbling into resolutions and coming off as a bit of a pawn. But I earnestly feel these are fairly minute gripes and shouldn't detract from what has been accomplished.
As a foundation for a handful of sequels and spin-offs, I'm very interested to see where they go next but – and this is a fairly strong caveat – on the proviso that this team reunites in its entirety and Batman's journey actually grows and develops. The last thing we want to do is simply regurgitate the same stale stories we've seen time and again. But only time will tell.

Release Date:
04 March 2022

The Scene To Look Out For:
**spoilers throughout this section**
Every scene with the Riddler was a clear indication to me of how this film ended up with a 15 rating in the UK. A figure introduced through a POV shot, then as a presence in the shadows, bound and masked. Yet underneath it all, he is revealed to be a frail, outwardly unimposing individual. But where Dano really gets to shine is when we learn of Riddler's misconstrued assumption of who Batman is – not necessarily his identity but his mission. That, paired with his dark web influencer community and mass shooting anarchist language, makes his every appearance disquieting.

Notable Characters:
I adored a lot of the characters on show but Colin Farrell, in the subdued support as the Penguin, was glorious. Snarling and gruesome, it feels like a sort of tribute to James Coughlin in The Town by way of De Niro. And of course the prosthetic work is terrific, giving Farrell the opportunity to truly lose himself, while setting up an incredibly promising and formidable foe.

Highlighted Quote:
"Fear is a tool. They think I'm hiding in the shadows. But I am the shadows."

In A Few Words:
"Detailed, dynamic, passionate and considered, The Batman stands as a fine marrying of comic world-building and cinematic storytelling."

Total Score: 5/5