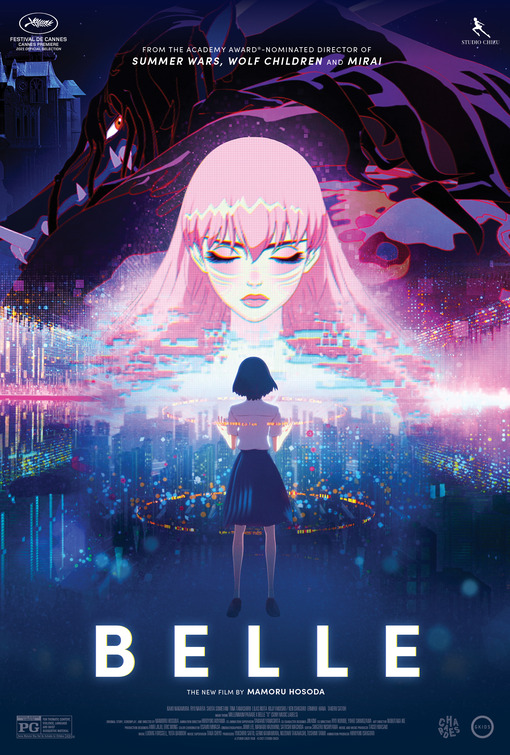 Director
Mamoru Hosoda
Starring
Kaho Nakamura
Takeru Satoh

Set in a remote part of Japan, we are introduced to Suzu [Nakamura], a high school student who has never fully come to terms with her mother's death; more specifically why her mother chose to "abandon her" to save another child's life. While Suzu used to enjoy singing and songwriting, she has retreated and disconnected herself from her classmates. Under advisement from tech-savvy friend Hiro [Lilas Ikuta], Suzu signs up for U: an extremely popular virtual world, which reads biometric information to craft a unique digital avatar based on the user's personality. This freedom allows Suzu to sing for the first time under the pseudonym Belle. In no time, Belle's fame eclipses other popular artists but when one of her concerts is interrupted by a mysterious avatar known only as Dragon [Satoh], Belle sets out to make contact with the menacing individual who is clearly dealing with his own unaddressed trauma.
From here, the story layers itself by branching off into multiple narratives at once: a digital detective story to uncover what Dragon is hiding, Suzu trying to improve her real life connections with friends and her father, as well as Belle's fame and how her songs send ripples around the world. And Belle does this in a magnificent way by perfectly juxtaposing the melodrama of teenage life and the madness of online fame. In a way, partly reminiscent of sections of something like Only Yesterday, with plenty of simple countryside coming-of-age teenage hijinks in amongst the more fantastical fare.
But it's the online world of U which could have fallen apart so easily, joining a long line of alternate digital reality pieces – not to mention the countless isekai anime shows – that sometimes fail to effectively convey the highs and lows of online life. And this isn't even Hosoda's first attempt to cover this: Digimon Adventure: Our War Game and Summer Wars both deal with teenagers discovering themselves in a bombastic digital frontier. The difference here is the emotional beats connect better than before. Opening with Suzu's grief coping mechanism accidentally going viral – the most interesting component being that she is immediately told to shut up and effectively trolled – we are shown an interesting and visually striking world that uses technology to scan what is at the core of your being and offers the freedom to find out who you truly are. And suddenly, mobile gaming, social media, streaming media and so many other aspects of online life as we understand it, are represented as a frank and beautiful celebration of what the internet can be. But it also doesn't want to shy away from the the seedy underbelly of what it really is, talking about the potential toxicity of avatars and anonymity. Something which is clearly represented by a group of moderators, headed by the self-righteous Justin [Toshiyuki Morikawa], who clearly abuses his power and authority, continually threatening to unmask users' true identities.
One of the film's masterstrokes is the parallel between Suzu's real life being represented by more traditional animation and the digital rendering of U. The visuals are incredibly impressive and demonstrate stunning creativity with its production design. From the stillness of Suzu's home life to the grandiose, almost magical girl transformation, presentation of her online persona, Belle offers a multifaceted treat. Curiously, a lot of the metaverse itself was a collaboration with Cartoon Saloon – who I already hold in extremely high regard and have repeatedly sung the praises of – which feels most apparent when Belle first goes off looking for Dragon; with its natural tones and Celtic-inspired curves.
The visuals are, of course, paired with wonderfully lush sound design and one of the most eclectic musical scores I've heard in quite some time. The diversity music offers is a real driving force throughout, doubling-down on the concept of an arena where multiple styles and tastes can be catered to. So on the one hand we have pulsating rhythms akin to Trent Reznor and Atticus Ross' work on The Social Network, heartfelt J-Pop bangers, Dragon's theme essentially boiling down to an energetic cello piece, upbeat jazz, slow-burn ambient themes, tense dramatic tones – it all comes together to form a strangely cohesive whole that transports the audience fantastically through this world.
The aspect I haven't really touched on is one where the film both excels and struggles. At the heart of this story, there is a very apparent Beauty and the Beast interpretation. I'd like to argue it's done in the same way that Throne Of Blood adapts Macbeth, but it's very clear that the 1991 Disney film is an overbearing influence and I would have toned down some of these elements a little more. Case in point, we didn't need a ballroom dance sequence. Having said that, Belle does a magnificent job of sidestepping the majority of the problematic elements from the source material by removing the romantic love story and instead making it a story of two victims of trauma finding and helping one another. Without wanting to spoil anything, the revelation of Dragon's identity and the mystery at the heart of his character adds such a beautiful level of complexity that it elevates the whole release.
I can't honestly say this is Hosoda's best film but it's probably going to be the closest harmonising between critical assessment of a technical achievement and emotional connection from an audience's point of view. A little flawed, a little predictable but a charmingly earnest tale.

Release Date:
04 February 2022

The Scene To Look Out For:
Without a doubt, Luka and Kamishin's revelation at the train station is magnificently awkward. The script has a way of planting the seeds for later discoveries that is both elegant and sweet, and nowhere is that more evident than a teenage girl covering her face with embarrassment as the oblivious teenage boy learns she has a crush on him and has to pluck up the courage to engage with her. Glorious stuff.

Notable Characters:
I found so many of the characters delightful but Suzu is such a wonderful lead, brought to life spectacularly by Nakamura and her haunting singing voice. From her distant, almost monosyllabic responses, to her epiphany about finding happiness and finally understanding her mother's actions; it's just enthralling.

Highlighted Quote:
"If I can endure it, it'll be ok."

In A Few Words:
"An enchanting undertaking – part fairy tale, part coming-of-age drama – that captivates and shines."

Total Score: 4/5