THE PERSONAL HISTORY OF DAVID COPPERFIELD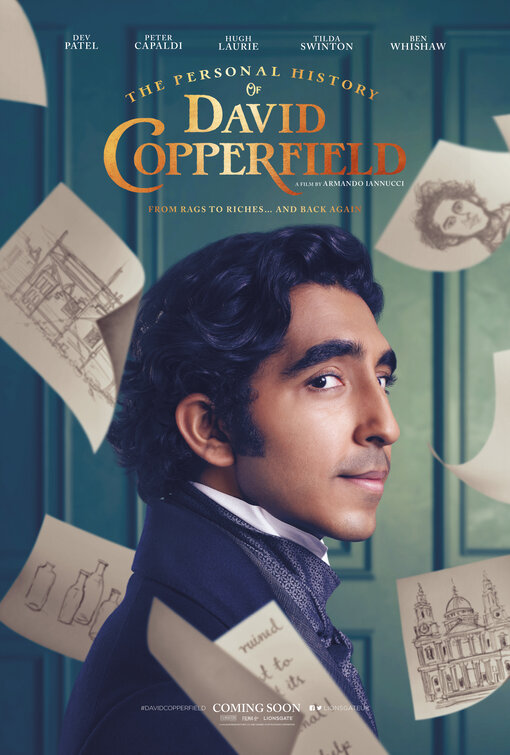 From Rags To Riches.. And Back Again
Director
Armando Iannucci
Starring
Dev Patel
Tilda Swinton
Peter Capaldi
Hugh Laurie
The film opens with David's [Patel] birth and is told with the aid of voiceover as Copperfield recalls the events and distinct individuals he has encountered over his unpredictable often turbulent life, battered by the whim of fate. Following the death of his father, David's mother remarries a haunting figure who crushes the young boy's dreams and aspirations. This is made worse when David is sent away to work at his step-father's bottle factory in London, residing with the wily Mr Micawber [Capaldi]. Following the death of his mother, David runs away from London to live with his neurotic aunt, Betsey Trotwood [Swinton] and her equally neurotic cousin Mr Dick [Laurie] and for a time Copperfield is happy. But it isn't long before struggle and ruin return to his life.
In the same vein as Little Women, David Copperfield is a modern interpretation in terms of pacing and attitudes rather than setting and production. From a technical standpoint it bears all the common, recognisable markers of your standard Victorian literature adaptation. However by gently updating the source material, there is a sense that the content is more relatable and accessible but in doing so it loses some of the story's general flow and feels like a series of rushed, albeit extremely well-constructed, vignettes. Told with a dose of whimsy, despite the often dour subject matter, The Personal History Of David Copperfield may be an effectively a straight adaptation in terms of aesthetic and score but the performances, cinematography and delightful scene transitions have almost dreamlike fantasy qualities, as if something recalled from memory – which is what the author ultimately intended and fits well despite the fairly chaptered, often rushed, consequence of trying to cram a 624 page novel into a 119 minute runtime.
The film's finest achievement, other than the script distilling all the key qualities of the novel (a feat which hasn't been attempted since the late 60s), is the skilled ensemble cast. At the front of it all is Dev Patel, an individual I have sung the praises of for years. With acute charm and range, he manages to embody Copperfield's noblest and weakest qualities; from his analytical view of the world, constantly impersonating the memorable characters he meets throughout his life to his often cruel dismissiveness and self-absorbed quest to climb the social ranks. Of course, Patel's casting was met with the usual cries from (let's not beat about the bush) racists who cannot fathom anyone playing a Dickensian lead other than a blonde white boy but as I explained in my Mary Queen Of Scots review, if the actor fits the role, cast them. On top of that, the diversity to the cast is a welcome treat and the rotating door of supporting cast members all perform admirably. Admittedly, Dickens didn't seem to have a great deal to say about his female supporting players but Iannucci has managed to thankfully elevate and improve them for modern sensibilities.
The greatest disappointment with this film is more a frustration of expectations and how this movie was marketed; put another way, the humour was not what I ultimately thought it would be. This is, undoubtedly, one of Iannucci's most unambiguously approachable projects for mainstream audiences, a sort of half-way house between his foul mouthed satire and run-of-the-mill period drama. But with this level of restraint, rather than simply shredding and warping the source material into a cynical reworking catering to today's audiences, the amount of sincerity and earnestness takes you aback. It's not necessarily that the film is lacking in any way or to say that Iannucci cannot step outside of his usual comfort zone but it almost feels like a missed opportunity to sample what a Dickensian drama populated with characters like Malcolm Tucker and Alan Partridge could have looked like. But again, this is less to the film's detriment and more to the type of audience, in the same way that certain cinemagoers weren't happy with The Favourite or Possum because they stepped away from the images conjured in one's mind when told that Olivia Colman plays a British monarch in a period piece or Matt Holness has created a film about a puppeteer. So why bring it up if this is but a question of personal perspective and preconceived notions? Ultimately to highlight that the film could suffer because of this shared preconception.
Despite this minor but impactful issue, I feel the film is a perfectly timed triumph. Dickens works best when the reader's world is less than desirable, as if to draw a motivational comparison for support and inspiration. And with a significant amount of heart, optimism and bounce throughout this version, it serves as a reminder to the viewer that the sum of where we are is not the sum of who we are and things can always get better so be the best person you can; which I'm sure we can all agree is a fine message to put out in 2020.

Release Date:
24 January 2020

The Scene To Look Out For:
Of all the varied moments this film offers, one that stuck with me was David bringing his school friend to the whimsical summer home of his youth. Sent away to Great Yarmouth to live in a house made from an upturned boat on the shore, David is surprised when the saturated colours and palatial interiors of his memory are significantly faded and shrunken on closer inspection with a grown body and adult eyes.

Notable Characters:
As stated earlier, the cast are magnificent in their entirety yet one individual still stands out from the outset. Tilda Swinton is one of those actors who has been quietly appearing in the background of so many films over the last twenty years and never gets the true recognition she deserves. In spite of the wealth of mirth and soul on display from all, the film feels just a little weaker when she is absent and wholly elevated upon her return.

Highlighted Quote:
"Don't worry, you'll make it through. And you'll have quite the ride on the way"

In A Few Words:
"A fabulous adaptation brimming with warmth that only occasionally wobbles under the weight of the undertaking at hand"

Total Score: 4/5