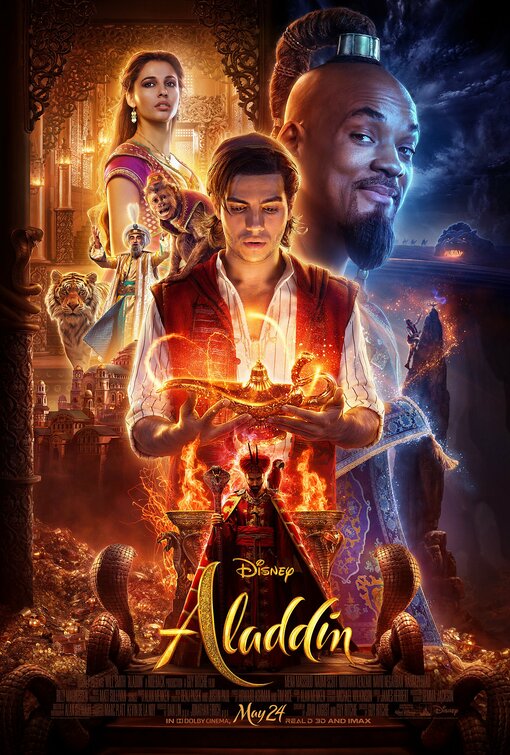 A Rags To Wishes Story
Director
Guy Ritchie
Starring
Will Smith
Mena Massoud
Naomi Scott
Marwan Kenzari
Navid Negahban
Set several hundred years ago, in the ancient kingdom of Agrabah, we are introduced to Aladdin [Massoud], a young street urchin who survives thanks to his quick-wits, fast fingers and sharp tongue. One day in the marketplace, Aladdin meets Princess Jasmine [Scott], who has disguised herself to walk among the common folk and keeps her true identity a secret from the young man. When trying to see the princess again, Aladdin is arrested by the Sultan's vizier, Jafar [Kenzari] who offers him a chance at redemption by descending into the cave of wonders, deep in the desert, to retrieve an oil lamp. Aladdin becomes trapped in the cave but discovers a genie [Smith] living inside the lamp, who explains he will grant his new master three wishes.
The only appeal these Disney live-action remakes offer is a familiar story through a different prism; for the studio it's a safe bet and for the audiences, it's comfortable. In all honesty, that's been Disney's modus operandi since day one; take a familiar fairy tale rooted in core values and spin a yarn from it that will entertain their target four quadrants and generate a shit-tonne of merchandise sales. These have ranged from alternate takes, such as Maleficent and Dumbo, where a different perspective has been shown or largely reinventing the story, to fairly straight-laced shot-for-shot adaptations like Beauty And The Beast and for the most part, these movies have generated an insane amount of money for Disney but stagnated their output by recycling and cannibalising their own properties. Aladdin is, for a great many people, one of the top three best Disney animated features and fundamentally this iteration was always going to be at a disadvantage and fighting an uphill battle.
From the outset, it's clear that a great deal of time, attention and effort has gone into crafting a detailed visually lush setting. Drawing on so many cultures from India to Morocco, we are shown a vast melting pot kingdom similar to the standard vague medieval Europe that Disney calls on for its western adaptations. The costumes, hair and makeup are all spectacularly rich and vibrant as is the production design employed to shape the city of Agrabah. Having said that, maintaining the bright and colourful quasi-cartoony tone does leave a lot of the movie feeling a little too polished, failing to give that realistic lived-in quality.
Another key factor of this release is the musical set-pieces. It is extremely difficult to grade the songs because they are a rehash of what has come before (and arguably some of Disney's finest tracks) and while the new entries are perfectly serviceable, they are competing against decades of nostalgia and familiarity, coming off a bit Eurovision-y at times. That being said, Alan Menken has returned to build a charming mix of older methods and modern flare that gives the score a nice rounded presence. But sticking with the songs for a moment, we have to address how they are presented visually. Ritchie's direction has always been a bit of a mixed bag, veering from incredibly creative and innovative shots to generic repackaged tropes. This comes out most notably during the musical numbers where some of the lines are delivered seemingly to no one or without impact. As silly and potentially petty as this example may sound let's take an example. During the One Jump Ahead number, Aladdin turns and sings, "let's not be too hasty' while ascending a flight of stairs. In the animated version, he is surrounded by guards and backed into a corner, whereas in this live-action version it doesn't become immediately apparent that he hasn't got away and is still being pursued; the villains are off-screen and he's kinda warbling to no one in particular. Small things like this really impact how well these musical interludes are incorporated into the story. Having said that, the execution and choreography for many of the standalone dance sequences are very impressive and pleasingly handled.
Really there are only three performances to talk about: Jasmine, Genie and Jafar. Giving Jasmine actual agency reflects contemporary sensibilities, in the same way that the 90s animated Jasmine was very outspoken and reflected the social progression of that specific era. I feel Scott is a very capable actress and enjoyed her in the underrated Power Rangers, she is also giving one of the best all-round performances in this story. She is earnest, driven, empathetic and intelligent, while also displaying that young naivety that allows the audience to connect with her. On the other end of the spectrum, the Genie is larger than life and sits somewhat outside of the more grounded realism of the human characters. Will Smith is as charismatic and charming as he always is and makes this role very much his own; not the manic-paced, impression-quipping ball of energy that Robin Williams was, nor the big, bombastic, drag-inspired, fourth-wall breaking performance that the Broadway/West End musical cultivated but a pleasing middle ground that very much plays to his strengths. Which brings us to Jafar – easily the weakest thing about this movie. The performance would have been arguably fine if it weren't for the range of hissing, shrieking, growling and arrogant tones that Jonathan Freeman gave us. Giving us a glimpse of Jafar's past, that he has worked his way up from the slums to the highest position outside of inherited nobility, is nice but criminally underused. Alan Tudyk helps elevate the vizier's persona with a subtly malicious Iago that is very different from Gilbert Gottfried's pitch and intensity but a solid companion for this more subdued Jafar
The opportunity was here to create something bigger, more ambitious and more spellbinding but a lot of the time, what we end up with feels inferior to a nearly thirty year old cartoon (without sounding too diminutive). Just as a brief example, at the close of the animated movie, Aladdin is almost crushed by a giant rolling tower in a frozen tundra, Jafar transforms into an enormous serpent, Jasmine is trapped in an hourglass filling with sand and the stakes feel important and lasting. All this film really shows us is a few guards being arrested, a parrot morphing into a sort-of-roc and principal characters being raised off the ground in a very loosely defined glowing energy field. And that is the ultimate problem with this feature, lack of mind-blowing, awe-inspiring vision. There is such a wealth of mythological and cultural influence to draw on but Aladdin failed to capitalise on any of it, choosing to comfortably recreate the beats of the original but without ever really escaping its shadow.

Release Date:
24th May 2019

The Scene To Look Out For:
I'm a sucker for the opening song Arabian Nights. I genuinely love it and the elegant, exotic tones resonate for me and genuinely set the mood in the same way that Maurice Jarre's Lawrence Of Arabia score immediately captivates the imagination and transports you to a different land. It is a wonderful example of music constructing an environment before one is ever truly seen. This variant, however, is not without its flaws; not because of the song itself but because of what we are being shown at the same time. This sequence is used here to establish so much, under the distinct impression that you are already more than familiar with the original animated film. Subsequently, this devolves into a rush job that demonstrates some of the scale of this locale but not enough of the wonder and mystery to it all. If anything, the film's opening sets the scene for everything else that follows.

Notable Characters:
I enjoyed that the Sultan [Negahban] is less of a simpering, doddering old man, as he was in 1992. Instead he is simply an over-protective father with the best intentions for his daughter. It also helps to reiterate Jasmine's relatable frustrations rather than convincing an audience to accept the will and authority of a bit of a man-child.

Highlighted Quote:
"Steal an apple and you're a thief. Steal a kingdom and you're a statesman"

In A Few Words:
"A very middle of the road, mixed bag recreation that never truly justifies its own existence"

Total Score: 3/5