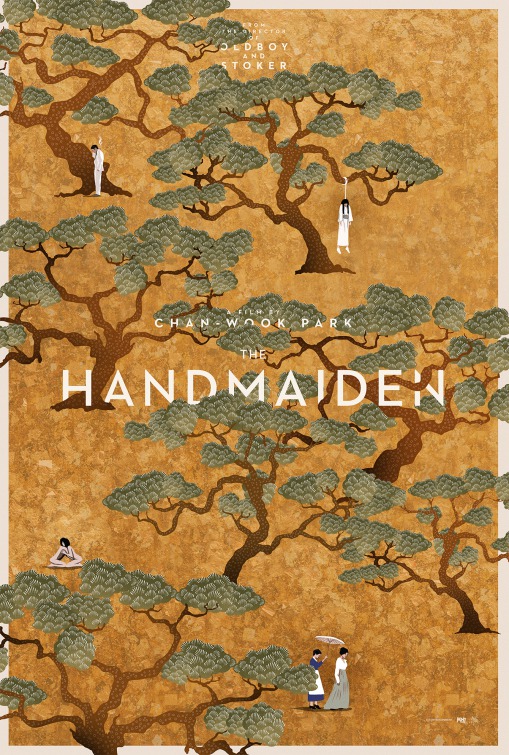 Director
Chan-wook Park
Starring
Tae-ri Kim
Min-hee Kim
Jung-woo Ha
Jin-woong Cho
Divided into three parts, the story opens in 1930's Japanese occupied Korea and introduces us to Sook-hee [T. Kim], a local young girl who is hired to be the personal handmaid for the mysterious and aloof Japanese heiress, Lady Izumi Hideko [M. Kim]. The film cleverly reveals (and this is sort of a spoiler but considering how many events unfold, it's a minor developmental one but one which is integral to outlining a synopsis) that Sook-hee is in fact a wily thief who is operating with a tightknit group to marry the heiress off to one of their own, a con artist posing as the fictional Count Fujiwara [Ha], before institutionalising her for her eccentricities. One of the key obstacles, however, is Izumi's uncle Kouzuki [Cho] who has his own nefarious pursuits. Sook-hee's primary mission is to encourage Lady Hideko to fall for the Count but in doing so, she finds herself helplessly enamoured with the well-born mark.
I make no illusions that my love of Chan-wook Park's exceedingly impressive body of work skews my impartiality. Obviously, I would like to think my review is solely based on the standalone merit of this feature but I will admit that I was statistically bound to love it no matter what. With that said, The Handmaiden is spectacular, from the immediate obviousness of the masterful direction and captivating cinematography to the more nuanced nature of altering the adaptation of Sarah Water's novel, Finger Smith, from British Victorian society to that of Korea under Japanese rule. It takes the best elements of subtle intrigue and deception from Hitchcockian releases (Rebecca jumps to the forefront of my mind) and blends it with bold contemporary unabashedness. A filmmaker's film, everything within is beautifully created and cleverly crafted by the gripping, twisting plot.
At its most base element, The Handmaiden is an erotic thriller and that specific genre has a distinct history of being rife with awful tawdry things; little more than b-movie, grindhouse schlock to titillate and supplicate the audience. This movie is entirely different and anyone going along because they've heard there's some "lesbian action" will admittedly get their fill but to fob it off as a raunchy skin-flick is completely unjust. In truth, sex is hideously overused and poorly handled in most releases – like a visual representation of how teenagers think sex works – but there's nothing overly shocking in this film, other than the story focusing on the sexual encounters as a part of the narrative rather than just a brief tick-box exercise. Even a simple action can be extremely sexually charged and bursting with intensity without being vile or exploitative, thanks to the sheer honesty of its portrayal. In other words, it feels real and for that reason it's much more engrossing than something that's utilised solely as a crude gimmick; like the difference between a cheap stripper and a burlesque dancer at the height of their power. A lot of this comes down to a combination of agonising direction and editing but also the absolutely brilliant acting. This whole film is a set piece of four key players deceiving both the audience and fellow characters flawlessly, often in multiple languages. Attraction, control, deception, manipulation, perception, there are so many strong factors at work in every initial and revisited performance and the reveal of how the story convulses is immensely satisfying.
From a production design point of view, the film is equally sublime, with wonderful sets, prop detail and lavish exteriors. The same could be said for the meticulously produced costumes, hair and make-up, everything about this film evokes a level of luxury, style and opulence fitting for the time but also setting the tone for the deviant nature of what takes place beneath the house. Yeong-wook Jo's score is equally alluring and refined with its simplicity, charm and ability to rise to soaring heights with exceptional ease and fluidity.
So, yeah, this is a bit of a gushy review but it really is one of the best films of the year displaying all the best qualities of innovative filmmaking that just happens to have rather defiantly steamy content but on a fundamental level, it is a breath-taking expression of love, lust, desire and all the positives and negatives in between.

Release Date:
14th April 2017

The Scene To Look Out For:
While being bathed, Lady Hideko notes that a back tooth is scratching the inside of her cheek and causing irritation. As a dutiful maid, Sook-hee runs to fetch a thimble and gently files it down, checking with her finger to see if the abrasiveness has gone. For a film with bells being stuffed inside lady-parts, this is one of the most sexually tantalising things present. The simplicity of the repetitive action, the intimacy and closeness of both the characters and the camera, it's brilliant and immediately establishes a natural tension that few films ever achieve.

Notable Characters:
While Ha and Cho deliver physically strong but emotionally vapid performances (in a genuinely good way) nothing compares to the almost symbiotic performances of Tae-ri Kim and Min-hee Kim that feed off of one another delightfully. Both characters are strong, compelling and fascinating in their own right and that's without acknowledging the complexity and layering of the levels of deceit and hidden agendas at play. To bring something like that to life is impressive, to rework and shift it multiple ways is a luscious rarity.

Highlighted Quote:
"You'll have a week of freedom but always remember the basement"

In A Few Words:
"A truly absorbing and all-consuming release that insidiously works its way into your subconscious "

Total Score: 5/5