RARE EXPORTS: A CHRISTMAS TALE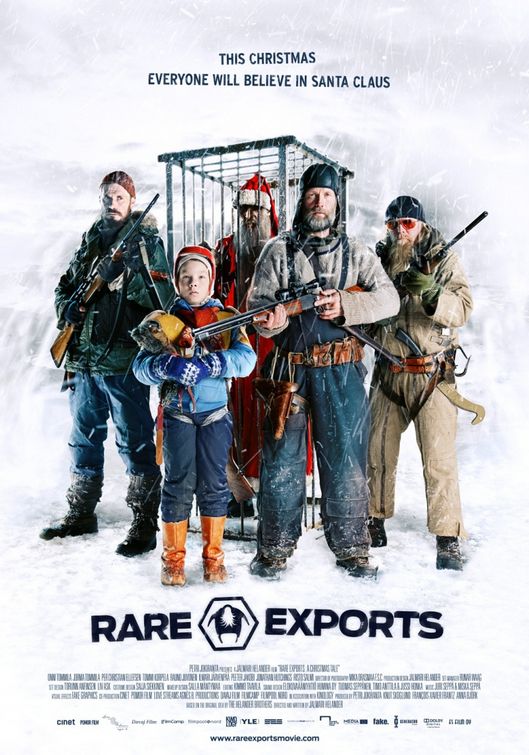 This Christmas Everyone Will Believe In Santa Claus
Director
Jalmari Helander
Starring
Jorma Tommila
Onni Tommila
Peeter Jakobi
Rauno Juvonen
Per Christian Ellefsen
I love the darker side of fairy tales, just as I love the darker side of Christmas stories. Before many pagan traditions were Christianised, they were bleak moral tales often with horrific outcomes. The few Christmas stories I recall – Black Peter, Krampus and the Yule Goat come to mind – portray Father Christmas (or Santa Claus for my American readers) as a twisted individual who actually punished the 'naughty children' rather than simply not giving them presents. Rare Exports reminds us of this long forgotten adage in a thoroughly enjoyable and original Christmas story.
Set in the surrounding areas of the Finnish Korvatunturi mountains twenty-odd days before Christmas, an excavation team are drilling for something hidden beneath the mountain. After curious samples come back, the team leader, Riley [Ellefsen], explains they are standing on one of the oldest and most significant burial grounds in the world. Overhearing this, young Pietari [O. Tommila] and his miscreant friend Jusso [Ilmari Järvenpää] hurry back to their homes, through a hole cut in the Russian border fence. Three weeks later, a group of hunters begin laying traps for wolves that have been stalking their reindeer and discover the hole in the fence; with their livestock slaughtered the trio head up the mountain to demand reparations. The dig site is deserted and all that remains is a cavernous hole. The next day (Christmas Day), young Pietari and his father, Rauno [J. Tommila], discover something in one of the wolf traps. Believing the man dead, Rauno and fellow hunter Piiparinen [Juvonen], move an old man's body to a personal abattoir. There they discover that not only is he alive but there is something distinctly inhuman about him. From here on it is assumed that the excavation team were digging up the original – and rather evil – Santa Claus. Still intent on claiming compensation for their losses, the hunters contact Riley and make their demands.
The plot detailed above is pretty much summed up in the trailers but the actual execution of the story is far richer. In addition to the central thread, there's a keen analysis of the prickly relationship between a boy and his stern father (cemented by the fact that there is not one single female character) and an underlying warning against forgetting ones' heritage and traditions. All of which is sold by the extremely impressive performances, beautiful cinematography and superbly unabashed score by Juri Seppä. I don't really want to reveal one of the major plot devices but it's one of those semi-twists that really elevate the proceedings. Sure, the supporting characters aren't as multi-layered as one might wish and the child protagonist is a little unbelievably confident at times but it's all rather commonplace in other Christmas stories, so why fault this one for it? Then there's the male nudity: I can't really get into it too much without giving away a great deal but there is an excessive amount of old man whang toward the movie's finale. Most audience members were mature enough to ignore it and simply see the creepy elements at play but there were still a handful of prats guffawing away, pointing and yowling like a group of fucking children who have spotted an amusingly shaped turnip in their local supermarket.
But overall, the originality of the story outweighs any glaring flaws or cliché elements. Had this film been presented slightly differently it would have been a disaster but with so many sinister components at work, it's hard to bash something both entertaining and truly singular. For those sick and tired of the usual Christmas fare and US seasonal 'comedies' (a word used in the most tenuous sense) Rare Exports is an eerie, clever and welcome treat.

Release Date:
3rd December 2010

The Scene To Look Out For:
I think rather than a particular scene, the overall mythology driving the story is the true highlight. The opening notion that the contemporary idolising of Santa Claus is a misconstrued interpretation of a truly horrific character, responsible for whipping, burning and abducting children is wonderfully explored. Especially when combined with the classic flow of a classic kid's adventure film. Having said that, putting the bear trap in the chimney was pretty funny.

Notable Characters:
The hunters are all quite standard, you have the leader, the mean one and the funny one but the two individuals who drew focus the most were Onni Tommila as the inquisitive, affable and wholly endearing Pietari and Peeter Jakobi as the extraordinarily creepy captive Santa. Spending the majority of his time stripped naked and huddled up, he absolutely personifies this terrifying old man. I can't talk too much about either without ruining the film but both actors have helped to produce something incredibly praiseworthy.

Highlighted Quote:
"This is my wife's hairdryer!"

In A Few Words:
"A delightfully dark and twisted tale, not to mention one of the most entertaining and original Christmas films to be released in a long, long time"

Total Score: 5/5