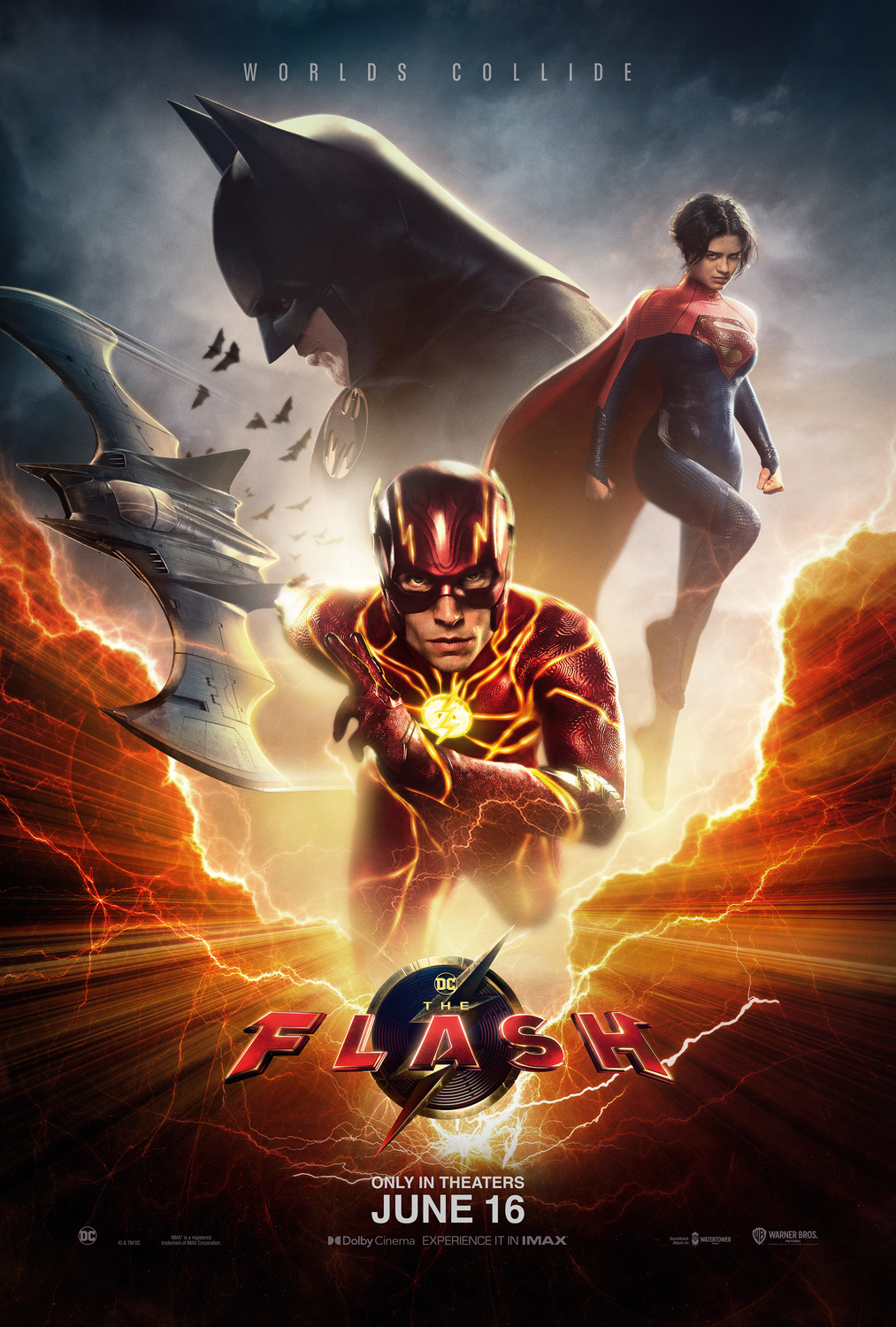 Director
Andy Muschietti
Starring
Ezra Miller
Michael Keaton
Sasha Calle

The day before Barry Allen [Miller] is set to attend the court hearing wherein his incarcerated father will face his final appeal, he is caught up in the duality of juggling a full-time job as a forensic investigator and performing astonishing feats of bravery as superhero, The Flash. But thanks to that emotionally potent cocktail, Barry runs faster than ever before and discovers he can potentially travel back in time, thereby preventing the death of his mother – the crime of which his father is falsely accused. Despite advice from fellow hero, Batman [Ben Affleck], Barry does exactly this. And in doing so gets trapped with an alternate 18 year old version of himself, just as General Zod [Michael Shannon] launches his assault on Earth. To rectify this mess, Barry seeks out this universe's Batman, seeing Michael Keaton reprise the role after three decades.
Over the last fifteen years or so, it's become clear that a good way to approach solo features branching from an ensemble, is to not only maintain a level of consistency but illustrate the world as perceived by that central character. Meaning any supporting element would have micro-adjustments to fit the tone of the feature you're currently watching. And it's very apparent this was the guiding mantra for The Flash. So, by taking all the dumb, madcap energy, loading it up with equal doses of genuinely funny irreverence and nostalgia bait, before finally injecting a supercharged sense of drama and emotion, allows all of these disparate elements to come together and gel surprisingly well. Subsequently, despite nine turbulent years in production chaos, the finished result is rather pleasing.
In terms of story, a lot of this tangled mess is legitimately engaging. The pacing is great and with a lot of ground to cover, the script ensures very little messing around, while still affording time for important character moments to breathe. There is also powerful fan-service and callbacks at work that most will feel swept up in. Because no matter how much you may want to rail against certain inclusions, the majority is handled well and suckers you into a little giggle or air-punch or two. A prime example of that is Benjamin Wallfisch's score, which is at its strongest when truly incorporating and reworking the respective Batman and Man of Steel tonalities, rather than solely adding a series of lazy leitmotifs. Justice League, looking at you.
Now, that said, this film is also largely held together by tape, sweat and prayers. And in the 2020s, to say the action sequences may be more clear and followable than usual but it alls breaks down into a blurry sludgy soup, as the CGI artists haven't been given enough time to do their work, feels like a generic copy and paste response that is applicable to almost every major blockbuster. But it is spectacularly relevant here. More than that, it is this release's cardinal sin. To the degree that when I say "the CGI work wasn't as bad as I expected," that's not the biggest compliment, but instead an acknowledgement of how flat-out these artists have been pushed. And praising what they've created in spite of that crunch. But no matter how much we caveat and explain, the final product does suffer from mediocre visuals at times, which will be make-or-break for many viewers.
While I could expound on Keaton's flawless return, the impressive fiery work of Calle as Superman's cousin, Supergirl, or the painfully perfect to the point of being flawed family life of the Allens (pre disaster, of course), this movie has one acting talking point. The biggest albatross around its neck.. in the form of Ezra Miller. I won't go into the details, you can search for yourself, but Miller is a deeply troubled individual. And although a film isn't made by one person, there are two of them in this movie, both of whom are integral to the success of the narrative and, somewhat frustratingly, Miller is exceptionally good here. Playing up the dichotomy of a subtly mature version of the hyperactive Barry Allen, having to cope with his more buoyant obnoxious younger self. Not only giving us the embodiment of being your own worst enemy, but serving as a self deprecative analysis that will make this relatable for many – in a retrospective cringe epiphany sort of way. Ultimately giving us an interesting twist on the father/son dynamic. But is it ok to like and enjoy a clearly compelling dual performance, knowing how controversial the performer is? In truth, it's not my place to say, that's entirely your judgment call. But if we're talking solely about what is present in the frame of the projector screen, it's fantastic work.
Which leaves the other big question comic fans will have: is this actually a Flash film? Flashpoint, while a good reboot point in the comics, is not actually a great Flash story, and serves more as a look at the world and legacy of Batman. Thankfully, this movie manages to juggle a decade of DCEU mishandling, fan demands, a pending monumental reset and that classic Flash as janitorial dogsbody discussion. Yes, the story is as a semi mind-bending functional cog, a pivotal episode in a very messy season of releases but it additionally manages to both exist as an ambitious standalone tale, as well as pave the way for the innocent playground of yore. That space where every iteration or interpretation was simultaneously canon. For better or worse, The Flash carries DC to this point and, from here, anything is possible.

Release Date:
16 June 2023

The Scene To Look Out For:
There's a magnificent scene in Looper, where two versions of the same character are discussing the effects of time travel but it quickly breaks down with the great line, "I don't want to talk about time travel because if we start talking about it then we're going to be here all day talking about it, making diagrams with straws." And I still love that cantankerous backhanding of understanding the pseudo-science. I also loved the outburst from Avengers: Endgame, "I have no idea, we're talking about time travel here. Either all of it is a joke, or none of it is." And we can now add the hot mess spaghetti analogy to this list, which is so clear and straightforward, instructing the audience on how the world-building works, as well as quietly telling them to just go along for the ride.

Notable Characters:
The cameos at work here are somehow both expected and completely jarring. There are actors and characters making appearances which make sense for this version of the Flash. And there are a handful that will either send you soaring with delight or screaming incoherently. Either way, the movie and its creators picked a very bold lane and not only stuck to it, they slammed the accelerator down, just to see how far they could go.

Highlighted Quote:
"Are you actively eating that candy bar? Could you possibly throw it to me? In the name of justice!"

In A Few Words:
"What should have been an undigestible disaster, has ended up an unanticipatedly fun yet earnest tale."

Total Score: 4/5