ANT-MAN AND THE WASP: QUANTUMANIA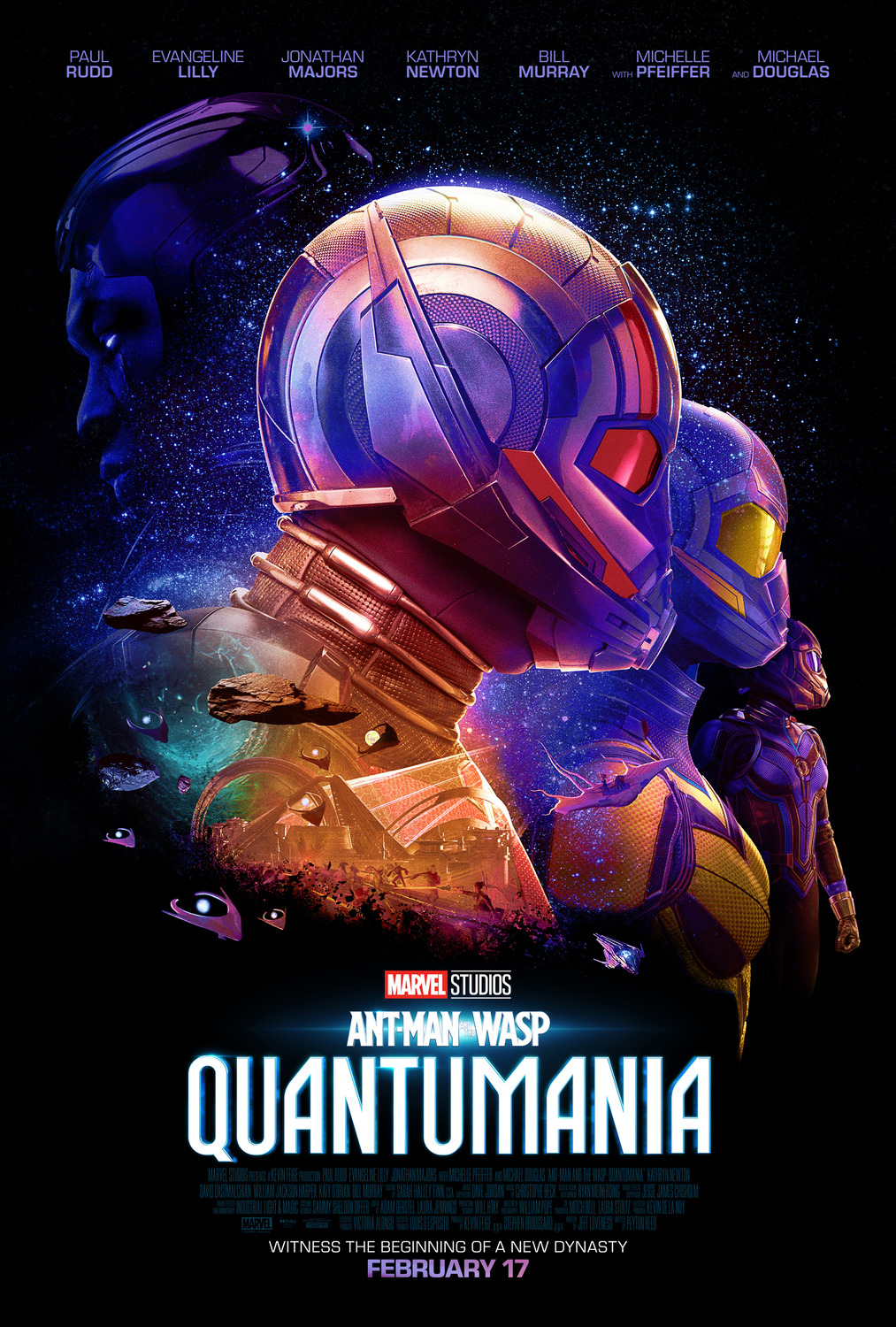 Director
Peyton Reed
Starring
Paul Rudd
Jonathan Majors
Kathryn Newton
Michelle Pfeiffer
Evangeline Lilly
Michael Douglas

Following his pivotal role in Avengers: Endgame, Scott Lang/Ant-Man [Rudd] has become a local celebrity in San Fransisco, while his partner Hope van Dyne [Lilly] continues her scientific and entrepreneurial work, and his now older teenage daughter, Cassie [Newton], is following both their footsteps by learning about quantum physics and getting arrested for helping those in need. But when a device Cassie has been working on opens a portal to the quantum realm (an impossibly microscopic existence beneath our own), we learn that an entire empire has been forged by one of its prisoned inhabitants: Kang [Majors].
You know the drill, this is another major instalment in the MCU franchise; the money-printing behemoth which has been running for almost a decade and a half, and has changed the face of 21st century cinema. Subsequently, when reviewing these films, it's less about analysing a single standalone story, and more addressing the internal narrative, while examining its place in the wider context – much like an episode of a TV series or, oddly enough, a line of comics in a shared universe. But why all the preamble? We know this already. Because I want to remind people what these films are, as too many audience members and critics are wandering in with a lot of baggage and expectations. So if we park those at the door and take this feature for what it is and what it's designed to be, does that negate any major issues and establish it as a good film in its own right? …no. Regrettably. But it doesn't mean it's a complete write-off either.
Having reviewed every MCU outing, I've garnered a lot of flak for slating the Ant-Man movies. See, while Ant-Man himself is a great supporting character, his titled movies have always been a little flat. I felt the first (along with Age Of Ultron) was a fresh take but a muddled production that left me cold. And the sequel should have been a chance to course correct but became more muddled and, worse still, forgettable. Ant-Man 3, changing few major components, seems to make all the same mistakes, and has once again left me fairly apathetic.
The first two Ant-Man films were also used as palate cleansers at the end of major phases. A literal smaller scale story following a monumental showdown. But Quantumania acts as the first step of Phase Five and is therefore basically a prelude of a movie. It's a narrative that meanders through the motions, with far too many deus ex moments and other repeated instances of lazy, first draft writing. The family conflict, for example, is essentially established and resolved in the first 10 minutes. Cassie felt helpless she couldn't help her father so overcompensates, and Scott has lost time with his family and would do anything to make that up to them. All of that is addressed and put to rest before they're even transported to the quantum realm. And the other parent/daughter friction – which I'll come back to later – is undercooked yet vies for central focus.
But let's talk spectacle. The mind-bending visuals of the quantum realm have always been a fascinating exploration in these films and one area where they get to shine. Surely setting 90% of the feature in this world would elevate the whole thing? Again, regrettably not. Let's take Dune: Part 1 for example. A science fiction epic that is unique, haunting, and beautiful in its use of visual exhibition and the eerie soundscape. Quantumania tries its hardest to overwhelm with wonder and yet falters repeatedly. Christophe Beck returns to bring one of the few memorable MCU leitmotifs back and rework it into something grand and bombastic. But while the score has impressive moments, it's frequently cut short by the requirements of scene length being so short and staccato.
And then there's the production design and visual effects, both of which have plenty of creative flare, yet most end up feeling hollow. And there are two reasons for this. First, scale means nothing in the Quantum realm; or more specifically, it's hideously under-utilised. The reason Ant-Man is interesting is that he is a hero who can shrink down to a tiny level, or grow impossibly tall. And whenever we want to illustrate this, we have relatable reference points to appreciate the shift. But in this movie, with its alien environments and wild physics, it's often difficult to ascertain whether the character we're looking at is tiny, huge, or regular sized. The other huge contributory factor to the hollow nature of the visuals, is a much wider reaching complication. A painful amount of the CGI is rushed and ropey. But this isn't limited to this release alone, it can be seen throughout the industry, as visual effects artists are being worked to the bone, to meet unrealistic deadlines and expectations.
So what about the acting? Well, once again, this feature is almost entirely held up by the charm of Paul Rudd. That man was such a magnificent piece of casting in that he can sell so much mediocrity with a wry smile. That said, for all the comedy, charisma, and sincerity he brings to a film, one area he really struggles with, is intimidation. Meaning when his character is forced to be angry and fuelled with righteous fury, it comes off hammy; like a bit. On the other side of the coin is Jonathan Majors as Kang. This isn't his first appearance as the character, and certainly won't be the last, as he has been setup to be the next big bad. Majors brings a wonderful complexity and fickle rage to Kang and captivates whenever he is on screen. What's more, as the very notion of his character is that there are countless variations, he has the opportunity to play the role in so many different ways. So, regardless of how he acts here, it could easily be enhanced and pushed even further in a stronger release.
Which leaves us with the rest of the Ant family. Cassie is clearly being lined-up to take on the titular mantle, and given Newton's performance here, I have no problem with that; she's more than capable. Douglas is once again along for the ride as Hank Pym and feels softer than his previous outings, which works overall. Lilly, on the other hand, whether intentionally or not, is being wholly pushed out. To the extent that titling it "Ant-Man and the Wasp" is pretty misleading. And then we have Michelle Pfeiffer as Janet van Dyne. Like a **, she quietly becomes a significant focal point. This is the franchise's first chance to explore what she'd been through during her stay in the quantum realm but her closed-off inability to communicate with the other leads fizzles. What was probably written as mysterious and overly protective, winds up being irritating and unnecessarily drawn out to heighten manufactured tension.
At the end of the day, Ant-Man and the Wasp: Quantumania is not as disappointing or messy as something like Thor: Love And Thunder, it doesn't have that almost insulting air of lacklustre arrogance; as if we should be grateful to be watching this tale. That said, it fails to make enough of a memorable mark to truly standout. Sure, the pacing was grand, two hours flew by and I was never bored but my desire to watch it again is already at a low point. What's most aggravating is that the bones are there, but the execution is lacking. It's far from a disastrous outing that will finally kill the MCU, nor is it an unfairly judged hidden gem. It's literally just fine. And maybe that's the worst thing it can be.

Release Date:
17 February 2023

The Scene To Look Out For:
Charged with retrieving an exploding device frozen in time (don't try and figure that out, it's sci-fi stuff), Scott finds himself in a probability storm. This means that every choice he could take causes another version of himself to manifest. As well as a genuinely interesting concept and decent visual undertaking, it serves to illustrate the core of Ant-Man's persona in an engaging and interesting way.

Notable Characters:
**spoilers within**
MODOK is a fucking weird character. I appreciate comic fans like the idea of him, but much like Hector Hammond in the DC universe, a giant floating head is a hard sell. That said, incorporating the fate of Darren Cross [Corey Stoll] from the first film was a really novel and commendable idea. I genuinely thought that worked decently. The problem is, the writers are also aware, MODOK is fucking weird. So playing him straight is difficult. As such, they took the comedy route more often than not. Undercutting his presence and the threat a little too often and removing any sense of menace that the character could have had. That said, as much as they almost met the challenge, why bother? Why MODOK? This film could have quite easily existed without that henchman role.

Highlighted Quote:
"His name is Scott Lang and he has seven holes."

In A Few Words:
"While never offensively bad, Quantumania swings between mildly interesting and remarkably dull far too much to be truly enjoyed."

Total Score: 2/5