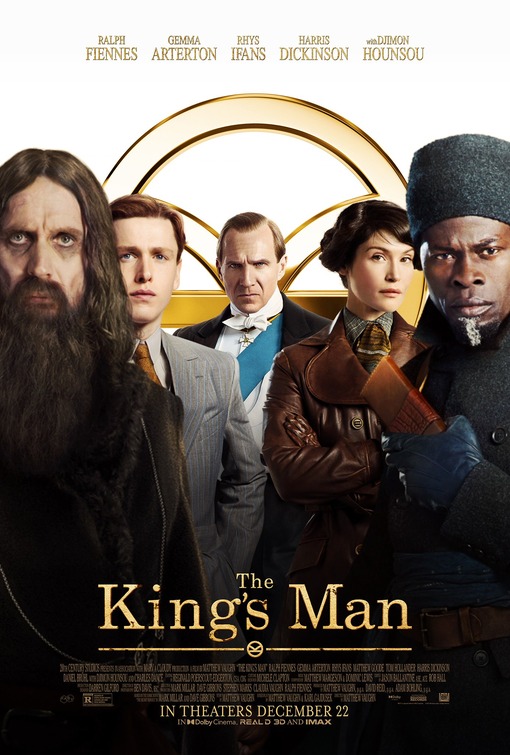 Director
Matthew Vaughn
Starring
Ralph Fiennes
Harris Dickinson
Djimon Hounsou
Gemma Arterton

Following the death of his wife, Orlando, the Duke of Oxford [Fiennes], promises to keep his only son safe and out of all wars. He goes on to use his significant influence and power to spread a message of pacifism but as his son Conrad [Dickinson] grows older and more restless and Europe is on the precipice of the first world war, the duke must do everything in his power to prevent such conflicts before they can occur. Little does he know, lurking in the shadows, a secret organisation has positioned itself in close proximity to seats of power around the world, intent on mass destruction.
The King's Man, prequel to Kingsman: The Secret Service, is set in a semi-alternate universe that veers from real events – but not by much – leaning into a fantastical comic-book spin on real-life events. And from a technical standpoint, it does so gorgeously with exceedingly lavish production design, wonderful fight choreography, on point sound mixing and a fantastically fitting score. In fact, for the first third, I was genuinely enthralled and impressed with the whole presentation. But the longer the film marched on, the more dead-ends it found itself in and struggled to really recapture that earlier impact.
While Kingsman (and to a lesser extent, its lacklustre sequel) was a high-energy send up of campy James Bond spy films, this prequel has a little trouble figuring out where it's coming from. Sure, this is clearly the origin of the eponymous agency we've come to know but by trading a lot of the playful, gadget-filled rambunctiousness for grounded, dour poe-facedness, it feels very separated from what has come before – both as a positive and to the film's detriment. What we have here is an alternating personality that unfolds like an abridged trilogy. It's incredibly ambitious and bombastic but there are undeniably major pacing issues and as much as I tried to settle into the story, it really toils to flow steadily. More than it would if it simply just picked a lane.
One thing that is abundantly clear, however, is the very prominent look at the cause and effect of empire and war. In the most surprising turn, a film about Britain's past addresses some extremely unpleasant and uncomfortable truths; from the acknowledgement that the upper class are descended from brutes who fought their way to power and renamed it nobility, to the open acknowledgement of British concentration camps in Africa. This may not sound like much but it's a remarkably fresh thing to see in a blockbuster release. Granted, tackling imperialism with 21st century sensibilities will feel forced and anachronistic to some but the message that it's not heroic to take a life, but to save one is a really strong starting point and the only real thing that endures throughout the film.
The assembled cast shouldn't work. On the one hand, we have people like Ralph Fiennes, Harris Dickinson and Charles Dance feeling like they've stepped out of a straight-laced period thriller, while Rhys Ifans, Tom Hollander and the menacing villainous mastermind give substantially more whimsical portrayals. Yet somehow they all manage to gel. I will say, I'm glad the film didn't simply follow the exact same pattern as the first film and instead pitches both Orlando and Conrad as reluctant partners – it's also amusing to see the 2010s legacy of "sad dads" is clearly going strong in the 2020s.
While everyone performs admirably, very few actually shine. Dickinson is clearly a great action lead with some fantastically vulnerable moments – most notably an encounter in no man's land where neither side want to fire their weapons, lest they get fired upon by their own men, so resort to a brutal close-quarters knife fight – and for men in their late fifties, Fiennes and Housou are as compelling as their significantly younger counterparts… but nothing on offer is outstanding. Same for Arterton, who is pitted as a capable code-breaker and expert shot, but somehow never excels. I mean, this is a movie with a forgettable Daniel Brühl performance! If you let that man slip into the background, you've clearly made a misstep somewhere.
And then there's the villain. The master adversary dubbed The Shepherd. With such a well executed build up for this Blofeld-esque antagonist, any outcome would be disappointing. And it is a little. It works and it makes sense but it still feels a bit "oh.. yeah.. I guess that makes sense." Although, despite the very similar plot in Sherlock Holmes: A Game Of Shadows, the main bad guy here isn't a moustache-twirling professor and war profiteer, he's a disgruntled Scot. And one who sort of has a point. And that's why his plan doesn't make a lot of sense. The Shepherd is moving pieces around the world to ensure the old empires are razed to the ground but it's not abundantly clear what follows; granted, the plan could indeed be chaos but even that isn't acknowledged, so the audience is just left to assume he's one of the crazy ones who likes murder. And we're seeing more and more of these examples in many recent films – the introduction of a hyper intelligent but ruthless individual who makes just enough sense to win you over but they can't be followed too closely because they clearly hate humanity too much to save it. Godzilla: King Of The Monsters, Black Panther, Aquaman, all have villains that make noteworthy points and some would argue are right but the way they go about it is wrong. But at least this film openly addresses the fact that it's not enough for our heroes to simply defeat these opposing forces, they must create a world where they cannot flourish – so there's that.
Ultimately, The King's Man is a fairly stale, high production, silly romp with a solid message of legacy and responsibility. While it doesn't live up to the first, it doesn't go as off the rails as the second and its heart is clearly in the right place. The pandemic aside, this film was supposed to be released in late 2019, so I honestly have no idea if this is the end of the line for the franchise but, based on the mid-credits scene, I think it's probably for the best we don't see where it could take us.

Release Date:
26 December 2021

The Scene To Look Out For:
While the fight scene between Ifans' Rasputin and Housou's Shola is buoyant and engaging, it follows one of the movie's weirdest moments, which mars it slightly. Instead, a very very brief visual effects shot that I thoroughly enjoyed was a simple time-lapse. To give an overview of how World War I is progressing, we are shown a small village in the French countryside and witness it pummelled to brown mulch as the war rages on. It's a very simple but effective shot but one that really worked.

Notable Characters:
Utilising an oddity of history, Vaughn casts Tom Hollander as all three almost identical cousins Kaiser Wilhelm II, Tsar Nicholas II and King George V. Hollander's triple performance is as entertaining as it is absurd. The only flaw is that there isn't enough of it and while these weak men are goaded by whispering viziers is very compelling, it's evident that George V is somehow immune. Which one could see is a modicum too much deference in a film tearing down the evils of old dynasties.

Highlighted Quote:
"Reputation is what people think of you, character is what you are"

In A Few Words:
"A perfectly serviceable film but walks a very thin line between muddled but entertaining and an utter mess"

Total Score: 3/5